I almost forgot to signup for the Marathon, this month. So, i hurriedly asked valli to share the sheet to check the available themes and just blindly filled in my name in the empty spaces. Now comes the check, week 1 theme was one-pot meals, so i happily made a pulao last week, clicked and edited it also.
Then comes valli's mail clarifying the theme again, that it should be meals cooked in the Southern Hemisphere!😑. Yeah, our boss is like this, simple heading, but twisty theme, never take her light.
But, then i loved the challenge, obviously there were lot of non-veg options, being a vegetarian, had to put a little extra effort.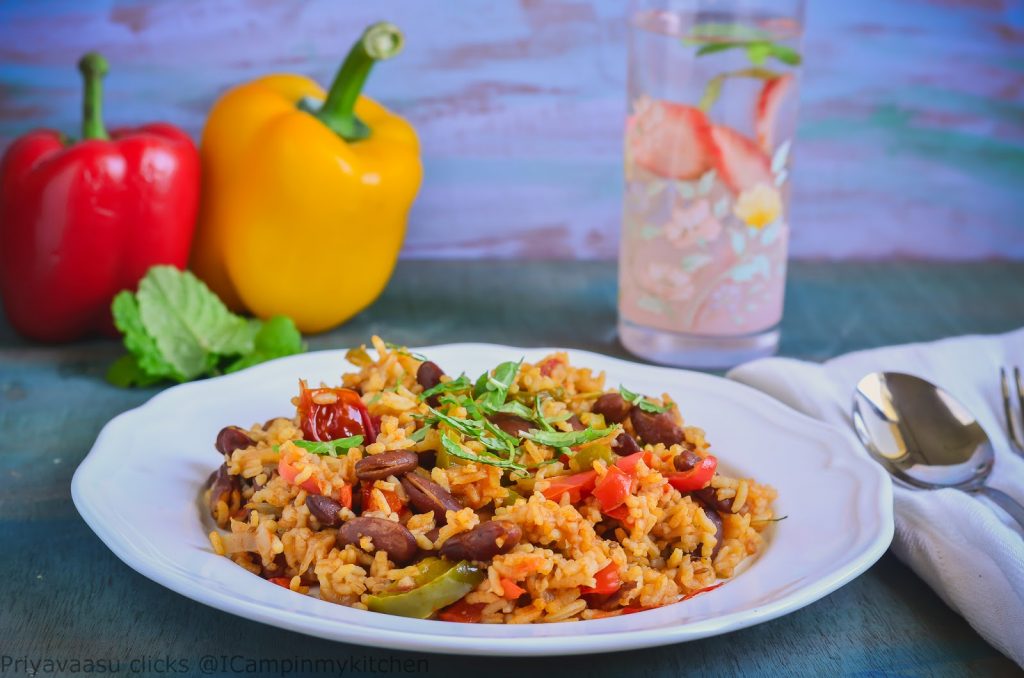 I m a total zero in geography, so i had to put little more effort, first need to read what is southern hemisphere, the countries in there and then finally comes the food! Thanks to google, got some delicious meals from that part of the world. The first in the genre is this simple Red Beans & Rice. The rice uses, bacon as tadka first, and then uses Smoked Paprika as spice. I have made it vegetarian and used normal paprika.
Whenever you feel tired to cook something elaborate, try this simple rice with veggies and beans, all you need is some crisp by your side. I served it with appalams and strawberry-mint flavored water by the side.
Ingredient
1 cup rice, i used sona masuri, basmati is preferred
3 nos peppers (I used one of each color)
1 cup red kidney beans/rajma, cooked
1 tomato, chopped
2 bay leaves
4 garlic cloves,minced
1 onion, chopped
2 tbsp paprika, original recipes uses smoked paprika
1.5 tsp cumin powder
1 tsp salt or to taste
1 tbsp oil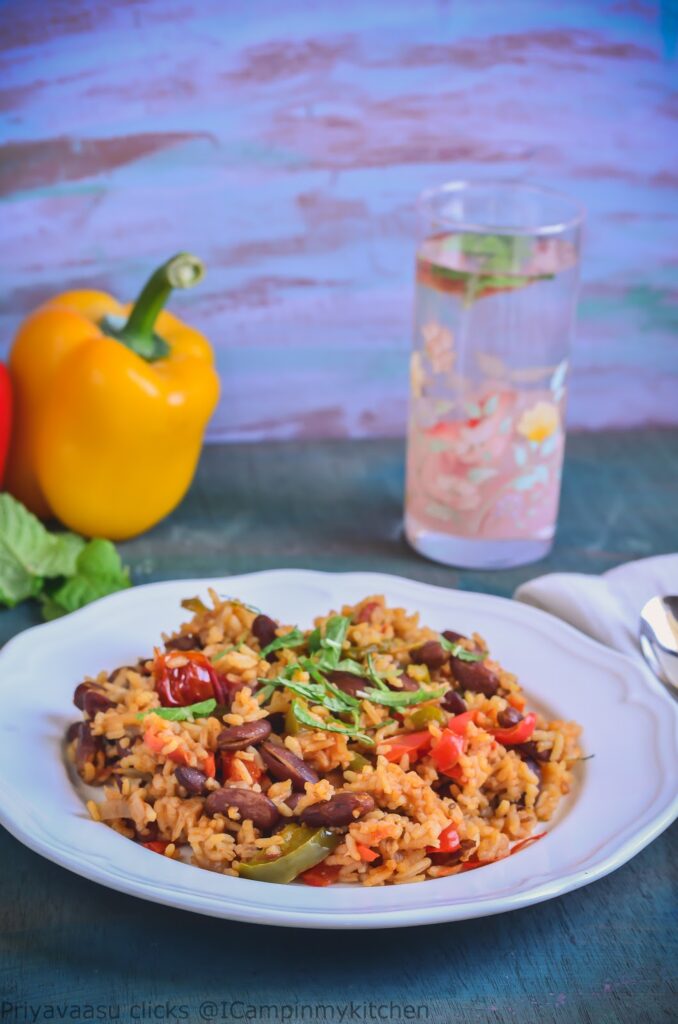 Method
Wash and soak rice for 10 minutes. Heat a pan, add oil, when it is hot, add chopped onions, bay leaves,and garlic. Saute until onions turn translucent.

Add chopped tomatoes and bell peppers to this and saute until the tomatoes are soft. To this add cooked rajma beans, paprika and cumin powder. Mix well.

Now add drained rice and 3 cups of water. Add alt and mix well. Cover and cook for 15-20 Minutes or until the rice is done.

Remove from the heat, take out the bay leaves, fluff it up with a fork, garnish it with some fresh mint leaves and serve hot.
Check out the Blogging Marathon page for the other Blogging Marathoners doing BM#73