Foxnuts aka Phool makhana aka lotus seeds, i came across this wonderful ingredient maybe 2 years ago. Yes, you call me a being living under the rock. Though i have seen this in all the indian stores, but i was never curious to know about it.
Then one day i came across this crunchy roasted foxnuts in one of my friends house and we all loved it. It became my lil ones favorite snack. I never expected him to like it. So, from that time i always keep a pack of makhana for him.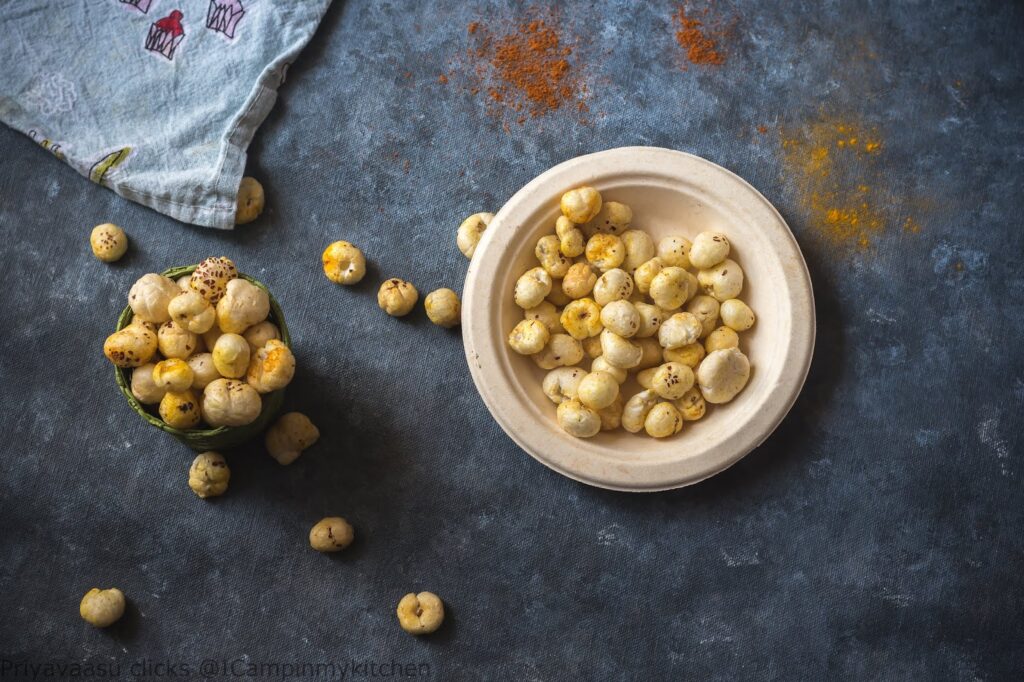 I usually roast a small amount just for him with minimal spices just pepper and salt. Last navrathri, i tried making a bigger batch for my friends who were fasting, i tried using the microwave and found it much more easier and quicker than stove-top. This is just a personal opinion, i m lazy, i can't stand there and keep stirring the makhanas as they try to pop, enjoying the warmth of hot stove.
It took me just 10 minutes to make this delicious makhanas in the microwave, i divided the 100 grams foxnuts into 3 batches while roasting in the microwave and 1 minute for the tadka to mix in all the spices.
This makes a wonderful travel food, as they are very easy to make and pack. Just take some paper cups or muffin cups with you, to serve them while you are on the go.
I m packing them for the Kids delight - Travel food happening
@ Cooking with Renu, an event by Srivalli
Ingredients
100 grams fox nuts, phool makhana
½ teaspoon cayenne pepper
¼ teaspoon turmeric powder
½ teaspoon - 1 teaspoon salt
½ teaspoon freshly pounded pepper
Method
I used my microwave to roast the foxnuts. It took just 2 minutes for roasting and since i did it in 3 batches because of the quantity, it took 6 minutes exactly and 1 minute for tadka. So this dish gets done in flat 7-8 minutes.

Take all of the foxnuts in a large bowl or plate, whichever is comfortable to mix in the oil. Take 1-2 teaspoon of oil and pour it over the foxnuts, mix it well with your hands.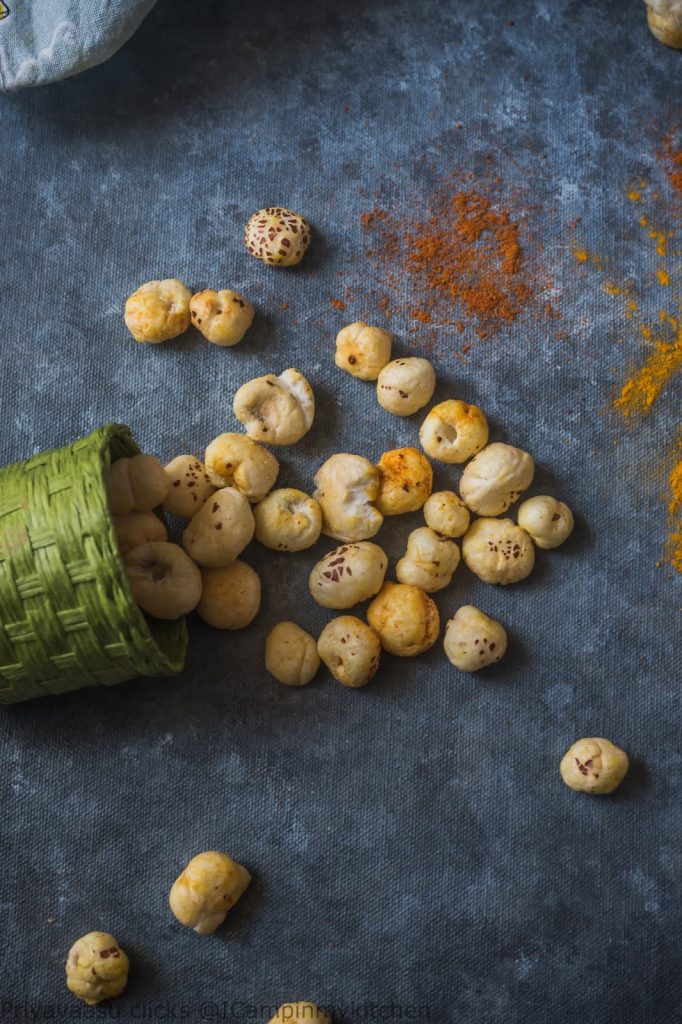 Divide the foxnuts into 3 batches. Spread one batch on to a baking tray, do not overcrowd. Microwave at high for 2 minutes. Stop at 1 minute, shake the tray once, spreading the foxnuts and again microwave it for another 1 minute.

Remove the tray, spread it on a flat plate and continue with the rest of the batches. Once all are done, heat a pan with another 1-2 teaspoon of oil, once it is hot, take it off the stove, add cayenne pepper, freshly pounded black pepper, turmeric powder and salt to it. immediately add the roasted foxnuts and mix it well.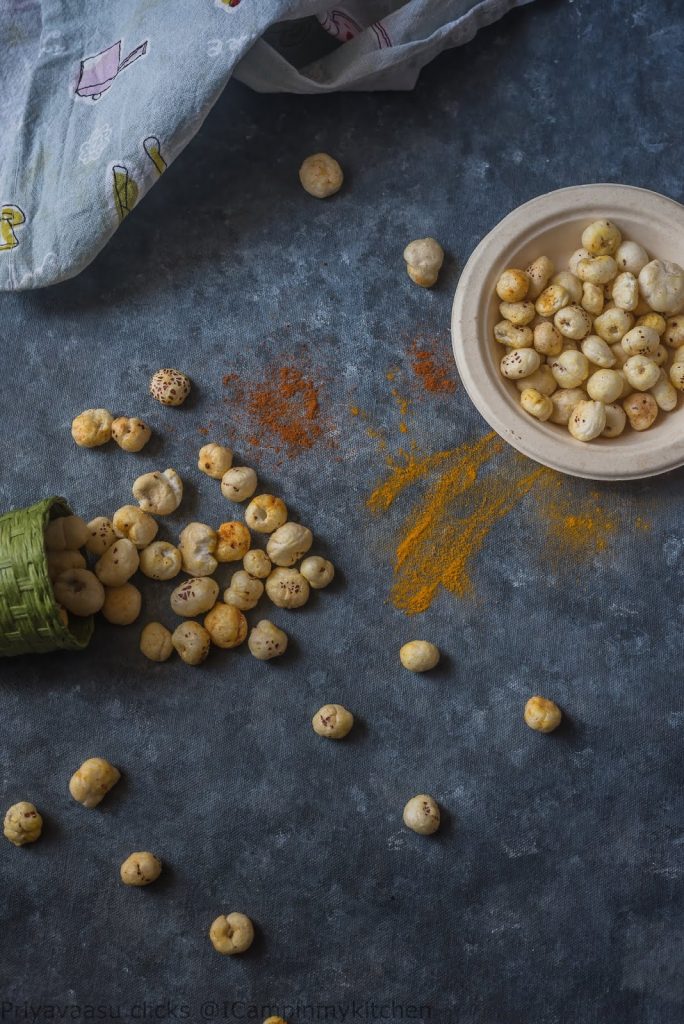 Let it sit in the hot pan for 2 minutes. Take it off, let it cool. Store it in an air-tight container.