Savory ragi adai, a simple and easy breakfast recipe, made with ragi flour, coconut and fresh herbs. A flavorsome and healthy adai, to enjoy for breakfast/dinner.
Jump to Recipe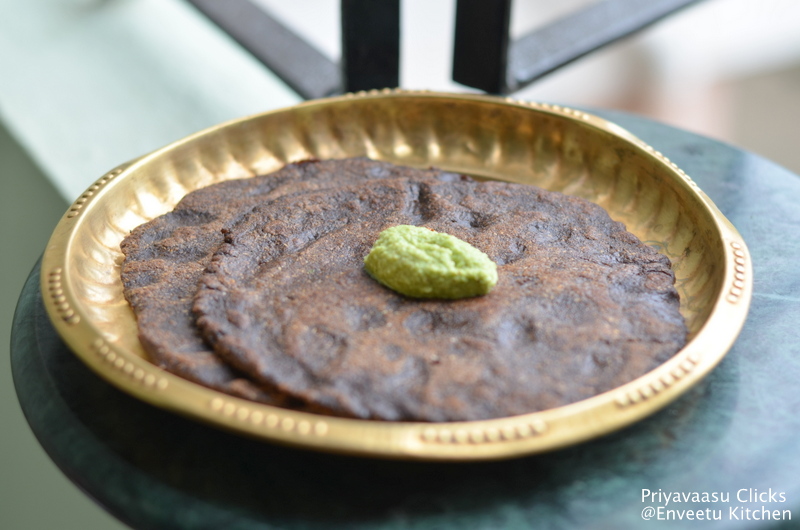 The Food
If you are a regular reader, than you must have noticed i use a lot of millets in my cooking. Millets are gluten-free and rich in B vitamins, calcium, iron, potassium, magnesium, and zinc. The bran layers of millets are good sources of B-complex vitamins.  
Many people have to restrict their white rice intake due to many health factors. Millets are great alternate to rice. Millets helps to lower blood glucose levels and improves insulin response. They have a low Glycemic index,which increase the satiety by decreasing hunger and slows the rate of digestion. You can read more about its health benefits here .
Ragi/Finger Millet
Ragi/nachini is known better to us than other millets. It is introduced as weaning food in babies. Ragi has a distinct color, so some might have an aversion to it because of the same, but comparing the numerous health benefits this tiny grain brings, i think we can cut it some slack for its appearance.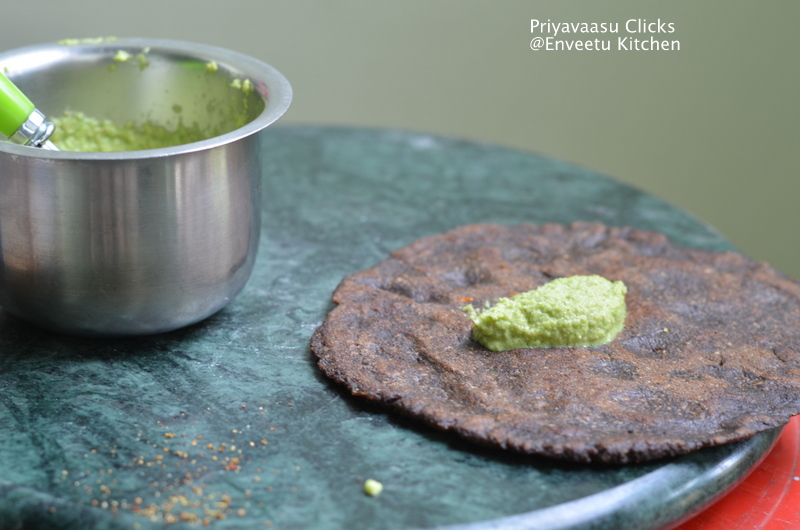 The savory ragi adai, featuring today is my mom's specialty. Every year when i go for vacation, i ask her to make few of her specialty dishes for the blog. This way i get to keep a record of my mom's recipes at a known place.
How to make Savory Ragi Adai
Please check the recipe card below for the ingredients measurement and detailed recipe instructions.
Take ragi flour, salt and hing in a wide bowl. Grind onion, tomato, coconut and other fresh herbs mentioned into a paste.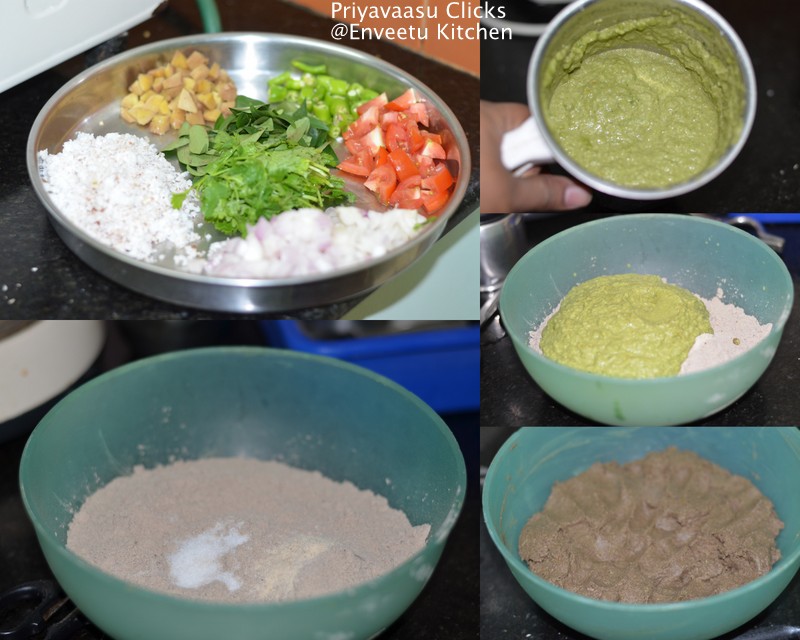 Add this ground paste to the flour mix and slowly knead to make a soft dough.
Divide the dough into ping-pong size balls. Pat the dough ball onto a banana leaf. Transfer it to a hot tava.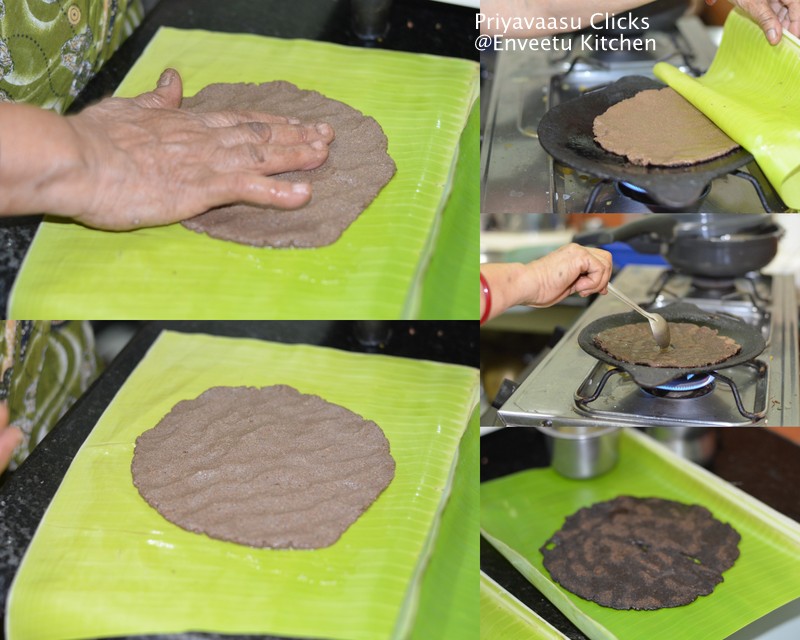 Cook both sides until done, serve it hot with chutney of your choice.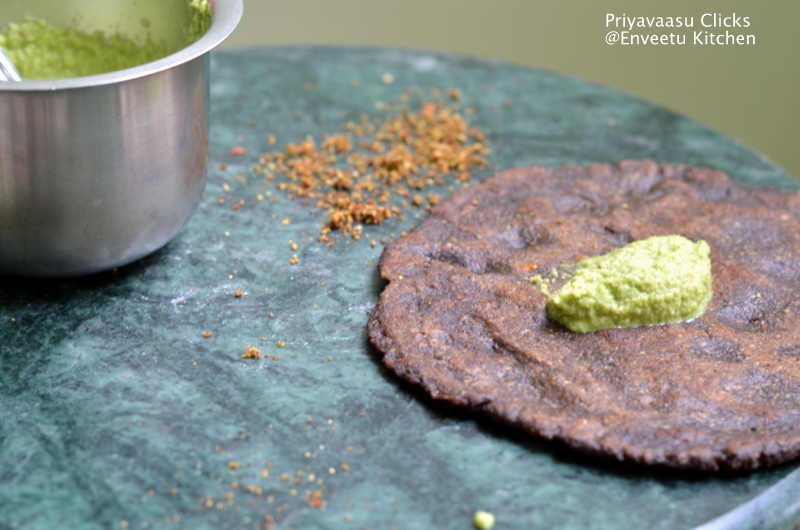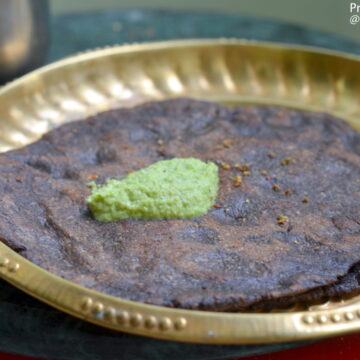 Savory Ragi Adai | How to make Savory Ragi Adai
Savory ragi adai, a simple and easy breakfast recipe, made with ragi flour, coconut and fresh herbs. A flavorsome and healthy adai, to enjoy for breakfast/dinner.
Print
Pin
Rate
Equipment
Bowls

Indian style mixie or any heavy blender

Tava for cooking the adai
Ingredients
2 Cups of Ragi Flour¼ teaspoon hingSalt to taste

2

cups

Ragi flour

¼

teaspoon

hing/asafoetida

1

teaspoon

salt or to taste
To Grind
1

no

large onion

roughly chopped

1

no

large tomato

roughly chopped

2

nos

green chilies

1

inch

piece of ginger

roughly chopped

¼

cup

freshly grated coconut

handful of coriander leaves

2 sprigs of curry leaves
Instructions
Take the ragi flour in a large bowl, add hing and salt and keep it aside.

Grind all the ingredients given under "To Grind" in a mixer , by adding ¼ cup water , to a paste

Add this ground paste to the ragi flour and make a soft, pliable dough. Add Water, only when necessary that to o a tablespoon at a time.

When ready to make the adai, heat a tava, amma used iron skillet. In a banana leaf, take a ping pong size ball of the dough and pat it using your fingers to make a thin round disc.

Invert the banana leaf on to the hot tava, with the ragi disc facing the tava. Peel the banana leaf slowly, leaving the adai on the skillet. Cook on both sides, by adding little oil/ghee. 

Serve ho t with a coconut chutney or some raita. Taste heavenly when had hot. I had it after my photo session, so it was a bit cold, then too it was soft. 
Disclaimer
I m not a Doctor or a Nutritionist The Nutrition information provided above comes from the plugin and is only an estimate.
Enjoy this flavorsome and healthy adai with chutney of your choice. The adai as such doesn't need any condiment, it can also be served with simple curd as side.
More Adai Recipes
If you have tried this recipe and like it, give it a star rating or let me know in the comments below. You could also share it with me on Instagram using #icampinmmykitchen and tagging me @priyasrinivasan.
You could follow me and my recipes on  Facebook |  Instagram  | Pinterest  | twitter
Do you like the recipe? PIN IT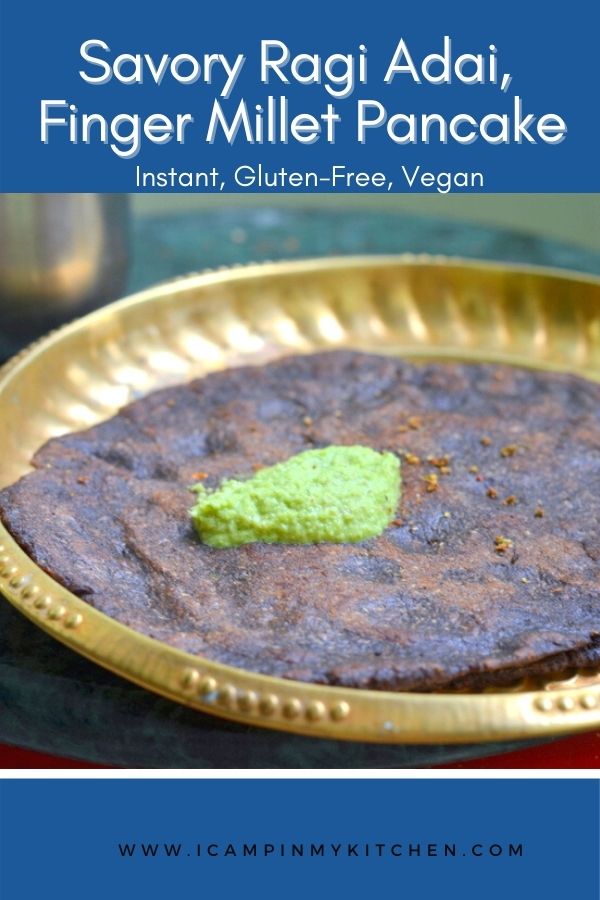 An old post from 2013, updated with new content and images for better engagement.