Varo, a traditional Sindhi Recipe,

is basically a thick chikki made of different nuts, poppy seeds and cardamoms all of which are coated with caramelized sugar and rolled, whilst hot, quickly on the back of a plate. When i first read the ICC Post, i thought it is quite easy to make. Yeah, it is, but i dont know why, i didnt get that Golden brown hue of the Sweet!!!! i really dont know why???
B
ut, the taste is so damn wonderful!! except for the colour!!! Thanks a ton to Alka for Suggesting this to Srivalli for this month

ICC

. Srivalli has listed two recipes from two different sites, i followed Simply Sindhi Recipes.
2 tbsp Poppy seeds/Khus Khus (i didnt get it here, so skipped)
2 tbsp of Kopra/Dry coconut (optional)
1 tbsp Ghee/Clarified Butter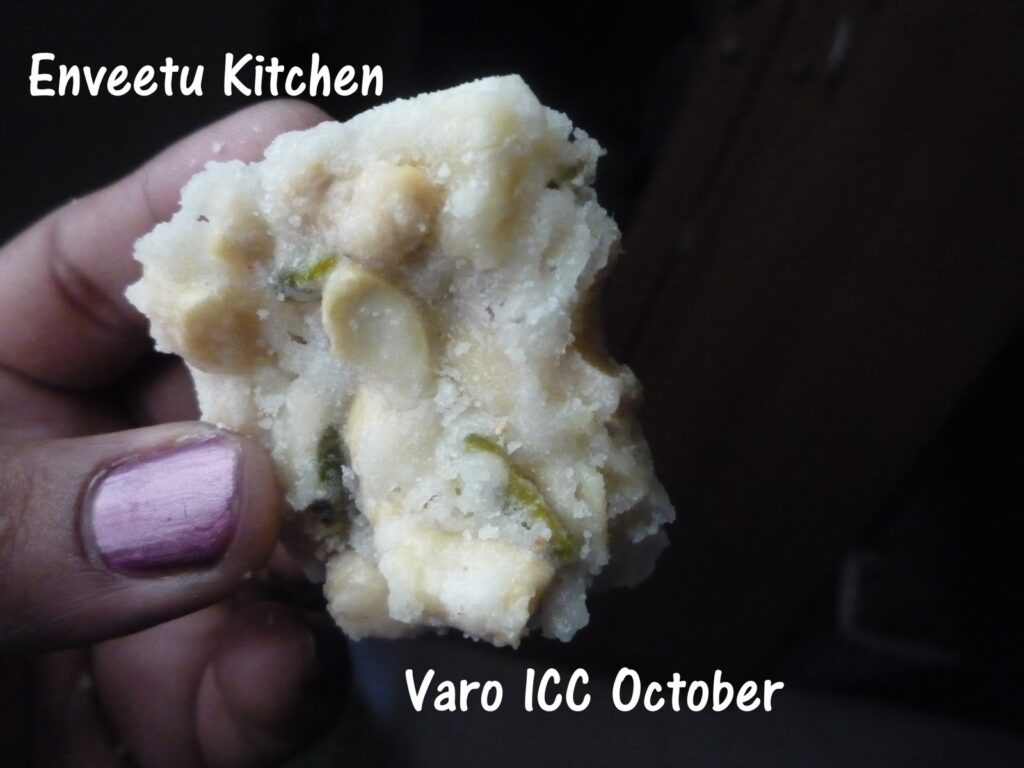 Method
First of all Keep a rolling board or back of thali/Plate greased. Slice all mixed nuts. Powder the Cardamom seeds.In a heavy bottomed pan, add ghee and sugar. On low heat melt the sugar.When the sugar is melted and caramelized to a light brown color add the sliced mixed nuts, Khus Khus, and powdered cardamoms. Mix till nuts are coated well with the caramelized sugar. I followed the step as told, it did turn brown, but when i added the nuts, it turned white again!!!!
P
our this mixture onto the back of a thali/ greased plate or on a rolling board.Using the back side (flat side) of a cup, flatten the mixture like a thick chapatti or disc. You can use a rolling pin to roll the mixture. This has to be done very quickly as the mixture begins to harden as soon as it is removed from heat.
Leave the rolled Varo to set for some time.Break into pieces and store in air tight containers.