There are some recipes which you learn over time making mistakes. One such recipe is this Banana Fry. My amma makes it the same way and every-time it will turn crisp, crunchy,mildly spiced and oh yumm!! I needed a bit of practice and patience to get that perfection. It is relatively a simple recipe and needs very less time than many other subzi's.
The first time i made them , well i shouldn't be saying it a fry, it will be an absolute insult, and my hubby thought i made banana mash. 🙁 He being a foodie and from a family of foodies, who know how to cook a perfect banana fry, simply ROFL-ed. Till date, he compares mine with this father's banana fry and the later wins hands down, i still manage to get second place :). So, here is my simple recipe that won second place in my house, with some pointers to get a delicious fry every-time.
Ingredients
3 nos Raw banana
1.5 teaspoon Homemade sambhar powder
salt to taste


Tempering
1 tablespoon oil
½ teaspoon mustard seeds
2 pinches of hing
2 pinches of turmeric powder
a sprig of curry leaf


Method
Peel and slice the banana into roundels. The size of the roundel matters. Too thin, there is a chance of getting mashed, too thick will not cook even. So, cut them in even sized roundels. Keep them soaked in water until use.

When ready to make the fry, drain the cut banana in a colander. Heat a pan with oil given under "

Tempering

". Splutter mustard seeds, next add hing, turmeric and curry leaves. Saute a minute or two.

Next add drained banana. Let it sit untouched for a minute. Now mix gently so it coats well with the tempering. Next add sambhar powder to it and mix gently. Let it cook covered for 5 minutes in medium flame. If you feel the curry is burning, sprinkle water 2 or 3 times.

After 5 minutes of covered cooking, take off the cover, turn gently with a spatula again. By this time, the banana's would have cooked soft.

Add salt to the curry, mix gently.Now cook uncovered for another 10-12 minutes. Turning them after every 5 minutes, as we don't add water, the curry might stick to the pan.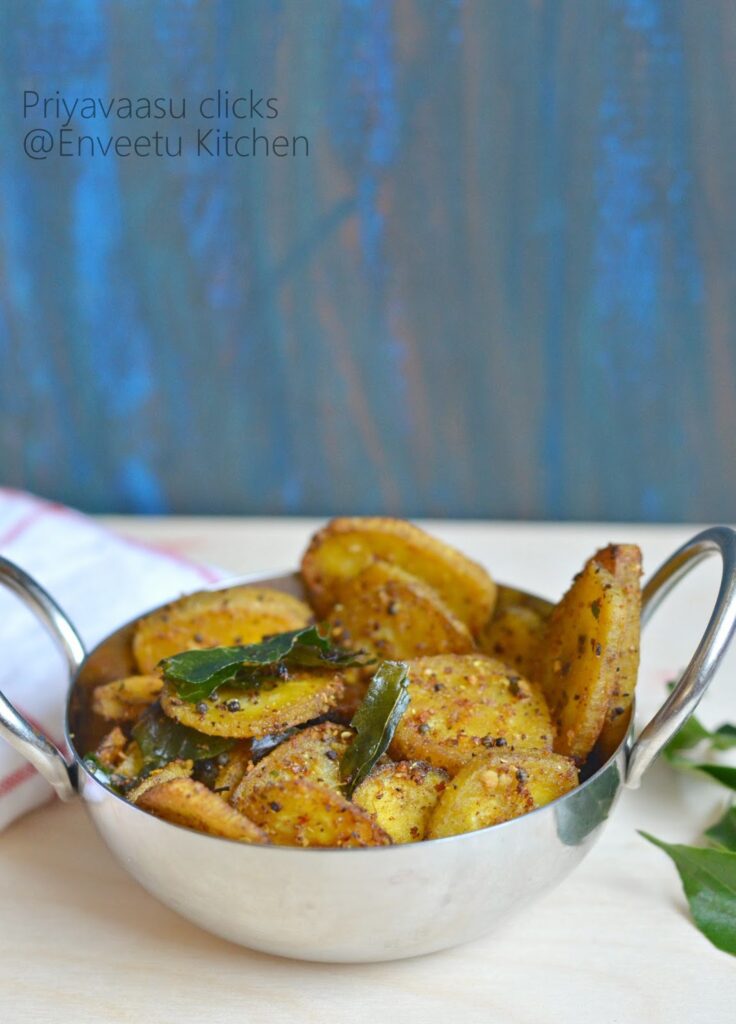 Once they turn crisp and well browned around the edges, take it off the stove. Serve warm as an accompaniment with rice.
Notes
Do not add water while making a dry curry fry. It is better to sprinkle water, cover and cook for a little time, so the water vapor

helps in cooking the veggie soft and uncovered cooking for a little more time make it crisp.

Avoid turning the veggies while it is cooking. Turning/mixing it often will make it soft , clumping together and make it a mash.

Keep the flame in medium. Too high will burn it fast and too slow will make it soft. Medium is the key.

And do not crowd the pan. Always use the right size of pan for cooking.