Today we are visiting Maharashtra, Land of the Great Maratha Warrior Veer Shivaji!!! When i say this, i remember my Brother-in-law, Mr.SS. He is an hard-core shivaji fan! They have this big shivaji maharaj's photo in their house, and my sister's daughter would say shout "Jai" Whenever he says, "Shivaji Maharaj ki"!! 😉
Though born and brought up in Chennai, my sister after 2 years of her marriage, turned totally into a Maharashtrian. No, i m not talking about the looks, it is her language, she talks awesome Marathi, like a typical marathi girl, who belongs to amchi mumbai!!! She makes awesome food too!!! I just gawk at the way she rolls out roti's! Big, better and round in shape. Makes the dough without oil and while rolling the roti's, she stuffs oil inside the dough and rolls it out, may be next time, i will shoot a video!
I made a simple vegetable curry called Kalvan, which mean

gravy in marathi. Though i made it a bit like a dry curry, since we had it like a masala with our morning breakfast dosa. you can always make it like a gravy to pair with your roti's.
Ingredients
3 cups mixed vegetables( i used potatoes, capsicum, cauliflower, carrot, peas)
½ teaspoon cumin seeds (jeera)
¼ teaspoon asafoetida (hing)
For the gravy
2 Large onions, sliced
2 large, tomatoes, chopped
1 inch ginger, grated
1 green chili
4-5 cloves garlic, chopped
2 -3 sprigs of curry leaves
½ teaspoon turmeric powder (haldi)
2 tablespoon chopped fresh coriander for garnishing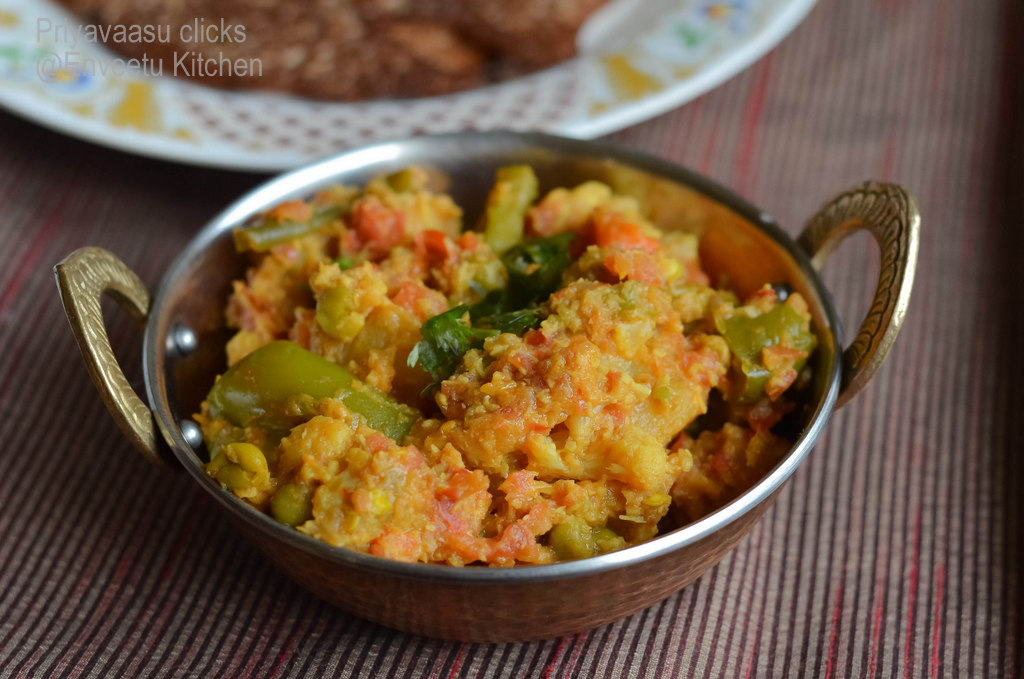 Method
For the gravy
Heat the oil in a pan, add the onions, ginger, garlic and curry leaves and sauté for 4 to 5 minutes over a slow flame.

Add the desiccated coconut and allow it to brown lightly.

Add the tomatoes, turmeric powder, chilli powder and salt and cook till the tomatoes are cooked.

Cool completely and grind into a fine paste.
For the Curry
Steam cook the vegetables in a steamer or pressure cooker. I used my pressure cooker without the whistle. Take the veggies in a container that will fit in the cooker, do not add any water to the veggies, add water only to the pan. Steam cook for 15 minutes. Keep aside until use.

Heat the oil in a pan, add the cumin seeds. When they crackle, add the asafoetida and then the gravy.

Cook over a slow flame till the gravy thickens and the oil starts to separate from the masala.

Add the milk and 1 cup of water and allow it to come to a boil. Reduce the flame, coz milk might curdle if boiled along with masala's.
Now add the vegetables, sugar and salt and mix well. Let this simmer for another 10 minutes on the stove. Take it off the stove and garnish with fresh coriander and Serve hot with Roti's.
Notes
I have made the subzi a bit dry to pair it like a masala with our morning breakfast dosa.

You can always make it like a gravy or as you like to pair with rice/roti's.

The second time, i made this curry, i chopped the onion, tomatoes, garlic and ginger in my chopper so fine, i skipped the grinding part. The dish tasted good both the times.