I cannot imagine a south-indian house-hold running with idly/dosa. Almost every one of them will have a dabba of idly/dosa batter for emergencies in their fridge. I too have idly/dosa batter always in my fridge, every sunday it is a ritual to soak rice and dal for grinding batter. In my mom's place it is my dad's duty to grind idly batter, though recent days amma is managing it all alone, but still appa monitors the grinder😀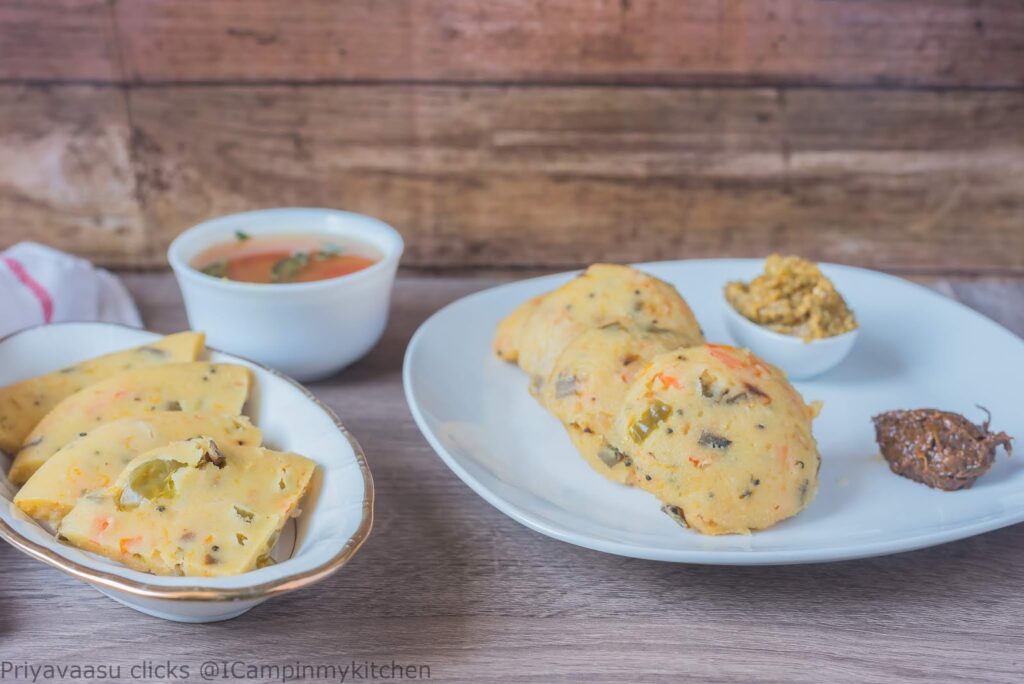 So, what will we do when we run out of our primary breakfast source, we improvise and still try to make our soft and fluffy idlies, appear on the table. Instant rava idly/Sooji idly is a blessing in those times, mix and steam, you can add a variety of veggies to it, make it colorful by adding veggie/spinach paste.
Rava idly happens atleast once in 15 days at home, mainly for kiddo's breakfast box. Elder one loves to have it with podi, whereas my lil one is happy with sambar or some pickle mixed with yogurt, yeah, he is one of kind in our house. A quickie recipe for lunchboxes or even for a weekend breakfast, do try and let me know how you liked it.
Ingredients
2 cups of Rawa/Sooji/Semolina
2 cups of Sour Yoghurt,Whisked
1 teaspoon of Eno Fruit Salt or ½ teaspoon baking soda
Salt to taste


For Seasoning
2 teaspoon oil
1 teaspoon Mustard Seeds
1 onion, finely sliced
1 carrot, grated
1 capsicum, thinly sliced
½ teaspoon sambar powder (or you can add 2 green chilies too)
½ teaspoon Ginger juliennes
hing a pinch
Method
Heat 1 teaspoon of oil in a pan and roast the Semolina, until it gives out a nice aroma, Watch the flame. Mix the roasted semolina with the yoghurt and salt.

If the batter is too thick you can add little more yoghurt or Water. I normally use Thick Buttermilk instead of Yoghurt.

Heat oil in a pan, splutter mustard seeds, add onion, curry leaves, hing and ginger and saute for a minute. Then add the veggies and saute for 3-4 minutes.

Next add sambar powder and cover and cook for 5 minutes until the rawness escapes. Once done, remove and add this to the rava batter, Mix well.

Next add the fruit salt or baking soda to the batter and mix well. Let it sit for 5 minutes.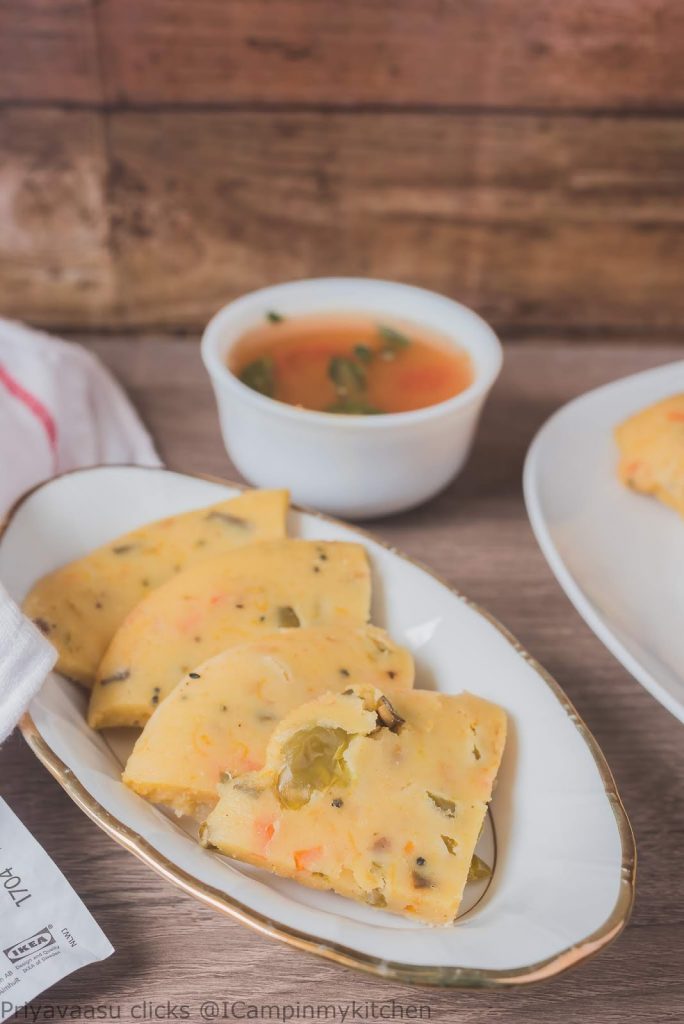 Grease the Idly plates and Pour the batter into the moulds and steam cook for 10 minutes in a slow flame.

When done, Take it out of the steamer, Give it a minute to cool and then unmould. Enjoy with any Spicy Chutney.

We Enjoyed

it with some

Ivy gourd chutney

and tiffen sambar.