Vennai Puttu, a traditional recipe from Tamilnadu was chosen by Srivalli as this month's Indian Cooking Challenge. The Recipe is Shared by Priya Suresh, who surely doesnt need any introduction. They have also referred to Nirmala's Post on Vennai Puttu. The recipe was so much like making Kozhukattai Maavu, only difference being adding jaggery and fried nuts. I thoroughly enjoyed making it and more than me my people loved hogging it. The Sweet was mild and cooked chana dal and coconut pieces added a nice texture to the Puttu.
Ingredients 
2tbsp Shredded or sliced fresh coconut pieces ( i used shredded coconut)
2 tablespoon Dark Brown Sugar ( i added it @ the end, since i felt the sweet wasn't enough)
Few roasted Cashew/Almonds for Garnishing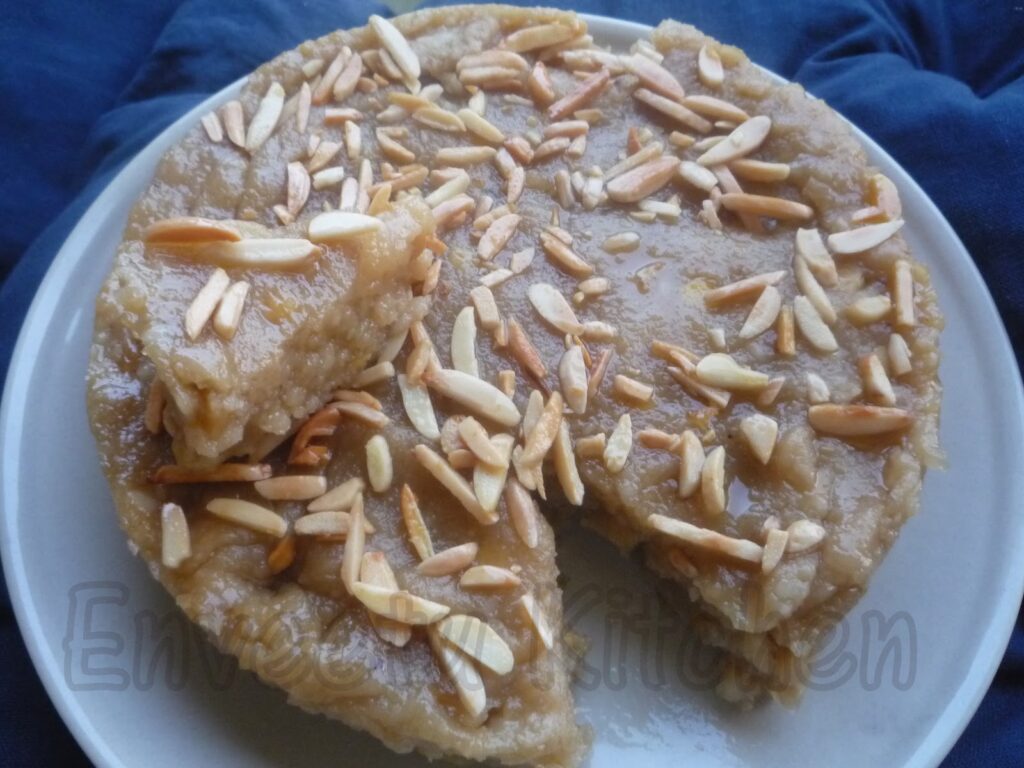 Method
Soak the raw Rice and Chana Dal for three hours. Cook Chana dal in ½ Cup water, the dal should not be mushy. 

Grind Rice as a fine paste  with half cup of water, meanwhile make a jaggery syrup with jaggery and quarter cup of water, strain the syrup and keep aside. Keep a Greased plate ready.

Boil 2 cups of water in a heavy bottomed vessel. when it starts boiling, reduce the flame and add the grounded rice paste. Keep Stirring and cook in medium flame until the rice paste is Cooked.Keep a Close watch and keep stirring or you will end up with a burnt puttu!!!

When the rice paste is cooked add the jaggery syrup,cooked channadal,cardamom powder, give a stir and cook until it turns as mass and gets off from the vessel,now add the coconut pieces,give a stir and put off the stove. At this point, i added Brown Sugar to make it little more sweet and a tablespoon of ghee to make the Rice Mass come out smooth.

Finally pour this thick mass of rice-jaggery paste to a greased plate, arrange the fried nuts over the prepared vennai puttu.

Let it Cool for few minutes and Enjoy while it is warm.