Vermicelli upma is our very own noodles upma. My lil one calls it that way. It's been almost 2 years since we stopped buying instant noodles, so whenever kids ask for noodles  it is either this vermicelli or Hakka noodles. 
I m not confident enough to pack Hakka noodles for their lunch box yet. I have my doubts, that it might go dry or gloggy, uff, mother's mind! 
When they ask me pack noodles they now what to expect in the box, I either make upma or this puloa. Usually upma I make it just with onions,  but with pulao I try to add their favorite veggies in small quantities. 

The coconut milk in the pulao gives it a nice flavor and with mild spices and generous ginger it tastes exactly like our rice puloa. So if you are like me giving them vermicelli for noodles, then you should definitely try this pulao! 
¾ cup mixed veggies ( I have used carrots , capsicums, cauliflower and potato)
1 medium sized onion, finely chopped
1&½ cup thin coconut milk
Juice of ½ a lemon(Indian lemon)
3-4 curry leaves, torn into pieces
⅓ teaspoon freshly shredded ginger 
2 green chilies, finely chopped
In a heavy bottom pan, dry roast the vermicelli until golden brown. Remove the roasted vermicelli into another plate.

Now in the same pan, add coconut oil given under tempering, add cumin seeds, clove, cardamom and bay leaf to to and sauté for a minute.

Now to this add chopped onions and green chilies, sauté until onions turn translucent.

Now the time to add the mixed veggies, sauté for a minute and add coconut milk. If using thick coconut milk, add 2 cup of wAter along with it. If using thin coconut milk, no need to add water.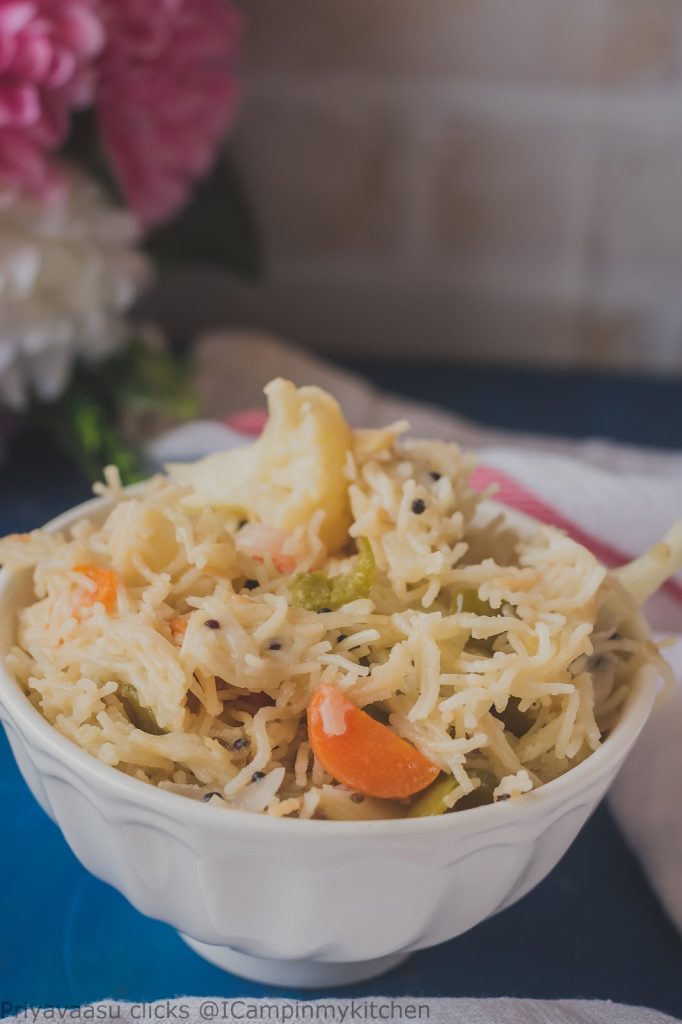 Add salt and lemon juice, let the water come to a boil, add the roasted vermicelli to his and simmer the flame to medium and let it cook covered until done, takes around 8-10 minutes.

Once done, remove the cover and fluff it up with a fork, let it be on the flame for another 2-3 minutes and then take it off the flame.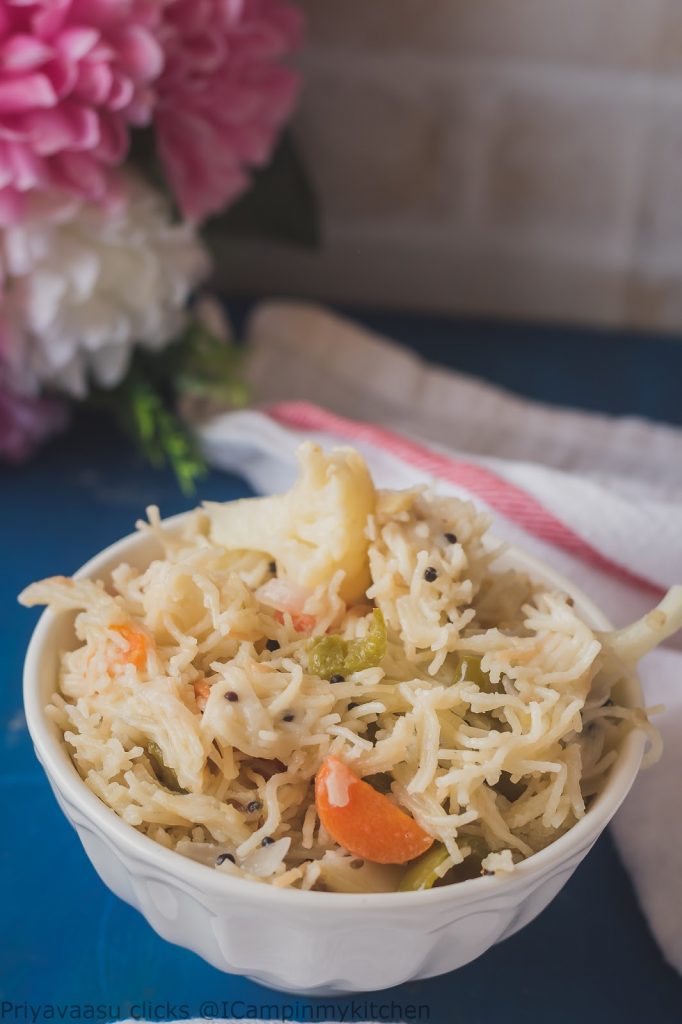 If using coriander leave, garnish and pack it in lunch boxes along with some crisps or a spicy curry.