Almost last post of Explore th flavors, never imagined it be would this easy as I wasn't prepared with the last 2 weeks posts. Since the list was ready I was able to pull it off decently.
Y for yam, I decided make a simple yet delicious fry with yam. I have cooked yam frequently after my marriage, but suddenly one day, I got a bad throat-
itching after eating yam, so I got scared and totally stopped buying yam, even for my hubby.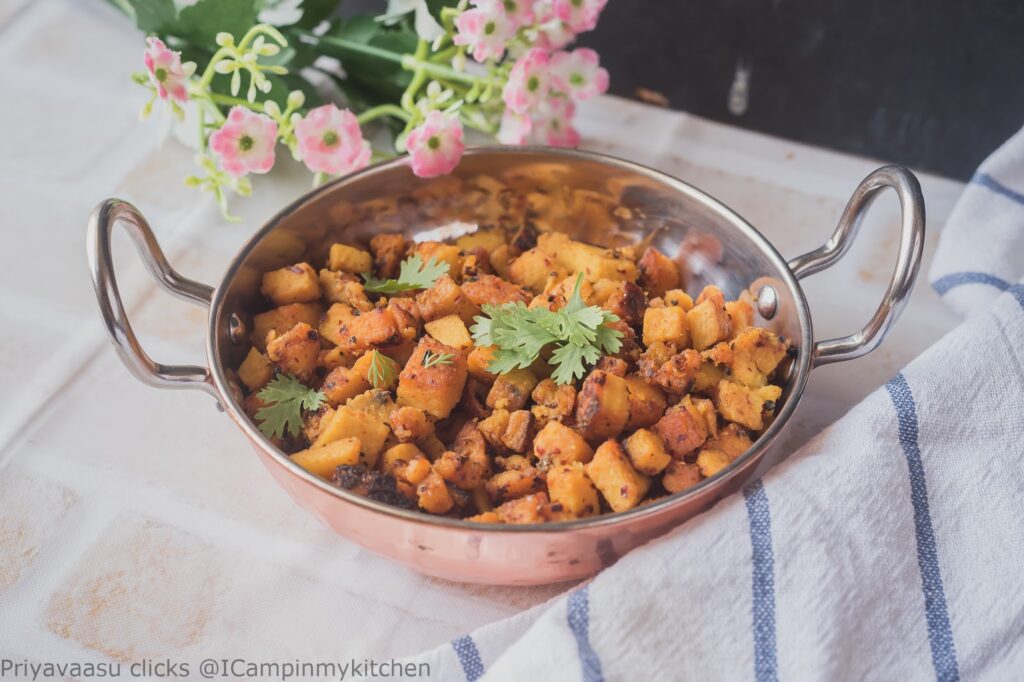 Yam is a safe veggie, if it is cooked well, though I knew this , I needed more time to understand and accept it and come out of fear.

Now I m cooking it frequently, like how I used to do it previously.
I make yam masiyal, yam fry and sometimes a spicy kootu also. This yam fry is something loved amongst all the other dishes I make with them. My elder one loves it when served hot straight from the pan. I make this for his lunch for one of his stay back days, along with some jeera rice or coconut rice . It tastes divine with some hot rasam rice too! Do try and let me know how you liked it!
500 grams yam/chena/chenaikizhango
½ teaspoon - ¾ teaspoon red chili powder
½ teaspoon turmeric powder
Remove hard outer skin of the yam using. Sharp knife. Cut them into thick slabs and further into thin strips and then into cubes.

Take the cut yam into a microwave safe bowl, add water and rinse well. Take fresh water until the yam is submerged, add tumeric powder to it and mix well.

Microwave cook at power 100 for about 16-18 minutes or until done. In my microwave it gets done by 16 minutes. The yam must be well cooked, if you press a yam cube with your fingers it should mash well. Drain the water completely.
In a wide pan, add oil, splitter mustard seeds, add hing and curry leaves. Now add drained yam cubes to t. Do not disturb it for about a minute or two. Now add red chili powder and salt to it. Mix well, but gently, the yam Is already cooked, we are just seasoning it now.
Once mixed let this cook in a medium flame until it gets crisp. Mix once in a while. It will take around 12-15 minutes in a medium flame, do not increase the flame or else it might burn. Once done, remove it and pack it as side for any rice dish.