After doing a mega marathon, i sort of go into cocoon, no blogging shell! Yes, i m noticing it for the past 2 mega BM's. It sort of becomes so overwhelming, with so many posts and not to mention the laziness that crawls inbetween, and also the excitement, where you either cook 4-5 dishes in a day or just shut the kitchen for the day!
This happened, after September BM too, i didnt blog in October at all. May be a post here and there, but no continuous blogging. Then again, it takes a jolt to come back to the spirit of regular BM. This month, i decided to do 2 weeks of our regular marathon. In this genre, the theme for this week, is Burgers! Yup, i will be posting 3 days of different burgers.
First on the list is this lentil burger. Lentils are great source of vegetarian protein, not a day passes without a dal in our house. This 3-lentil tikki burger, i made it as a after-school snack for my kiddos, and the tikki's were our dinner that day. The burger was relished by my elder one, whereas the lil one enjoyed the tikki's with sauce. It can be both pan-fried and oven-baked, pan-fried obviously will be more crisp, succulent, whereas the oven-baked where a bit a parched on top, but nevertheless the taste was spot-on with both the methods, do try and let me know how you liked it!
Ingredients (makes 10 large tikki's)
For the Tikki
½ teaspoon coriander seeds
handful of fresh coriander leaves
handful of fresh mint leaves
½ teaspoon garam masala powder
3 tablespoon cornmeal/bread crumbs/sooji (i used corn meal)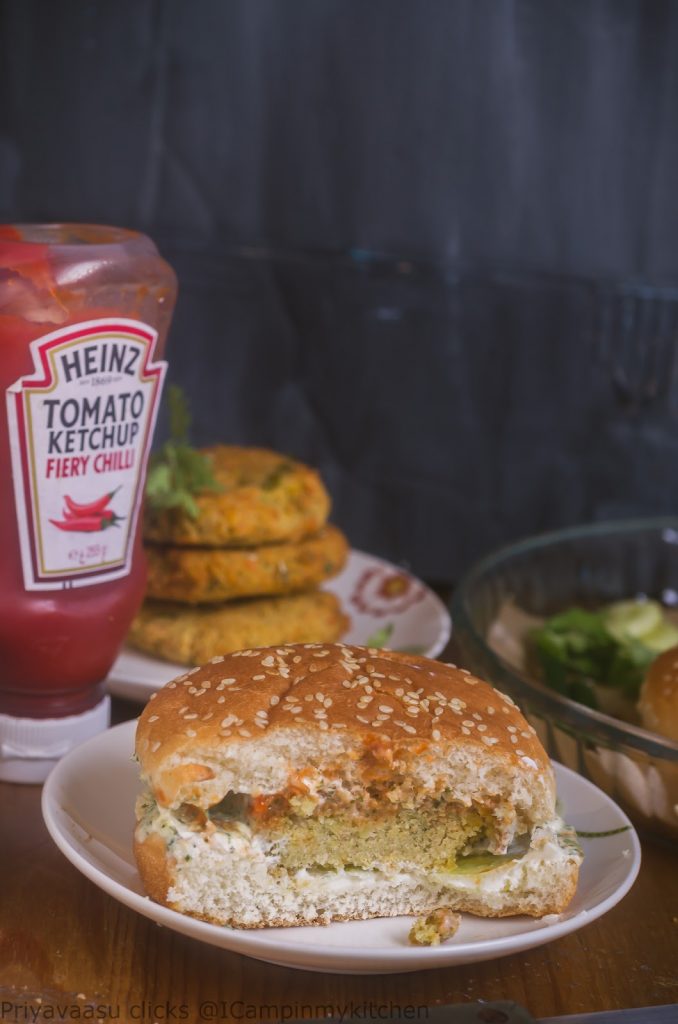 For the Burger
Method
For making the Tikki
Wash and soak all the 3 lentils in water for 30 minutes. After the said time, drain well. Let is sit in the colander for 10 minutes.

While the lentils are soaking, wash, peel and cube the potates and cook it until soft. I cooked it in microwave, take the potatoes in a microwave safe bowl, add water to immerse, microwave high for 6-8 minutes. Once done, drain well, mash it well and set aside.

Take the lentils in a food processor, to this add garlic cloves, chilies, ginger, coriander seeds, green chilies, coriander and mint leaves. Pulse and grind into a coarse mixture.

Remove the coarsely ground lentil mixture to a wide bowl, add the mashed potatoes to it, followed by garam masala, salt, corn meal and corn flour.

Now using your clean hands, combine the mixture together. Divide the mixture into 10 big patties. I made 5 large patties (of the size of a burger patty) and 8 smaller ones.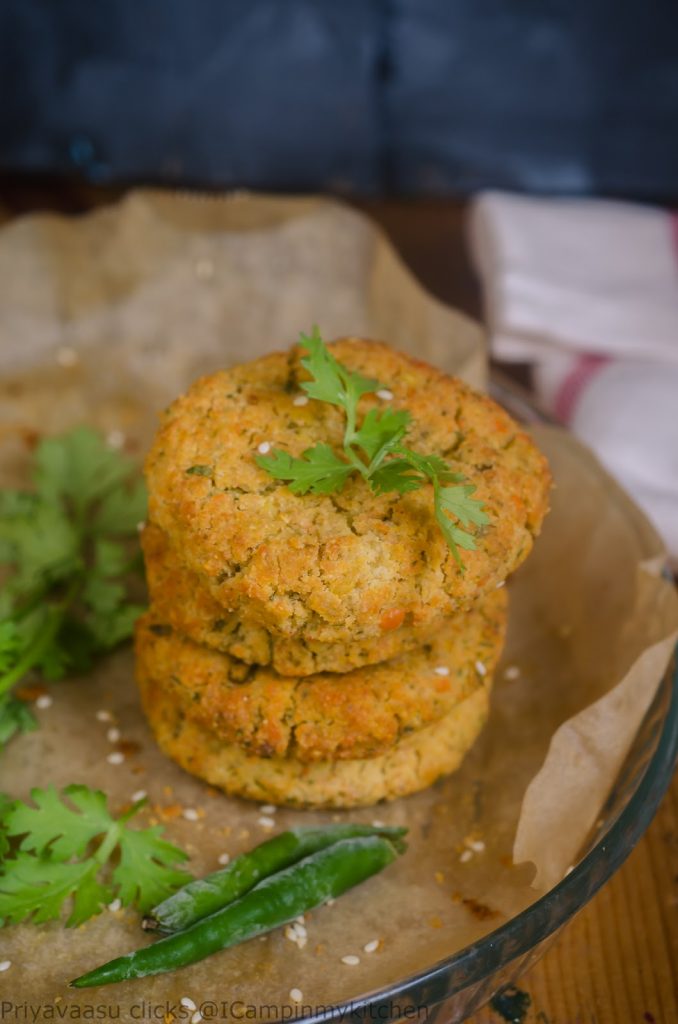 Cooking the patties
The patties can be oven-baked or cooked on a flat tava. I did both. I cooked the smaller patties on the stove. The regular ones i baked.

To cook them on pan, heat a wide pan, add 2-3 tablespoon of coconut oil/gingely oil, place the patties 2 or 3 at a time and cook in a medium flame, until the bottom browns, flip and cook the other side until golden brown.

To Bake, preheat the oven to 200C. Line a round baking tray with parchment paper, place the patties with some space in between. They are not going to fluff up, while baking so don't worry too much about them touching each other.

Brush the tops well with oil, i used coconut oil. Bake them for 45 minutes, flipping them once in middle. Remove from the oven. you can serve it as such with sauce and minty yogurt and assemble it into a burger as i did.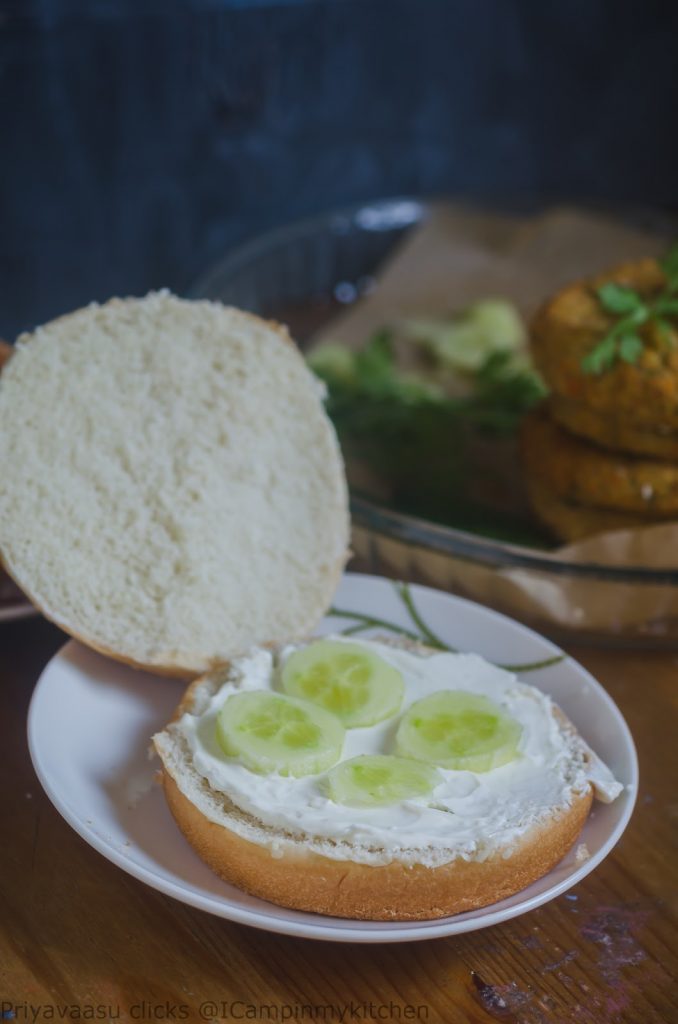 Assembling the burger
Cut open the burger bun, spread labneh on both slices, place some cucumber slices, place the baked lentil tikki, top it with minty yogurt sauce, squeeze some spicy tomato ketchup, and close with other slice of the burger. Enjoy it warm.
I served it for my elder one as after school snack and he went ga-ga over it! The lil one enjoyed the tikki's as such with sauce.