Starting from today, we a group of bloggers are into month-long marathon cooking International Cuisine. If you are a regular reader here, then you must remember Indian Food
Odyssey
, a month-long marathon covering all Indian States, yes like that it is now International Cuisine and named as Around the world in 30 days!
This Marathon was planned well ahead and some of us, even finished cooking, drafting and scheduling posts also. But, i m one of those who lung out at the last minute, juggling 10 things all at one time. Phew!!! am i tensed? yes super-tensed, but loving it, its kind of adrenaline-rush for me!!! 🙂
Coming to today's Cuisine we start with A and i chose to cook from Afghanistan. Why Afghan?
Well, it is our Neighboring country and secondly i wanted to try out the vegetarian meal options available in these countries, where we think only chicken and mutton dominate.
According to Wiki: The varied climate of Afghanistan allows for an abundance of crops throughout the seasons. Fresh yogurt, coriander, garlic, onions, spring onion, tomatoes, potatoes and fruit are widely available in all parts of Afghanistan, and are used in preparing foods. Fruits and vegetables, fresh and dried, form an important part of the Afghan diet, especially in the rural areas. Afghanistan produces a variety of fruits, notably grapes, pomegranates, apricots, berries and plums.
Bolani is a vegan flat-bread from Afghanistan, baked or fried with a vegetable filling. It has a thin crust and can be stuffed with a variety of ingredients, such as potatoes, spinach, lentils, pumpkin, or leeks. It can be served with plain yogurt or mint yogurt.
I was planning to make with fenugreek(subzi shaftal), but couldn't get a fresh bunch of it. So decided to make Potatoes & Pumpkin. We loved both the stuffing. Kiddos preferred Aloo, my elder one even asked it for his lunch box,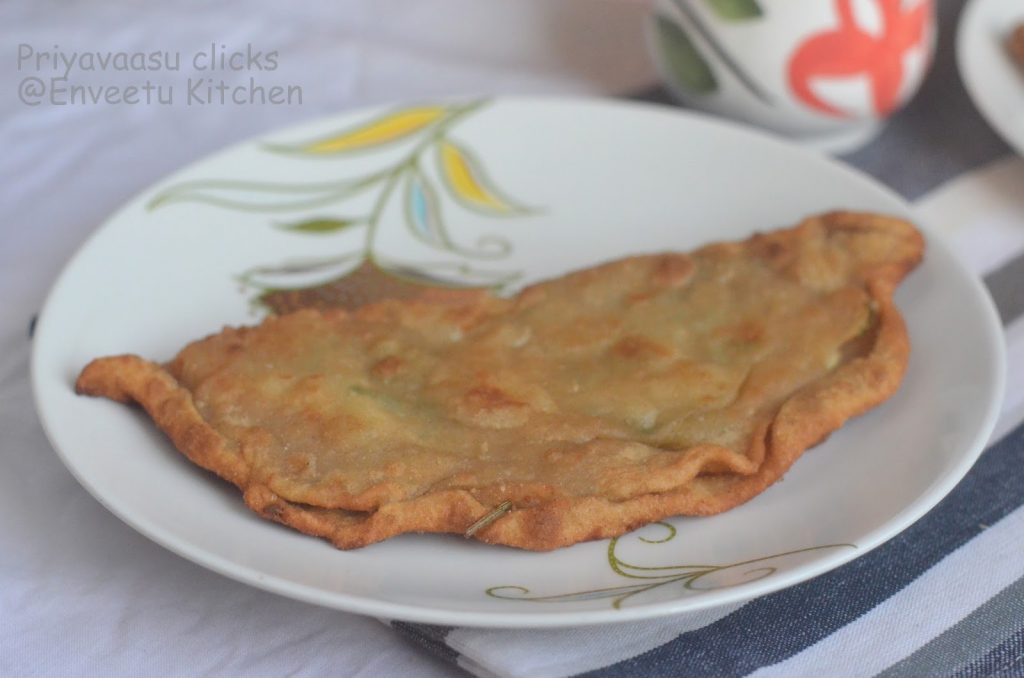 Source : Ziba Kitchen
Ingredients
½ Cup to ¾ Cup of water to make the dough
Method
Prepare the dough
Take flour, salt in a large bowl and mix together.

Add water to this and slowly start kneading to make the dough. Add oil finally to get a smooth and soft dough.

Keep it covered until use.
a handful of fresh coriander leaves
a bunch of chopped scallions (both white and green part included)
1 no green chili, finely chopped
½ teaspoon freshly ground blackpepper powder
Method
Peel, chop and cook the Potatoes soft. i used Microwave Auto-cook menu to cook the potatoes. Let it cool, drain the excess water.

Mash the potatoes, add the rest of ingredients to it. Mix well and set aside until use.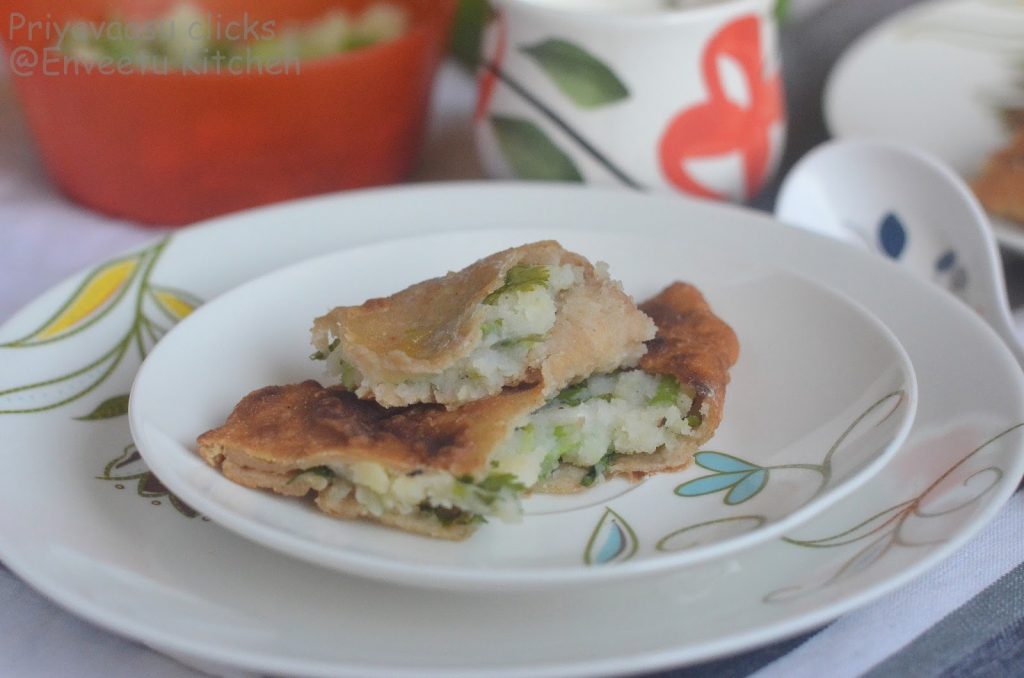 1 green chilies, finely chopped
½ teaspoon freshly pound pepper
a clove of garlic, minced
a handful of chopped fresh coriander
a handful of chopped scallions
Mix all the ingredients together, keep aside until use.
Divide the dough into 6-7 pieces. Flour the surface well and roll out the dough round and thin.

Place 1-2 tablespoon of stuffing on to one half of the rolled roti and fold over the other half on it.

Press it lightly and seal the edge. Use a fork to make crimp design on the edges.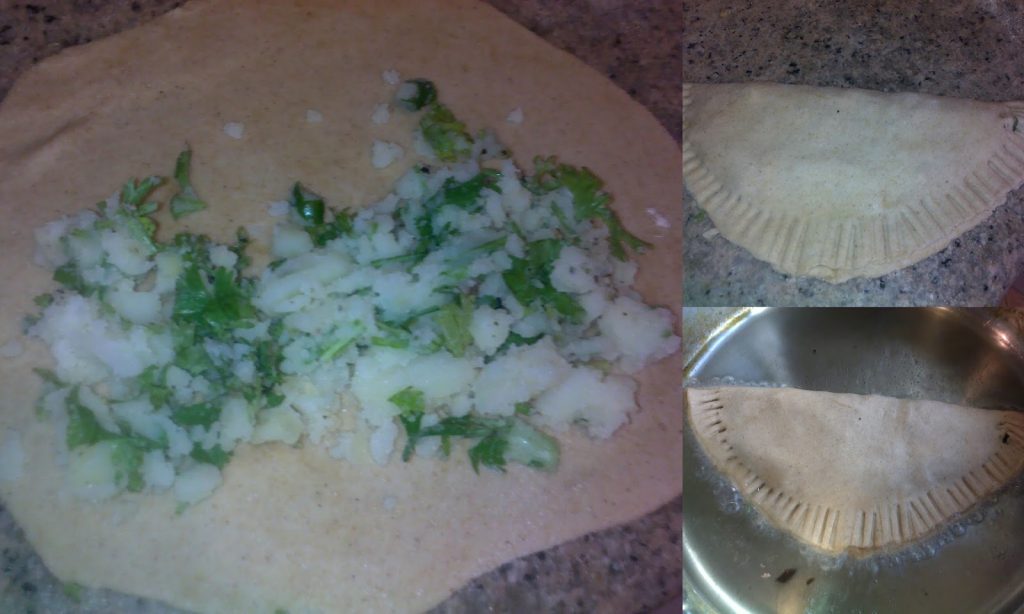 Heat a pan with ¼ cup of oil, when it is hot enough, gently slide down the bolani slowly and pan fry on both the sides until done.

Serve it warm along with Yogurt-mint dip.
Ingredients
2-3 sprigs of mint, minced finely
Just before servig, mix together all the ingredients together to make a smooth dip.Serve it along any flat-bread.
Hope you love what i served from Afgan today, see you all tomorrow with B...


Notes (updated on 2nd September 2014)
Bolani freezes well. Freeze it uncooked. I tried and froze 2 pieces of Potato bolani and 2 pieces of pumpkin bolani.

I tried using All Purpose flour and also Wheat flour for this recipe. Both turned out well. Even Multi-grain flour tastes good.

The amount of spice and variety in the filling is one's own choice. So, go ahead, experiment.

Bolani can also be cooked on tava, just like our paratha. If calorie conscious, try cooking tava with less oil.