The final dish on the 1 ingredient 3 course theme, is Dessert. I originally planned to make Aloo Gulab Jamuns, then i became lazy and settled for a halwa. With kids at home, i m constantly with one or other work all through the day. To think, it will be like this for another 2 weeks, is all the more maddenning. So, let us not think about it now or else i will cry like a baby and not finish the post.
This aloo halwa was put together in 30 minutes. Only disadvantage being,you have to standing near it all the time. But it is worth the effort.
Ingredients
1 Large Potato, gives approximately 1.5 cups of mashed potato
3-4 pods of cardamom, crushed
2 drops of orange food color (optional)
few roasted cashewnuts and raisins for garnish.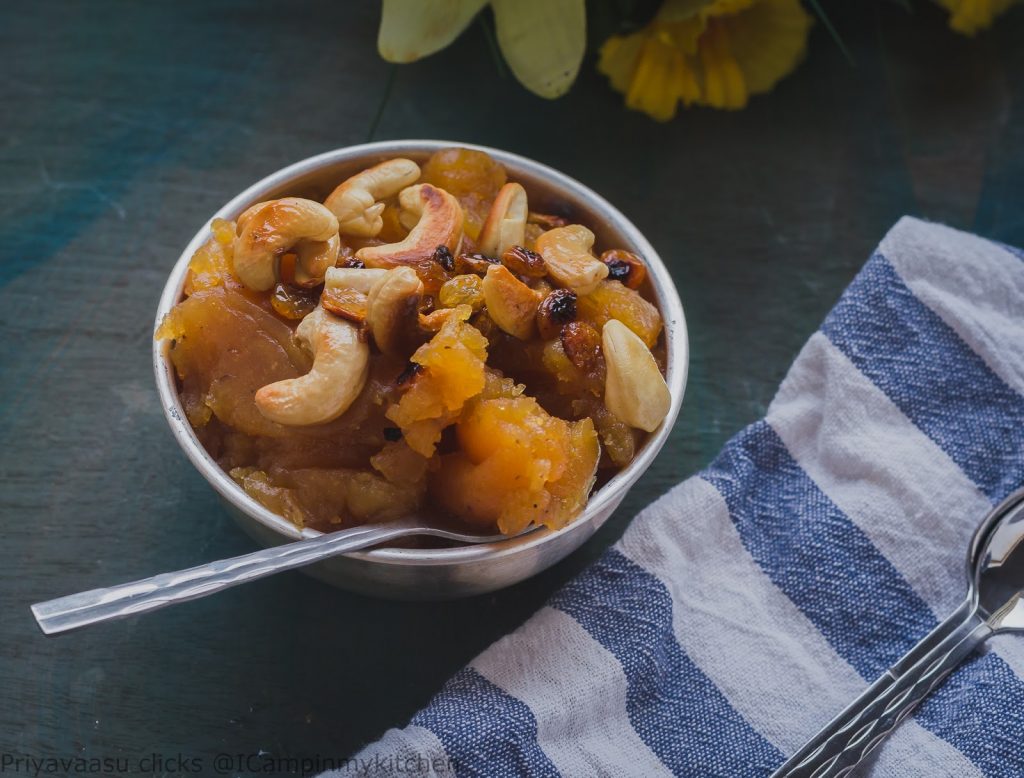 Method
Wash, peel, cube potato and cook them until soft. If cooking in a microwave, take them in a microwave safe bowl, add water to immerse the potatoes. Microwave high for 8-10 minutes. If cooking on stove-top, cook them until soft. Drain the excess water and keep aside.

Mash the cooked potatoes well, there should no lumps, If you are not sure of this, better blend the potatoes in a blender until smooth.

Heat a sauce pan, add 1/4 cup of ghee, add the mashed potatoes to it and saute, keep the flame simmer. Keep stirring the potatoes will absorb all the ghee and start cooking. Do not leave them unattended.

As you keep stirring, the potatoes will change color to amber. and the rawness of the potatoes would have completely gone. Now add the sugar, cloves and cardamom to this. Add the food color too.

When you add sugar, it will melt and the halwa will liquify. Do not worry, keep stirring, the sugar will be absorbed and the halwa will start thickening.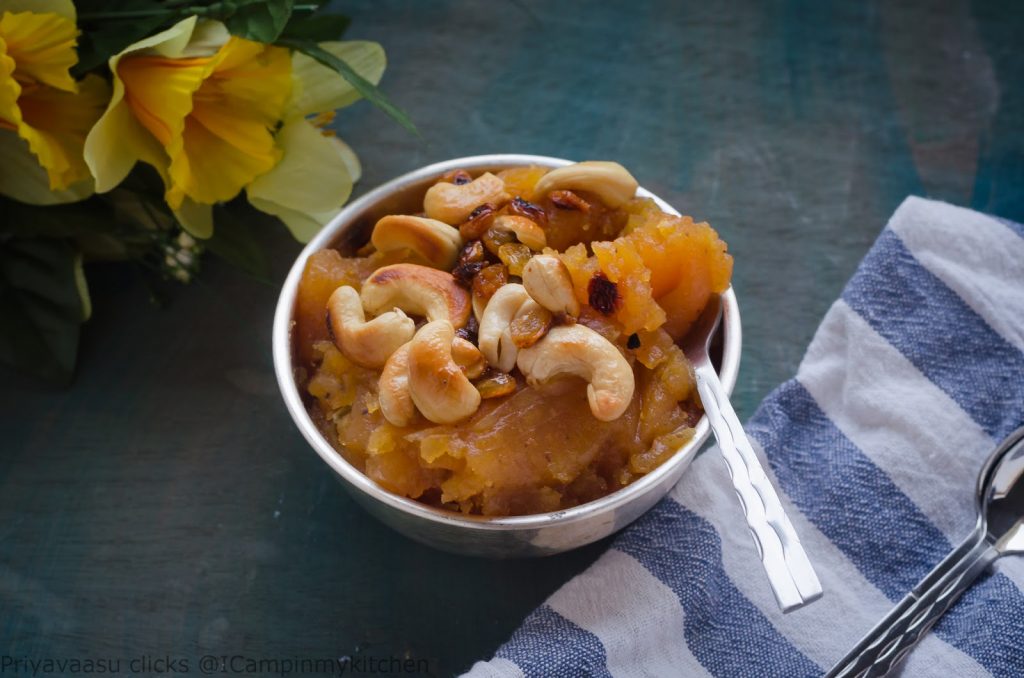 When the halwa starts following your ladle, start adding the other 1/4 cup of ghee, slowly 1 tbsp at a time. When all the ghee has been added, and when the halwa starts leaving the sides of the pan, add the cashewnuts and raisins to the halwa and take it off the stove. Serve it warm.
Check out the Blogging Marathon page for the other Blogging Marathoners doing BM#71