For day 2, a simple sandwich with favorite potatoes. There might be numerous ways to make a potato/aloo sandwich, but this one was inspired from an Panipuri wala in Chennai.
I m a bit skeptical when it comes to roadside panipuri, yeah i know it is like an abuse to people who are loyal patrons to this chat. I m scared of the water they use, i fear i might catch a stomach bug and stay in the washroom for the whole day (don't roll your eyes). 
My Bro's wife is straight opposite of me. She loves pani puri. She is a regular in all the chat stores wherever she lives. There is one guy, outside Nilgiris supermarket, in moggapair, Chennai. She made me taste pani-puri there, i too did with all my doubts.  Ohh, i loved it totally. The potatoes that he stuffed inside the puri's caught my interest. 
He made them straight before us, mashed the potatoes, added a bit of this and that and tada, they tasted totally out of the world.  I wanted to try that potato stuffing at home. It was really haunting me for the past one month, till last week.  I was able to bring out the same taste 90%, but still he had some magic, in a small shabby plastic bottle, will flick it next time i meet him. 
Long story short, here is that potato filling, inspired from panipuri wala. Adjust the seasonings according to your taste, there is no actual measurement for the seasoning, i have given what i used in mine. 
Ingredients
For the filling
2 teaspoon fresh coriander leaves, chopped
½ teaspoon coriander powder
2 pinches of garam masala
½ teaspoon salt or to taste
For the sandwich
8 slices of bread (white/brown/multi-grain)
butter for toasting (if vegan, use coconut oil or any other alternative)
Wash, peel and cut the potato into cubes. Cook them either on stove-top or in the micro-wave until soft. If cooking on stove-top, add enough water, until the potatoes are immersed well. Let it come to rolling boil, take it off the stove, keep it covered. Drain and mash after 15 minutes.

If cooking in microwave, in a micro-wave safe bowl, add water and the potatoes. Cook at high for 8-10 minutes.  Let it cool, drain and mash.

Take the mashed potato in a large bowl, to this add chopped onions, chili powder, coriander powder, cumin powder, turmeric powder, garam masala and salt. Mix well. Add the chopped coriander leves finally and mix well. Divide the mixture into portions. I divided the mixture into 8 portions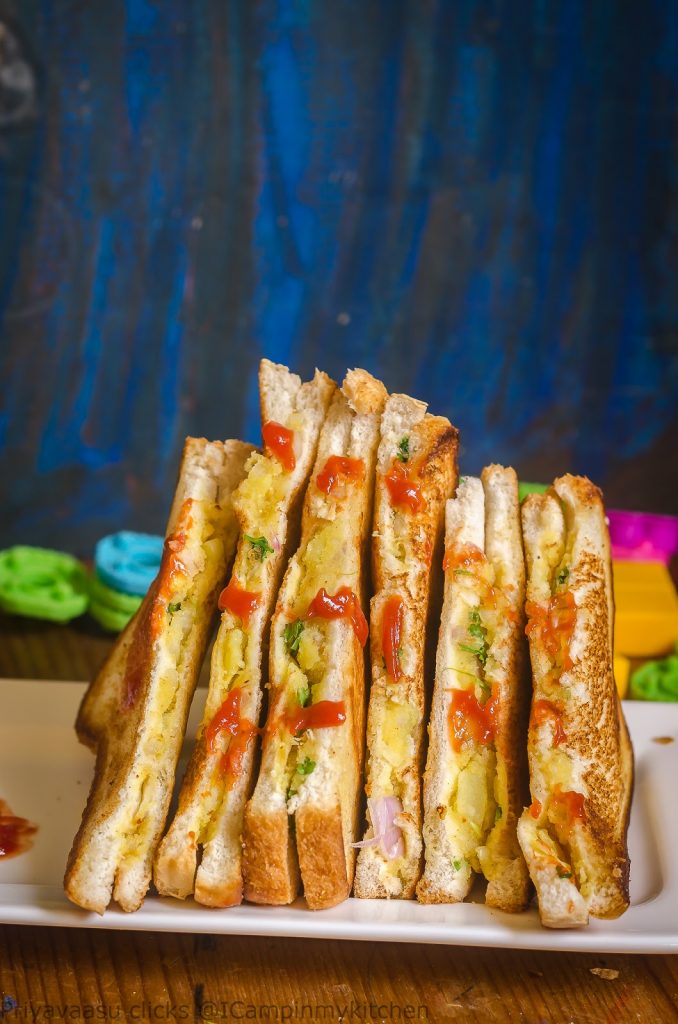 To Make the sandwiches
Spread 2-3 teaspoon of potato mixture on one side of the bread, close it with other slice. Repeat this for all the slices. 

Heat a tava/flat pan, toast the sandwiches with butter on both sides,until crisp. Serve warm with tomato sauce.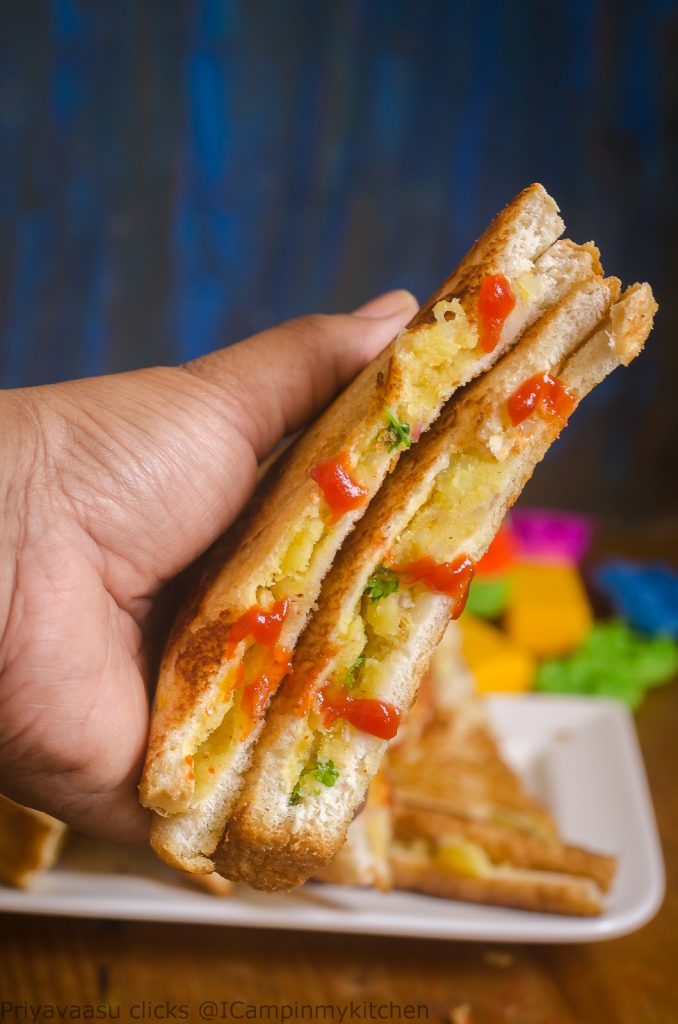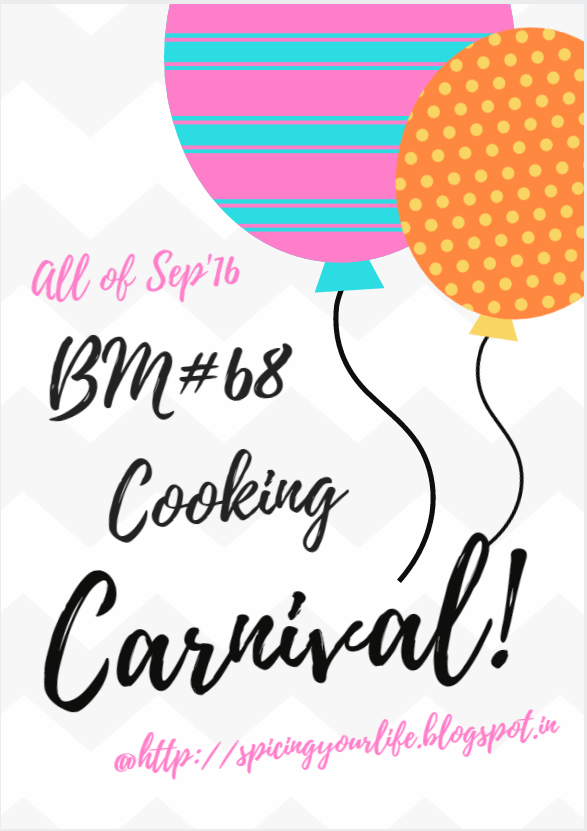 Check out the
Blogging Marathon page for the other Blogging
Marathoners doing BM# 68