I was totally blank today, didn't know what smoothie to make. I had some apricots, kiwi's, banana's and strawberries in the fridge. Since it is a no banana smoothie, i was left with 3 fruits in hand. I remembered seeing a swirl smoothie while blog-hopping sometime ago. 
That is how i got the idea of today's smoothie. Thank god for my memory, the smoothie was out of the world, the flavors were so amazing. One of the best recipes to surprise your people at home with colors on the breakfast table. Try and let me know how you liked it.
Ingredients
Apricot smoothie
3 nos fresh apricots, pitted, chopped into chunks
For the Strawberry swirl
1 cup strawberries, i used frozen.
2 tablespoon brown sugar (optional. if berries are sweet enough, avoid this)
Method
If using frozen berries, leave it  on the counter for 15 minutes, so it will be easy to blend them. If using fresh,you can blend them directly.

Blend berries with or without sugar until smooth and keep aside. Wash the blender well.

Take cut apricots, dates, almonds along with milk  and blend smooth.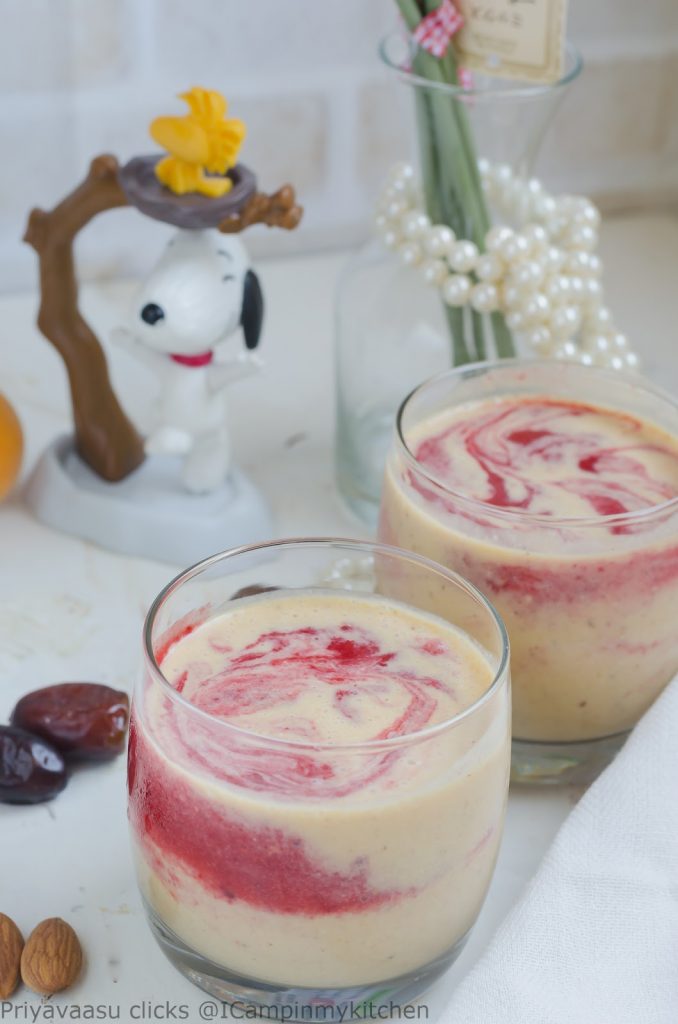 Now to serve, take two 300ml glasses, Pour apricot smoothie till ¼th of the glass, top with 2-3 tablespoon of strawberry smoothie on it, top it with another ¼ cup of apricot smoothie, followed by 2 tablespoon of strawberry smoothie. Do the same with the other glass.

Take a long straw and swirl the smoothie. to get beautiful patterns on top, and serve.  It tastes absolutely divine.