I bought a pack of zespri kiwi's last week, i didn't notice what type of kiwi's they were, to be honest, i never knew other varieties existed!😃 when i cut it open today, they were amber in color, i immediately checked the cover to see whether i really bought kiwi or something else? There it was Sungold Kiwi!!!! Sungold Organic kiwi are another variety of kiwi that are amber in color. Love the taste of it and i m already getting lot of ideas to use them well.
So, today i was in a mood to make Kiwi-strawberry smoothie without banana's, in-fact all the 3 smoothies, lined up for this week are without banana's. Banana's give volume to smoothies, they make it thick and creamy and also adds it natural sweetness! So why to omit that, you may ask? What if we don't have banana's? or avoiding banana's for some crazy diet? or simply cannot have a banana or don't like a banana?
If for any other reason, you don't want to include a banana in your smoothie, you can always try adding almonds, oatmeal, chia-seeds, softened poha, to it. They will give the same amount of volume and creaminess to your smoothie, as a banana. If you still feel it will be runny, then try using yogurt or coconut milk for a rich and creamy drink. This smoothie was such a delight, with the creaminess of coconut milk and sweetness from kiwi and color from the berries. Try and let me know how you much you enjoyed it!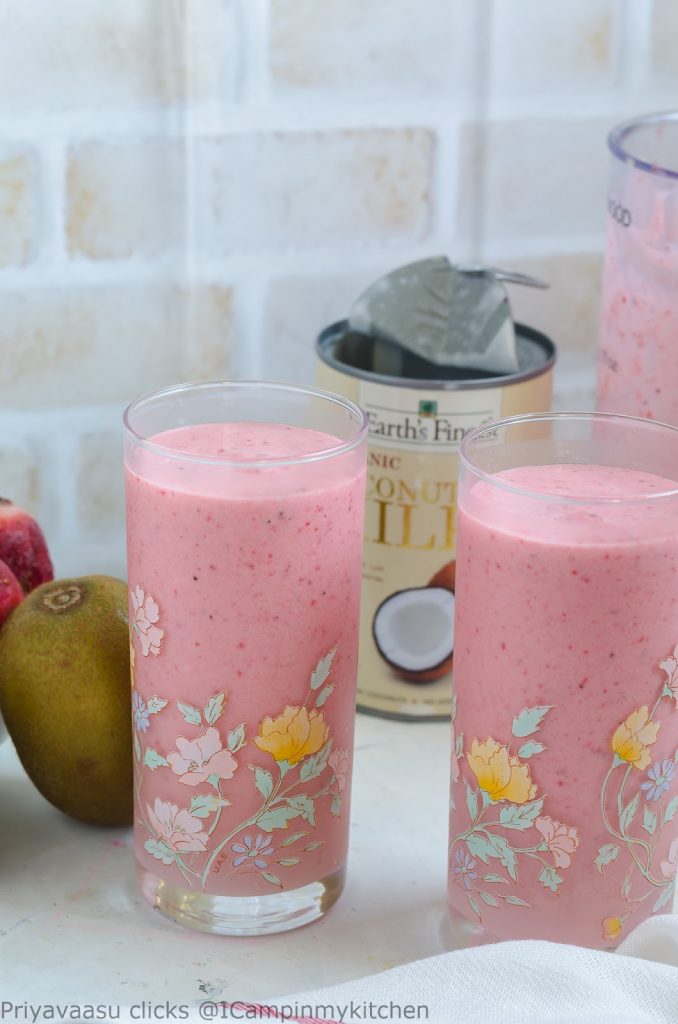 Ingredients (serves 2-3)
2 Kiwi's, i used Zespri, Sungold Kiwi's
15 nos strawberries, roughly 1 cup, frozen
1 cup thick, organic coconut milk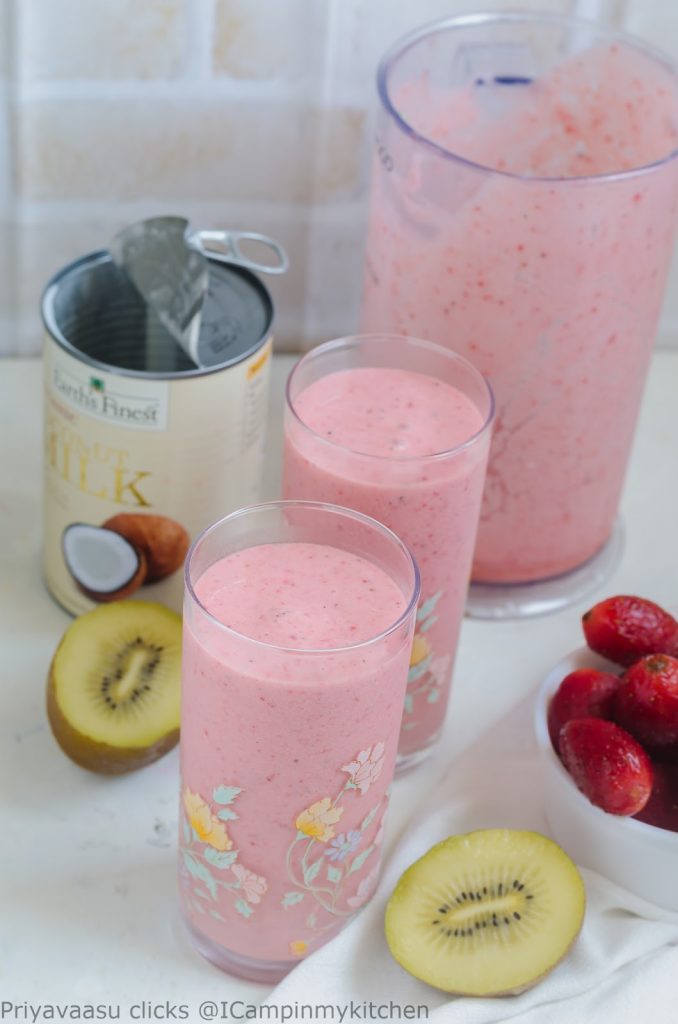 Method
Cut the kiwi fruit into two halves and scoop out the flesh using a spoon. Take the kiwi flesh, along with strawberries in a blender.

I used a hand blender, blend the fruits until smooth. Now add 1 cup of coconut milk to this and blend smooth. Take ¼ cup of water in the same cup in which you measured the coconut milk, swish it and add it to the smoothie and blend until smooth. Pour it in tall glasses and serve immediately.

I refrigerated the remaining smoothie, with a cling wrap over the jar. It stays good up to 4-5 hours.