Third Week of bake-a-thon, i bring a quick fix for your apple-pie craving. Luscious apples cooked to perfection, wrapped in bread and then baked with aromatic cinnamon sugar. It takes just 30 minutes to make this roll ups. These can be cooked on tava too, but oven makes it easy, you don't have to stand nearby and keep flipping it. These can be had for breakfast or as a dessert after a scrumptious lunch/dinner. Serve it with some whipped cream or ice-cream to make it more rich.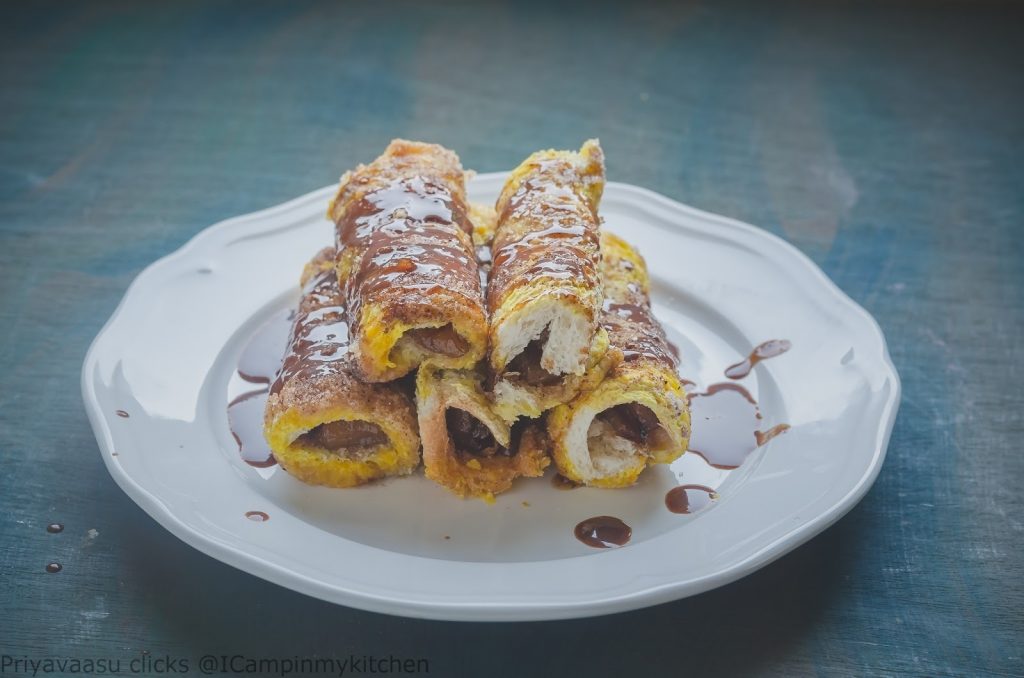 1 tablespoon of custard powder, vanilla flavored
1 teaspoon cinnamon powder
1 teaspoon butter to coat the baking pan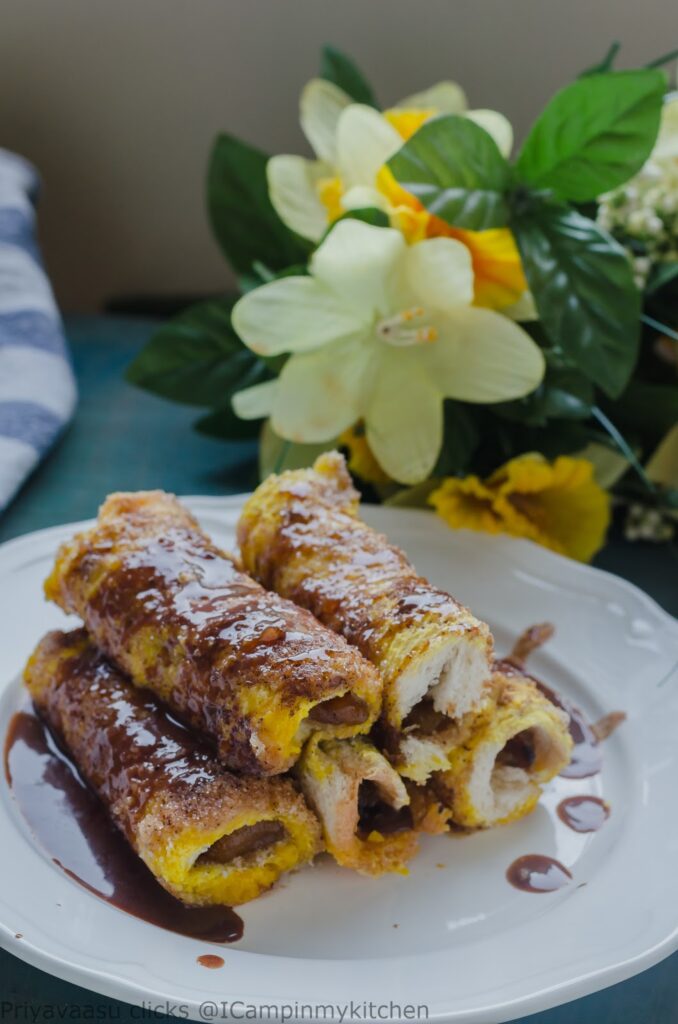 ½ teaspoon cinnamon powder
Let us make the filling first, wash and peel the apples. Chop the apples into small cubes. Take the chopped apple cubes along with butter, brown sugar, cinnamon powder, crushed cardamom, cloves and ¼ of water in a sauce pan and cook on a simmer flame, until the apples are soft and the liquid is almost evaporated and looks saucy.

Take it off the stove and let it cool completely until use. I made the filling the previous night and refrigerated it overnight. That way the flavors settle so well and the taste heavenly.
To make the apple pie roll ups
Take the bread slices and cut the corners. Mix custard powder with ¼ cup of water and add melted butter to it. Mix sugar and cinnamon powder and keep aside.

Now roll the bread thin, place a teaspoon of apple pie filling and roll it up like a log. Dab a little water to the corners and seal the edges to close. Dip the roll in the custard -butter mix and roll it in cinnamon sugar and place in a buttered baking tray. Repeat the same with rest of the rolls.

Preheat the oven to 180C, Drizzle some granulated sugar on top of the rolls and bake them for 15 minutes. Remove from the oven, let it cool for 10 minutes.

Serve them warm, drizzled with some leftover syrup from the apple pie filing and with some chocolate sauce.