Another puff pastry recipe. This is my third attempt in making these roses. I m yet to master the art of making these delicate beauties. I will definitely try one more time before this marathon and take a decent shot of these roses. If you get the apples thin, then this is a breezy recipe.
Excuse me for the bad pictures, i clicked around 4-5 recipes the same day, i ran out of ideas and became totally dry. I m making them again and will definitely update the pictures. For now, enjoy the recipe!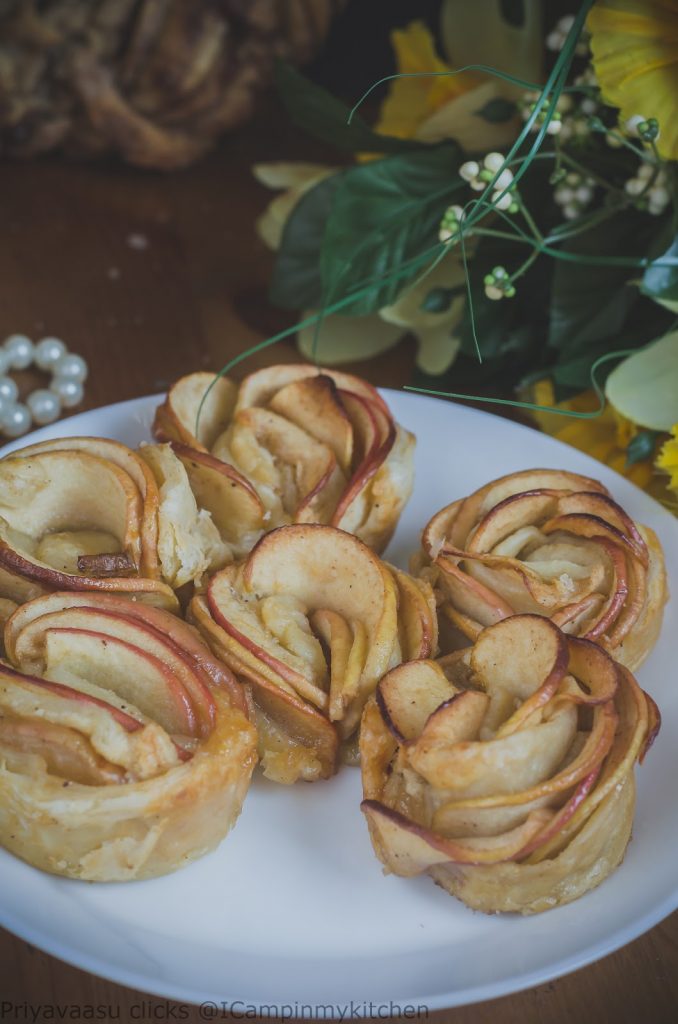 1 apple, cut into thin slices
3 tablespoon melted powder or 3 tablespoon any fruit jam
1 teaspoon of cinnamon powder (optional)
If the puff pastry is frozen, thaw it in the refrigerator for an hour or two. Remove it 30 minutes before making the roses and let it rest on the kitchen counter.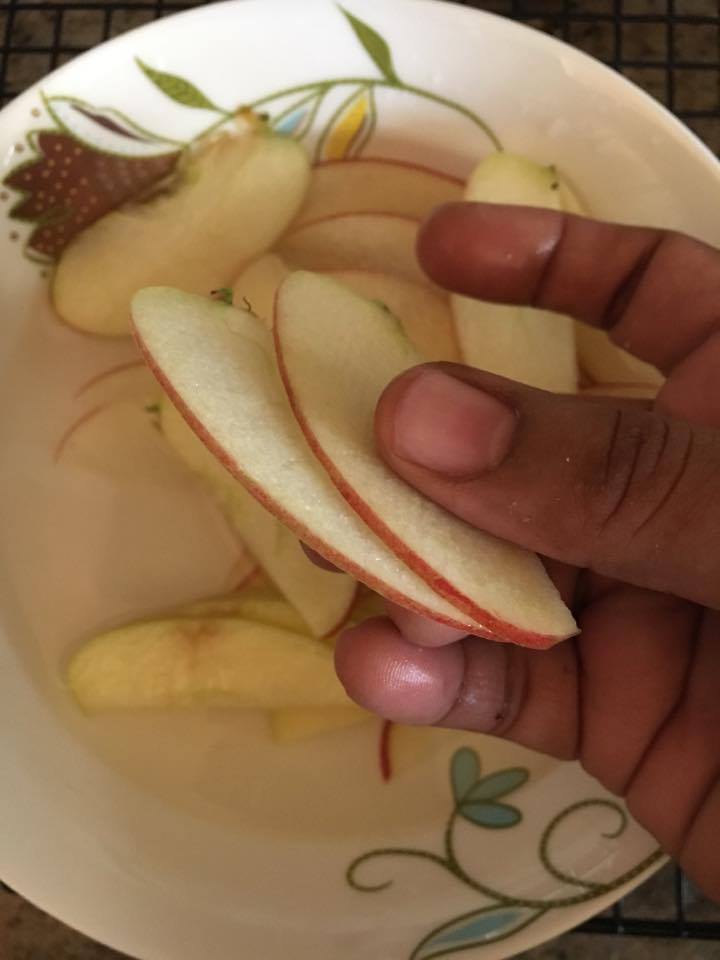 Wash the apple and cut it into thin slices an keep it immersed in lemon juice infused water for 5 minutes. Drain the water and arrange the apple slices on a ceramic plate or a microwave safe plate and Microwave them at high for 45 seconds for them to soften. This will prevent them from breaking while rolling them into roses. Trust me, they break like crazy,this step will ensure they become pilable, rollable with the pastry sheet.So, dont miss this step!!!!
Generously flour your work surface, roll the pastry and cut it into 8X2 inches strips. i made 6 strips, since i made 6 roses.

Lay one strip, either brush it with butter or apply jam on the strip, i tried both, and recommend butter. Arrange the apple slices, overlapping each other, around 8-10 slices on a pastry sheet. It should arranged in such way, part of the apple is on the pastry sheet and other half outside the pastry sheet. Sprinkle cinnamon powder and sugar. Close the other half of the past sheet over the apples.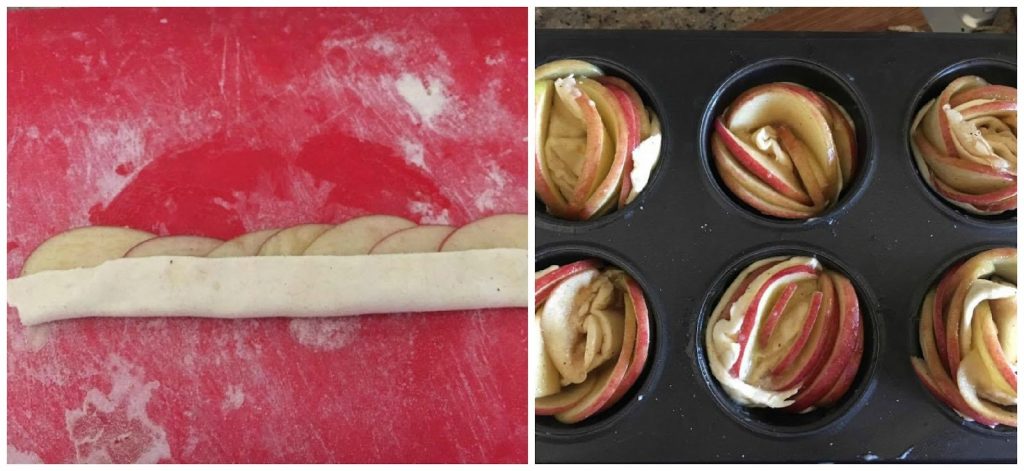 Now start rolling it into a rose. Once rolled, press the loose end well to seal. Place the rolled pastry in a well greased muffin pan. Repeat the same with the rest of the sheets.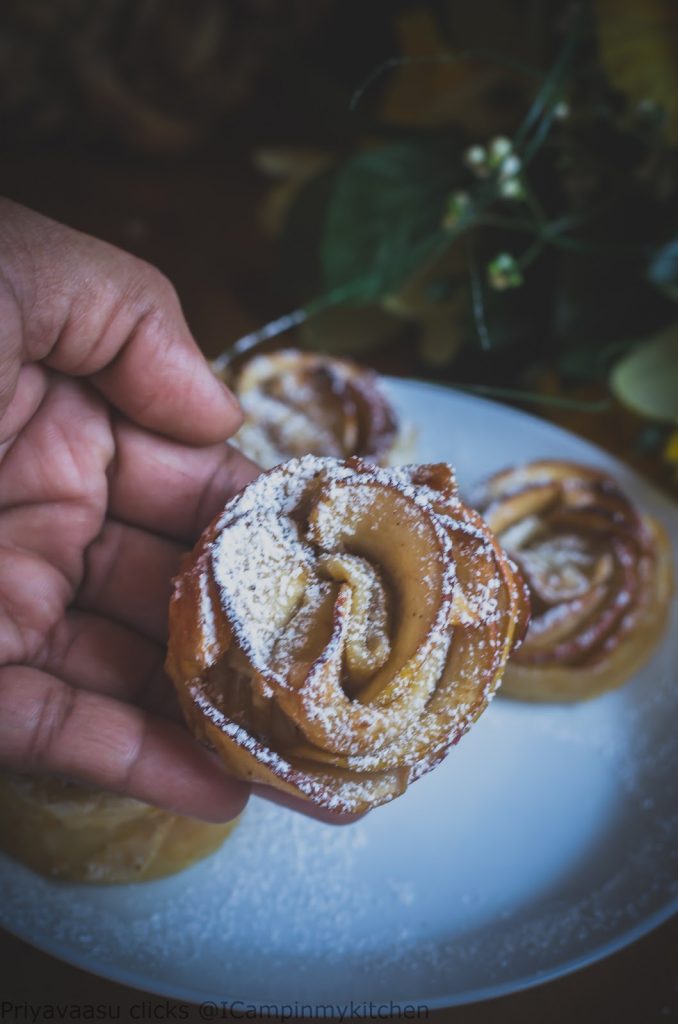 Preheat the oven to 200C and bake the roses for 30-40 minutes or until the pastry turns golden brown and the apples shrivel well on top.

Remove the muffin tin from the oven, let it rest for 5 minutes on the wire rack. Then slowly remove the apple roses from the tin. Serve it warm, dusted with some castor sugar