Baked French Toasts, i saw these recently in one of the magazines and thought of trying it. There is always this magic around that french toasts, what is causing it, is that the taste of the name? Who named it french toast? When i tried to read about it, it is originally called "pain perdu", meaning "lost bread",since these toast are made with stale bread, that is bringing back the lost bread. Earlier french toasts were made by just soaking in milk, only later they started adding egg, for an eggy golden toast. Apart from egg and milk, they can also be soaked in variety of liquids, rose water, wine, orange juice etc, etc. Now,this will give to way tooo many french toast recipes, right??
There is something called Hongkong French toast, do you know? A French toast, made in hongkong style. It sounds like Chai Tea!!!
Now lets get to the recipe, i tried combining two favorites peanut butter and nutella, it was delicious outcome. My lil one didn't want to try, the only toast he likes is Banana, honey and walnut sandwich. But my hubby and my elder one, literally licked the bowl clean.


Ingredients
6 slices of bread
2 king size reese peanut butter cups or ¼ cup of peanut butter
3 tablespoon nutella
1.5 cups of milk
1 teaspoon cinnamon
2 teaspoon candied ginger
1 tablespoon vanilla flavored custard powder
2 teaspoon butter for greasing the baking tray
For Serving
½ cup of cream cheese mixed with 3 tablespoon castor sugar
Few strawberries, banana
honey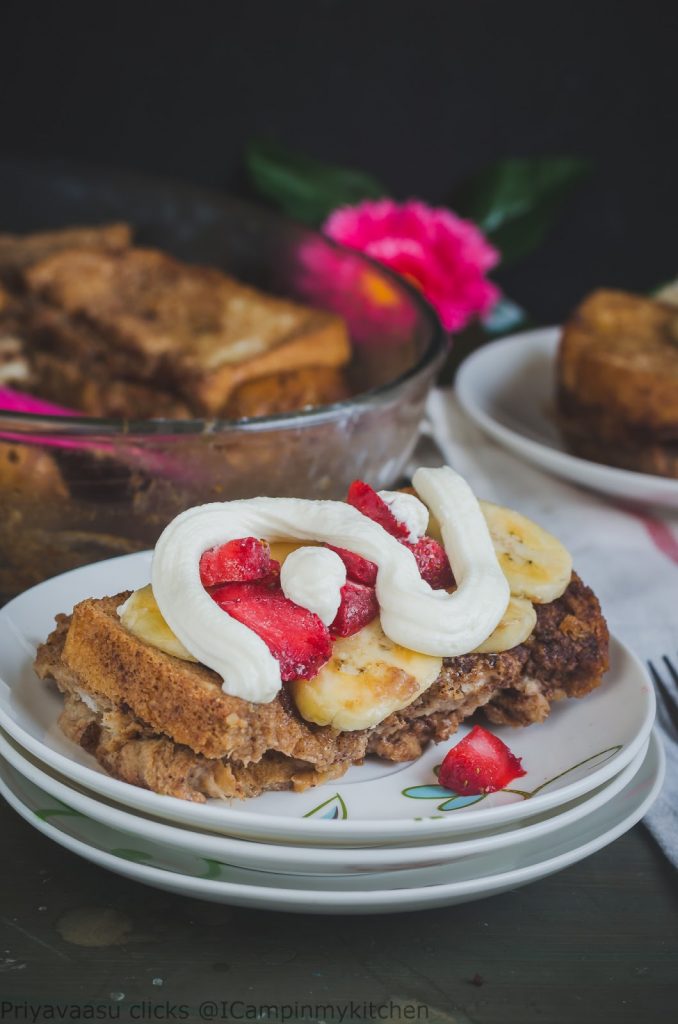 Method
Grease a baking tray with butter, lay the slices of bread. Now i used a oval glass tray and the bread wasn't fitting the tray completely, so i cut the slices vertically into two and layered them.

Take peanut butter cups, nutella, milk, cinnamon, candied ginger, custard powder in a blender and blend until smooth.

Pour this blended liquid on the bread, press a little on top for it to absorb the liquid. Preheat the oven to 170C and bake for around 35-45 minutes or until the top is golden brown and crisp.
Take it out of the oven, let it cool for 10 minutes. Serve it warm, with some sliced banana's, strawberries and cream cheese on top.