Lassi in this cold weather? yes, i can hear your question!! i love to have something cold, with my lunch. Not all days, but some days, i even keep a bottle of water in the fridge just to quench that chill feeling. This Beets lassi, is a favorite at home, my lil one loves it. He mixes rice with this lassi and has it. That is the only way he eats beets. So, i make it often at home, one to quench my chill thirst and second for his love of this drink. Even my fussy elder one, loves this, eating curry is like a punishment for both of them, but whereas this lassi and raita they love it and have it with rice. This is my way playing hide and seek with kids and beets!! 🙂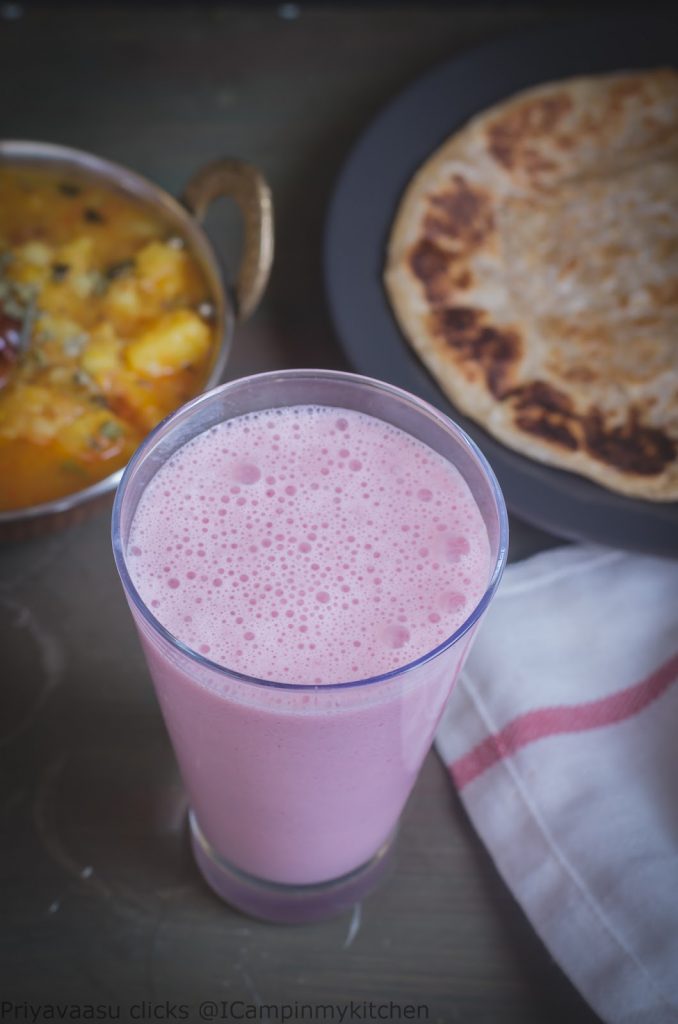 Jokes apart, i promise you even a beets hater would try this drink, how am i sure? i served this drink during navrathri, to one of my friend and her daughter, both of them hate beets, but they loved this lassi. The reason being, the sweetness of beets is covered with that chili and ginger. So, try this and let me know how you liked it
1 small Beetroot/approximately ½ cup when chopped
½ teaspoon salt (or even less)
½ teaspoon shredded ginger
Peel and chop the beets into cubes. Take it in a microwave safe bowl, add water to immerse the beets and microwave high for 8-10 minutes. Drain the water, do not throw it away, use it cook dal or add it to your rasam/sambar.

Take the cooked beets in a blender jar along with other ingredients, blend until smooth and frothy. Serve it in tall glass.

The smoothie stays good for 4-5 hours too, so blend and refrigerate and serve chilled.