Oceanic cuisines is the theme i chose for the first week of this month's Blogging Marathon.Oceania is a region that is centered on islands of central pacific ocean. The term is often used to describe australia and proximate islands. Our team leader valli  provides themes that, makes us come out of our comfort zone, and experiment with world cuisine. Though i try to pick interesting themes, the lazy in me, finds shortcuts everytime!
So, this time i seriously read and searched for some really good recipes to try in my kitchen for the theme : Oceanic Cuisines. Oh man, what a variety. It starts with Australia, and has a longg list of islands, cook islands, Easter islands, Fiji, Mariana islands, nauru, and there is much more.
First recipe that got my mind is this Boston Bun. My geography is very limited and that limited knowledge thought what is boston bun doing in pacific islands?
The boston bun recipe
 seems to be an Australian tradition, but nobody seems to know for sure, from where it all started. i couldn't find much on the origin, but glad that i tried this delicious bread.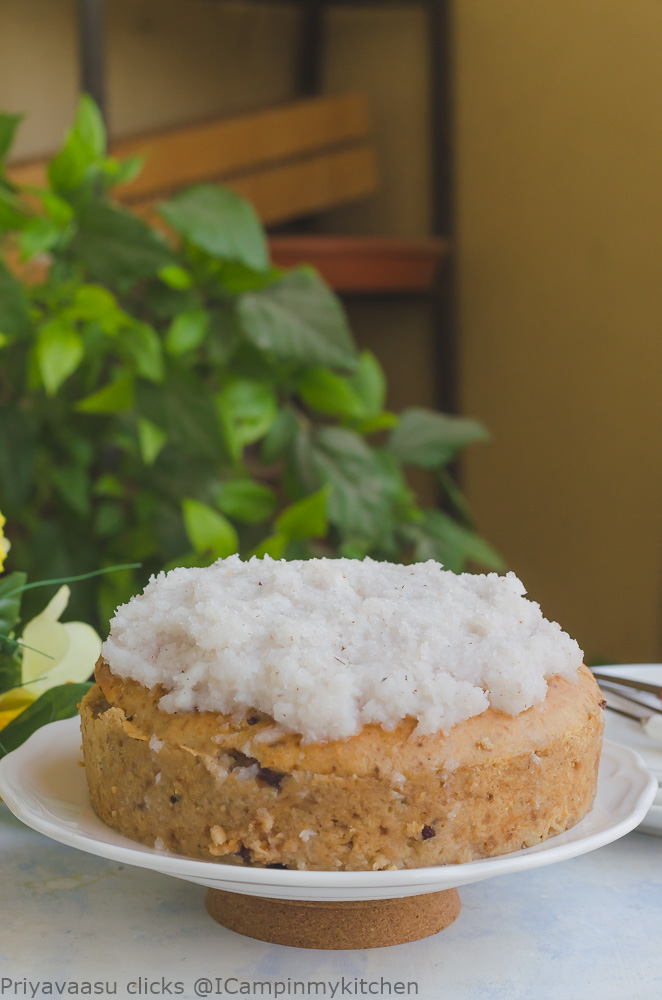 It is very similar to the potato bread, but sweetened and has raisin/sultanas in it. The coconut icing on top is to die for. Allow the bread to sit for 15 minutes after frosting, if possible poke the top of the bread/cake with a fork here and there and pour the icing, the juice soaks the bread and it tastes out of the world!!!
I couldn't eat much as i restrict myself, had a small pinch and i loved it!My hubby had a big slice for his dinner and my cranky lil one too enjoyed a small slice with the berries. This is one bread, that you should definitely try, if you are new to bread baking, as it doesn't have any yeast, which is taken care by the potato and gives you beautiful fluffy loaf!
Ingredients
2 cups of self raising flour, check notes
1 cup finely mashed potato ( i used 1 large potato)
1 teaspoon cinnamon powder
For the coconut icing
1 cup fresh coconut (i used half fresh and half dessicated coconut)
1 teaspoon vanilla extract
Method
Preheat the oven to 200C and line a 8inch round bake tin with parchment. 

First get your potato ready. If you have cooked potato handy in your fridge, then fine, or else, Wash, peel and cube one large potato and cook either on stove-top or in the microwave until soft. Drain and mash it thoroughly.

To this mashed potato, add sugar and mix well. Once you add sugar to the potato, it will turn liquid. to this add milk and mix well.
In a large bowl, whisk together self-raising flour, cinnamon and nutmeg powder. To this add dried craberries and raisins.. Now slowly add the the potato-sugar liquid to the flour and mix well. Using a spatula mix until all the flour is fully incorporated with the liquid.

Pour the prepared batter into the cake tin and bake for around 50-60 minutes or until a tooth pick inserted in the center comes out clean.

Once done, remove the cake tin out of the oven, let it cool for 5 minuts in the pan, then carefully unmould it onto a wire rack. Let it cool.
Coconut icing
Mix everything listed there together in a bowl and pour it over the warm bread. Let it sit for 15 minutes for the icing flavors to soak into the bread.

Slice and serve it along with warm tea/coffee. 
Notes
Self Raising flour, can be made at home. Add 1 & ¼ teaspoon of baking powder for every cup of flour along with ¼ teaspoon of salt. Sieve the mix together.

I have used Whole wheat flour instead of plain flour here. I don't know whether technically it qualifies as self-raising flour. Since we are using potatoes here, which usually gives a great texture to whole wheat breads, you can very well use whole wheat flour and get a fluffy bread.