For the last alphabet Z, i chose to cook from Zimbabwe. While looking for what to cook, i came across this Breakfast bread which is inspired from the British Date & Nut loaf. This traditional bread is served for breakfast in Zimbabwe. 
With this bread we are coming to the end of Around the world in 30 days, A-Z cooking. It was interesting and at the same time adventurous. At least for me it was, since i started cooking very late and it was like every day cooking for me for this theme.  That is the main reason, i chose to make breads from every country i visit, so atleast i covered the breakfast or snack for the day.
Nevertheless, it was fun cooking different varieties of bread and taste a different cuisine everyday.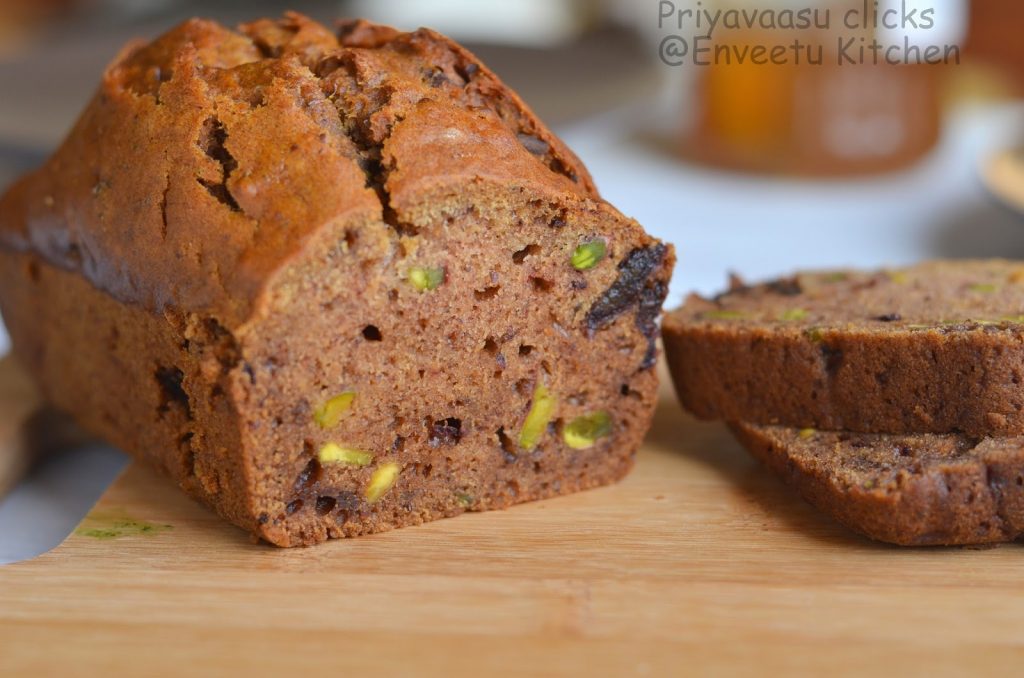 Coming to this quick bread, i made two small loaves, instead of one big. The day i made this, i had guests for Navrathri also. So, i served them one loaf and retained the other for the click. One loaf got vanished in just few minutes, it is soft and fluffy and doesn't feel heavy. The other loaf, which got saved for the photo shoot next day, got devoured by my lil monsters and their daddo, the big monster! I have got requests to make them again. 
Ingredients
1 Cup Boiling water (250ml)
1 tablespoon flaxseed meal dissolved in  ¼ cup of hot water
½ cup chopped nuts(i used cashew nuts & pistachios)
1 teaspoon vanilla extract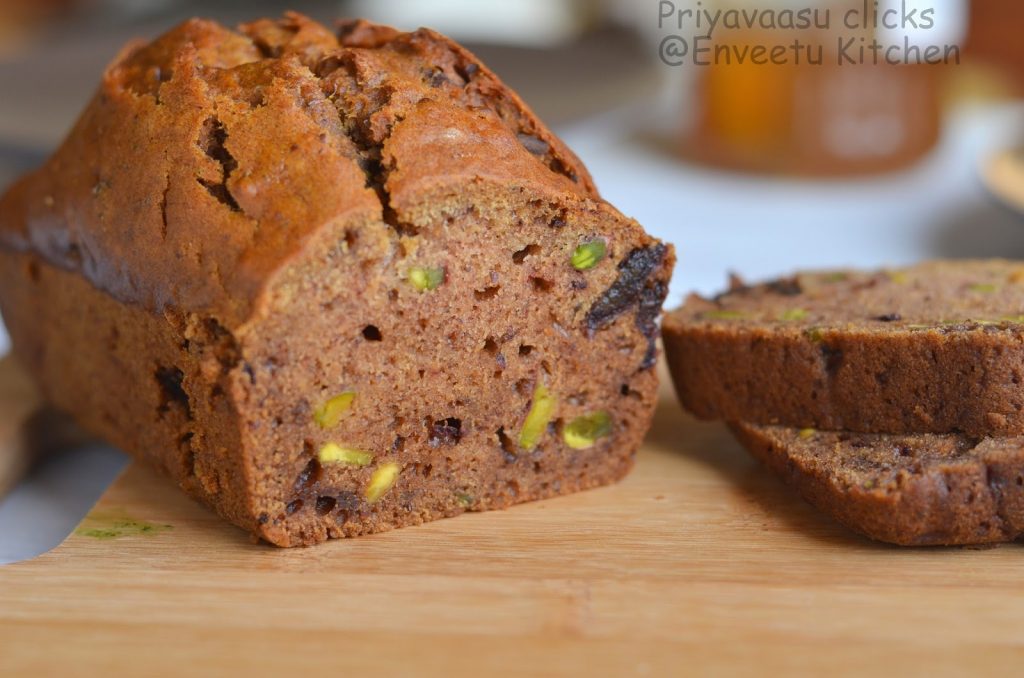 Pit and chop the dates into manageable pieces and take it in a heat proof bowl, add baking soda to the dates and pour boiling water and let it cool.

Sift the flour and salt together and keep aside. Mix Flaxseed meal to hot water and keep aside.

Now cream together and sugar and butter. To this add flaxseed meal water mixture and whisk well to combine.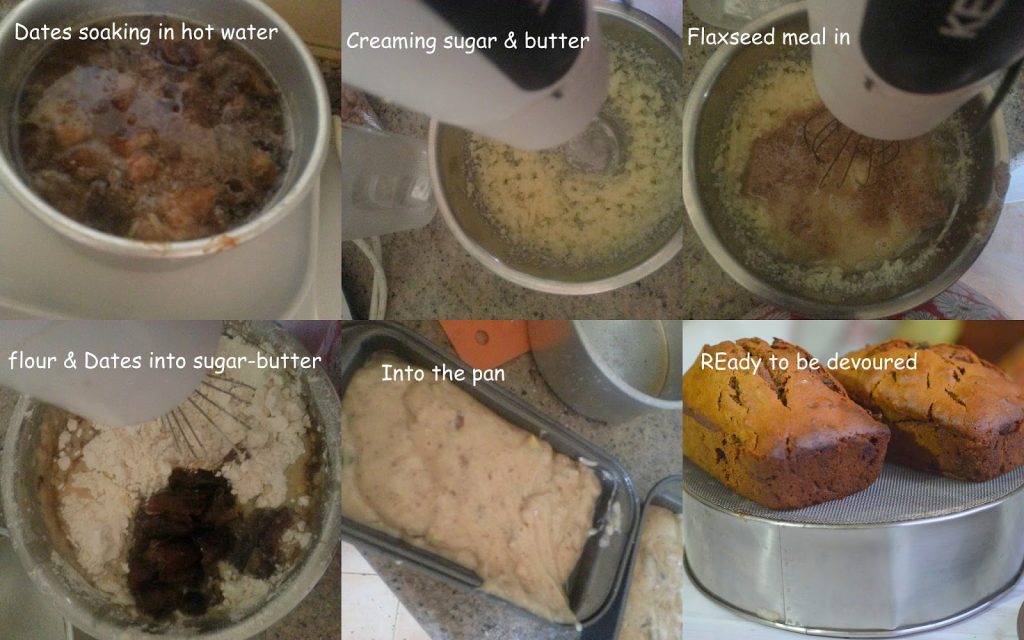 Now add half the flour mix to this and mix well. Next add dates mixture and remaining flour and combine well.

To this batter, add vanilla extract and chopped nuts and fold well to combine. Grease a baking pan with butter or line it with parchment. I used 2 small loaf pans to bake the bread.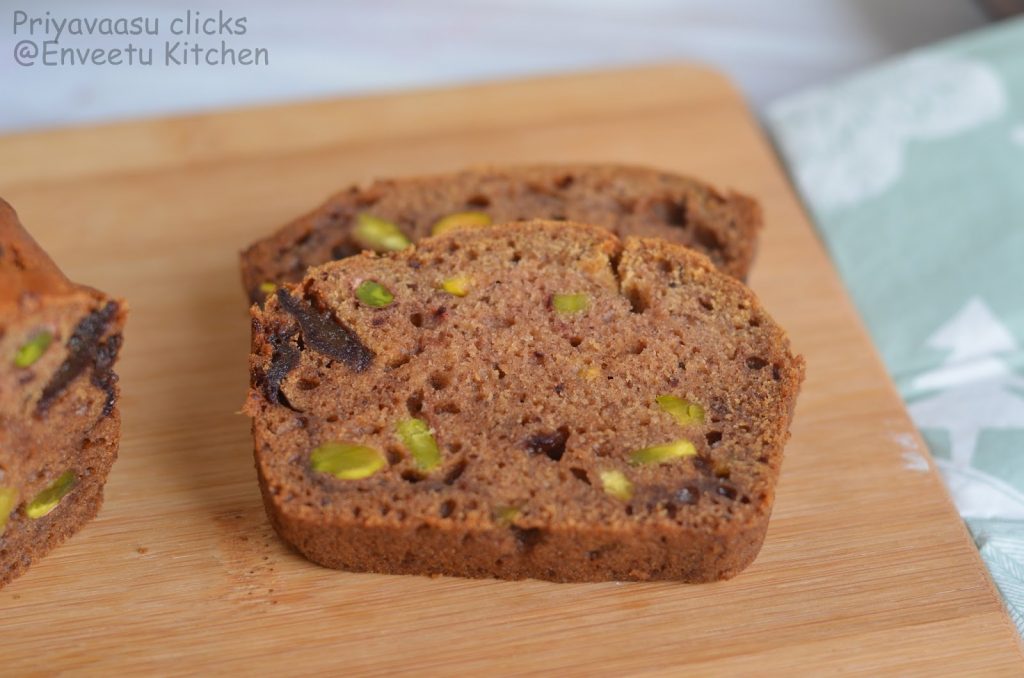 Preheat the oven to 180C and bake the bread for 50 minutes or until a tooth pick inserted in the center of the bread comes out clean.

Let it cool completely on a wire-rack. Slice them and serve it along a hot of Coffee/Tea/Milk.