We experienced a bad sand storm last week.  It was terribly hazy, for one full week, that too when my Workaholic hubby darling took one week off from his first wife (read loving job), weather played my Villain, i don't want to start on this now, coz i will go on and on and will certainly drift from the recipe!! Usually after the sandstorm we have something called rain, yes the moment cloud forms and start D in Drizzle, it evaporates, even before it reaches the ground. That shows the start of itssss summmer!!!! As we are not that fluffy Olaf, who has his own flurry, we usually do not welcome summer with that open hands.
But what to do, certain things are not in our control, like the remote our TV or our own smart phone, if you are like me who have 2 cute devils in the name of children at home.  So, the best we can do is to keep ourselves cool well hydrated.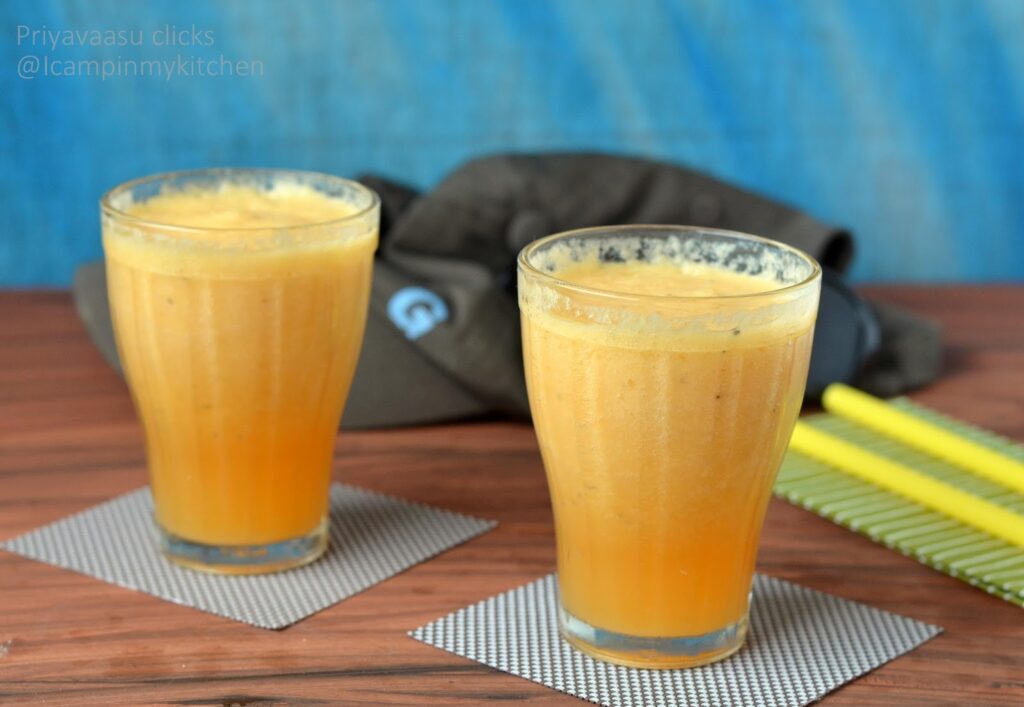 Cantaloupe is one fruit that is very favorite in our home next to banana. The moment my LO sees that greeny, mellow, mushy mushy melon, we have to cut  it open and serve him some. When he was a year and half he used to go behind yellow pumpkin thinking it is melon and pester his appa to give him to eat.
So, i always cantaloupe in my home during the season. With fresh cantaloupe and pineapple in hand, i tried to experiment with ginger added to this, and tada, we had this refreshing juice. The ginger added nice twist to the sweet and mildly tangy fruits. 
Ingredients
4-5 rings of fresh pineapple
½ teaspoon shredded fresh ginger
2 tablespoon of honey (optional)
1 teaspoon of chia seeds/basil seeds (optional)
Method
Chop the pineapple well, take it in a blender, blend well by adding ¼ cup of water.  Pass the juice through a strainer to remove the fiber.

Scoop out the flesh from cantaloupe and chop it.Now take this strained pineapple juice along with chopped cantaloupe, ginger, honey and chia seeds.

Blend it again until smooth and frothy. Serve immediately.

If adding basil/subza seeds, soak them in 1 tablespoon of water 10 minutes, let them swell up and then add it to the smoothie/juice.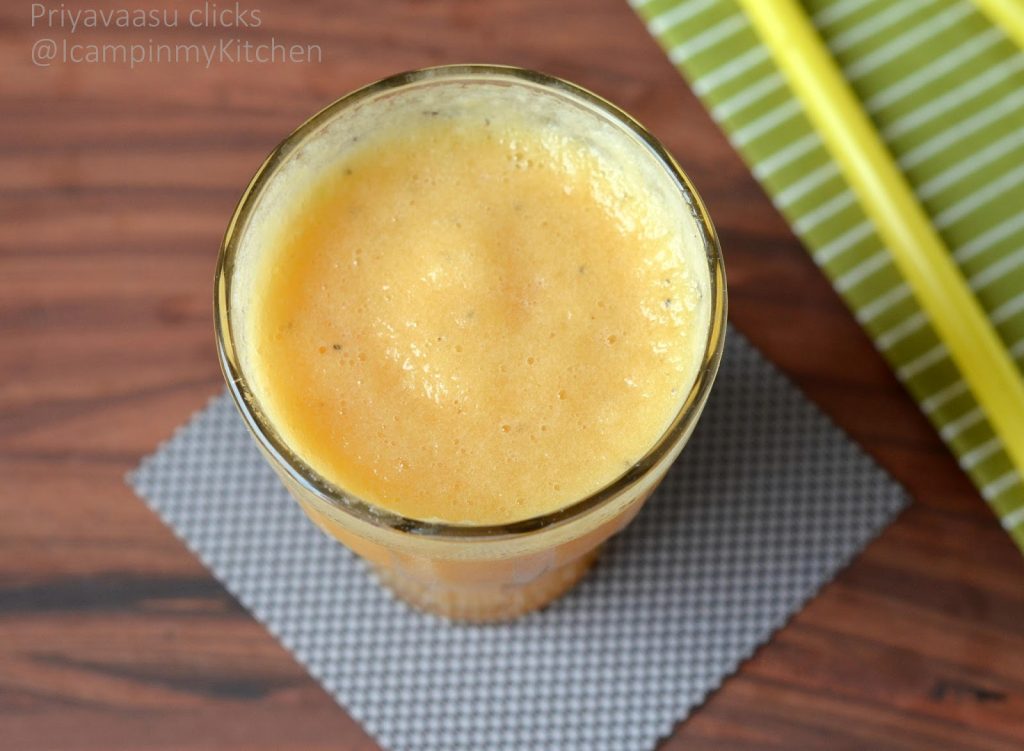 Notes
Since both the fruits were refrigerated, the smoothie was cold enough to be had immediately. 

If needed you can add some ice cubes to the smoothie while serving.

if the fruits are sweet enough, you can avoid adding honey/any other sweetener.  Since i had chia seeds in hand, i have added them to have a protein boost. you can even add subza/basil seeds to the drink.