We are in the 4th week of our baking marathon, feels like we have sailed through this like a breeze. Normally we all would be panicking on what to cook the next week, and how to keep the post and pics ready,etc. But this baking marathon, we all are a bit relaxed and know that we will be doing something interesting  for the next post.  May be it is the experience we have after doing 3 mega marathons or is it the love for baking we all share that is giving us this Zen.
Ok, now coming to my today's recipe, it is a Yeast-free pizza recipe, from Radhika vasanth's Food for 7 stages of life. It is almost like a no-knead recipe, the dough doesn't need any kneading while making, but has to kneaded after the first rise. It is a make-ahead dough, that can be refrigerated after the first rise and can be used in 2-3 days.
The dough has chia seeds, which adds a good health quotient to the normally bad-named pizza. The original recipe was made of All purpose flour, i have substituted half with Whole Wheat flour, the pizza turned out good. Secondly, i have opted for a different topping, you can go and experiment with yours. Ok, shall we have pizza for dinner tonight?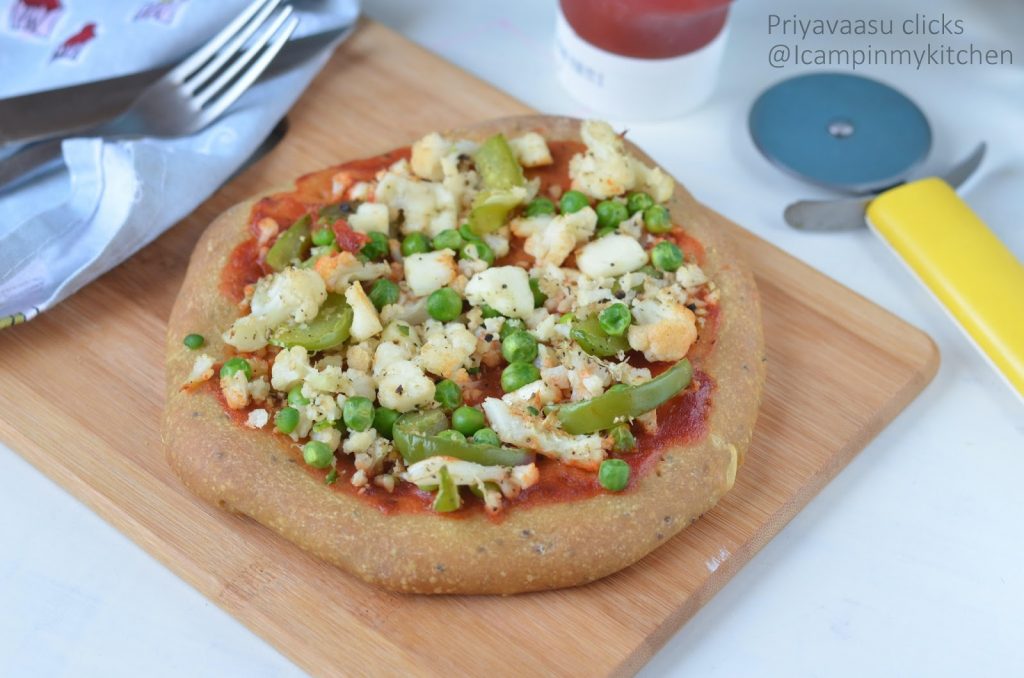 Ingredients
1 ¼ teaspoon Baking Powder
2-3 cloves of garlic, minced
½ teaspoon chia seeds (optional)
For Pizza Topping 
½ cup thinly sliced capsicums
2-3 tablespoon paneer, crumbled
Pepper powder & Red chili flakes as required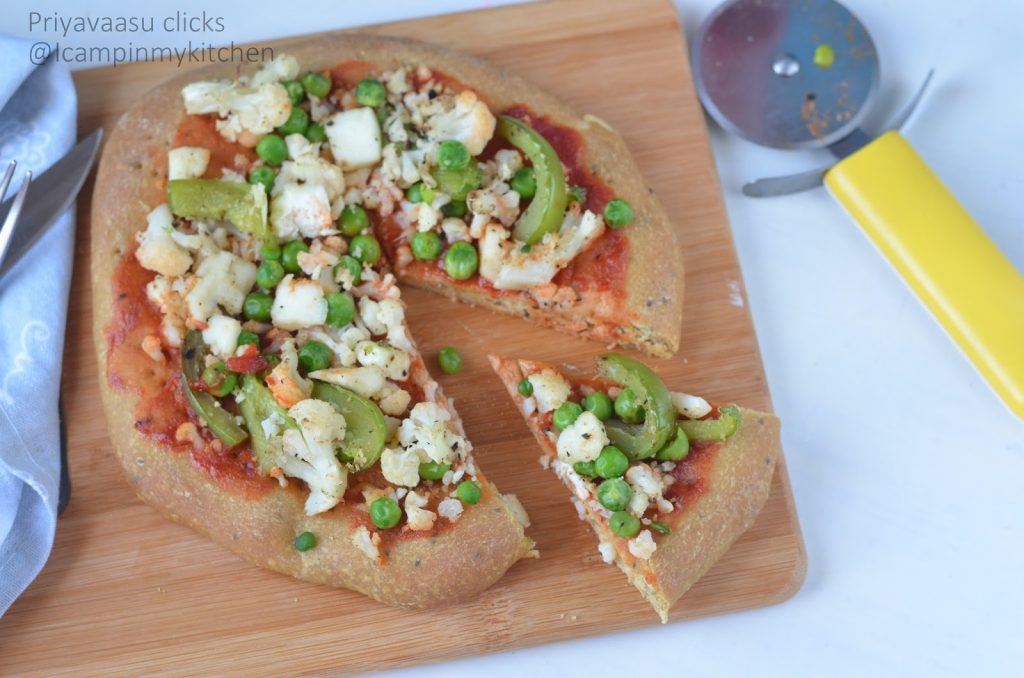 Method
In a large bowl, add all the flours, mined garlic,  baking powder, baking soda, sugar, salt, chia seeds. Whisk well to combine.Add yogurt, olive oil and mix well with a spatula. If the dough isn't coming together, then add water 1 tablespoon at a time and form a dough. 

You don't have to knead it at this point. The dough will look wet. Cover with a wet kitchen towel and let it rest at-least for an hour or two. After the resting period knead the dough until smooth or when the dough no longer sticks to your fingers.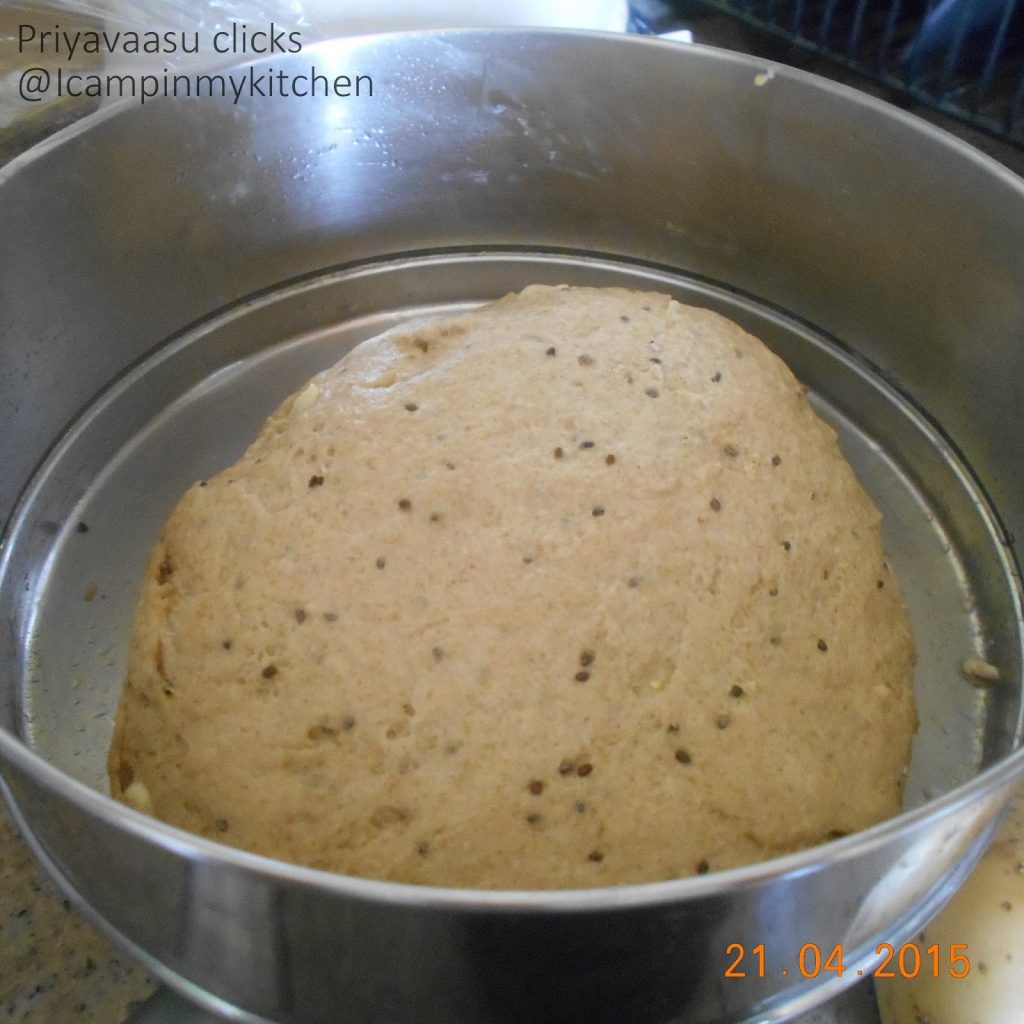 At this point, the dough can be refrigerated to be used later or can be used immediately too.You can refrigerate the dough or use it immediately.
Prepare the topping
In a saucepan, boil water and add the cauliflower florets. Let it sit for 4-5 minutes in simmer. Switch off the flame, keep it closed for 2 more minutes. Drain the excess water and keep the florets aside 

Take chopped capsicum and peas in a microwave-safe bowl and cook @ Microwave high for 4 minutes. Drain and keep aside. 

Mix together cauliflower florets, capsicum, peas and crumbled paneer. Add salt, pepper and chili powder. Toss well and keep aside until use.
Assembling the pizza
Preheat oven to 200C. If you have a pizza stone, preheat it now. Since i didn't have one, i used my 8 inch cake pan, dusted it well with cornmeal.

Divide the dough into 4 equal parts. I used 2 parts of the dough and rest i refrigerated. Take one portion of the dough and roll it into a 6-8 inches diameter round. I roughly rolled it first and then used my hands and stretched it across all the sides.
Transfer the rolled dough on to the prepared cake tin, prick the dough all over using a fork. Bake the pizza base for 8 minutes. Once done, pull the baked base out, spread 1 or 2 tablespoon of pasta sauce, spread 3-4 tablespoon of the filling on the top, if desired, sprinkle some more seasoning on top.
Bake the pizza for about 10 minutes or until the veggies on top get a smoky flavor. 

Take it off the oven, cool on a wire rack for a minute. Cut and serve hot, hot with some sauce on top!