The second recipe on the cheese series is a simple but tasty spring roll with melting gooey cheese when you take a bite. I have used potatoes in the recipe, you can even use a cooked carrot stick or cooked french beans. I have kept the flavors simple with chili and coriander powder, so there is no mess while rolling the spring rolls.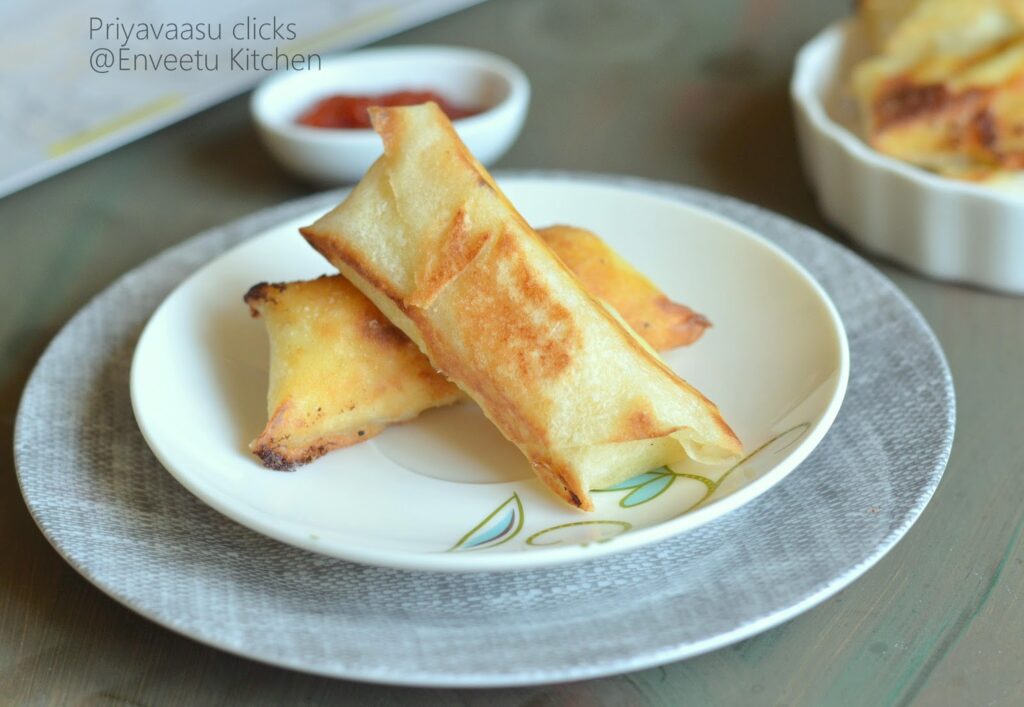 Cooking part is even more easy, i tried to cook them on my cast iron tava, with little less than teaspoon of oil on each side. They came out evenly crisp as they were deep fried.


Ingredients
6 nos Spring roll Pastry sheets
6 nos Cheddar cheese slices
2 tablespoon freshly pound pepper powder
2 tablespoon coriander powder
2-3 tablespoon oil for pan frying the rolls
1 tablespoon App Purpose four + 2-3 tablespoon water to seal the edges of the spring roll pastry.
Wash and peel the potato. Cut them into thick strips, like that of a french fries, but a bit thick. Cook them until fork tender. They shouldn't turn mushy. Drain the execess water and let the potatoes dry on a paper towel.
Keep the spring roll pastry thawed. Normally it is stored in the freezer, i just remove it to the fridge section the day i m using it for an hour or so. Then keep it outside for 30 minutes before rolling it.

Prepare paste by mixing all purpose flour and water. Now to make the spring rolls, Place the pastry in a diamond shape, place a cheese slice in the middle and keep a potato stick on the cheese slice.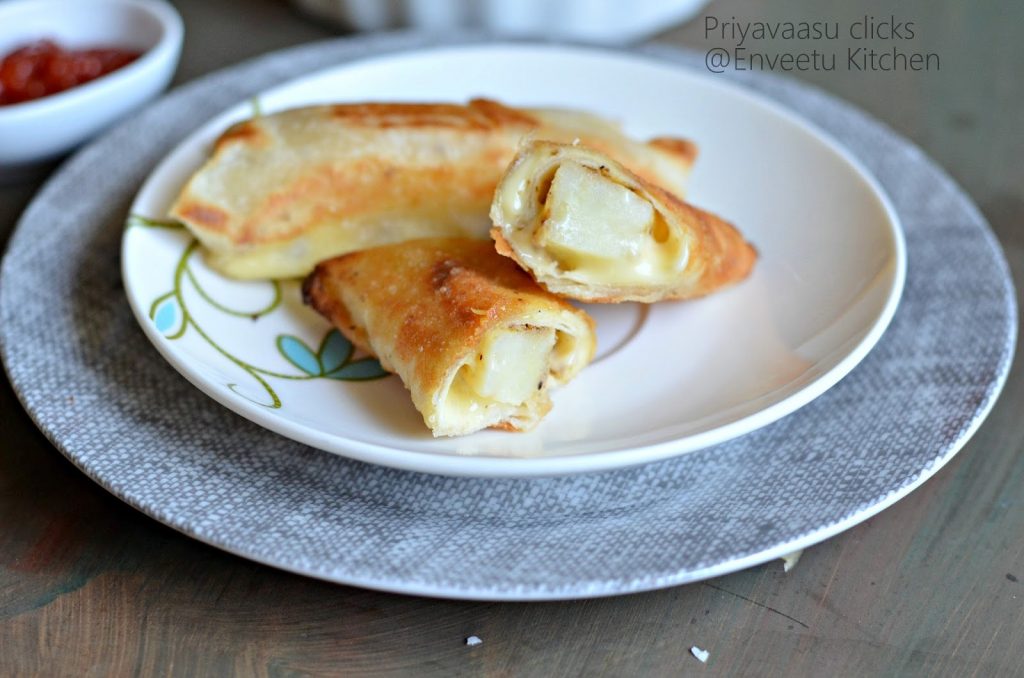 Now start rolling the wrapper tightly, from your end. fold the right and left hand corners of the wrapper inside and seal the edges using the flour-water mix.

Now fold the leftover end of the spring roll wrapper and seal it with the flour-water mix. Repeat the process with rest of the wrappers. These wrappers can be frozen for later use or can be made ahead for a party.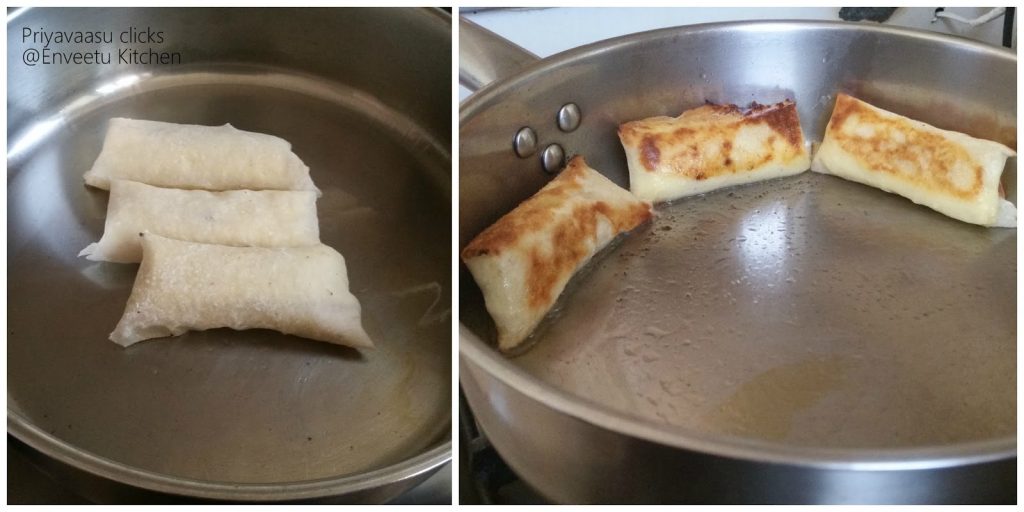 Now heat a pan, Add a tablespoon of oil to the pan and place 3 spring rolls on the hot pan, let them cook in a low flame, until golden brown, on all sides.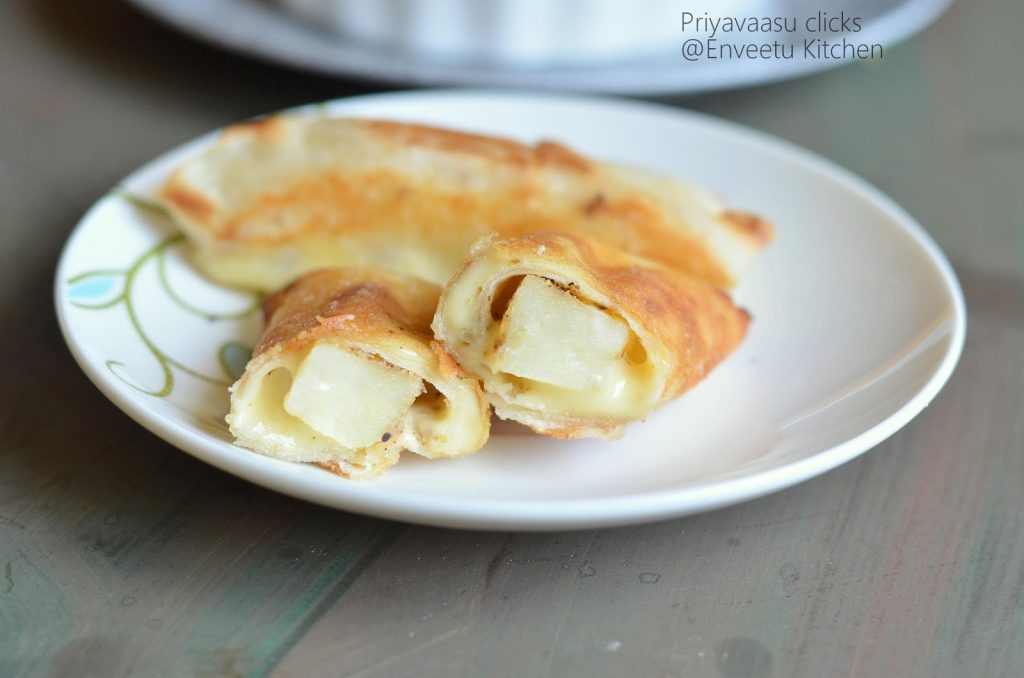 I fried them on my cast iron pan too, with just a teaspoon of oil on either sides, they came out super crisp. Remove using a slotted spoon and drain it on a kitchen towel. Serve them hot with some tomato ketchup.