For the last week of BM33, i will posting recipes under the theme Kids Deight- Food for growing sports enthusiasts. You must thinking i m crazy to post something Chocolate under this theme. yeah, i know. But, why not? If we want our kids eat something healthy, why can't we mask them into something which they like. So, here is my try to make my son eat some fruits. He has recently joined Rollerblades class. Duration of the class is 1.5 hours. But, my lil hero, gets easily tired after 10 minutes of bending and practising. Though he eats only home-cooked food, but when it comes to fruits, he has that block, he likes only banana. Banana is also healthy, but don't get bored eating it all the time!!! So, i made these Chocolate Apples for him and coated it with his favorite Nuts. I took care not to overload it with nuts, coz, he is all the more like his dad, his hands shouldn't get messy while eating something. So, did it Work? yes, you can say 50-50.
Here is some info that says Apples are great for athletes from WWW : Apples contain sugars that can help boost blood glucose levels, providing athletes with an energy boost during games. These sugars are easily absorbed into the bloodstream but aren't so high that they'll lead to a crash later on.


Ingredients
3 Royal Gala Apples or any variety medium-sized apples
100 gms Dark Chocolate (i used Lindt, 70% Cocoa)
100 gms Milk Chocolate (I used Galaxy Smooth)
Ice-cream Sticks/Satay Stick/Tandoor Sticks
Roasted and Chopped Nuts (I used Almonds and Walnuts)
Scrub and Wash the apples well. Using a Shape Knife, Core the apple. Insert ice-cream stick/satay stick in the center and refrigerate for 30 minutes.

Take Chocolates in a Microwave Safe Bowl, Microwave @ Power High for 2 minutes, Remove and Whisk well to get a smooth liquid. Do Not add water/milk. Keep an eye after 1 minute.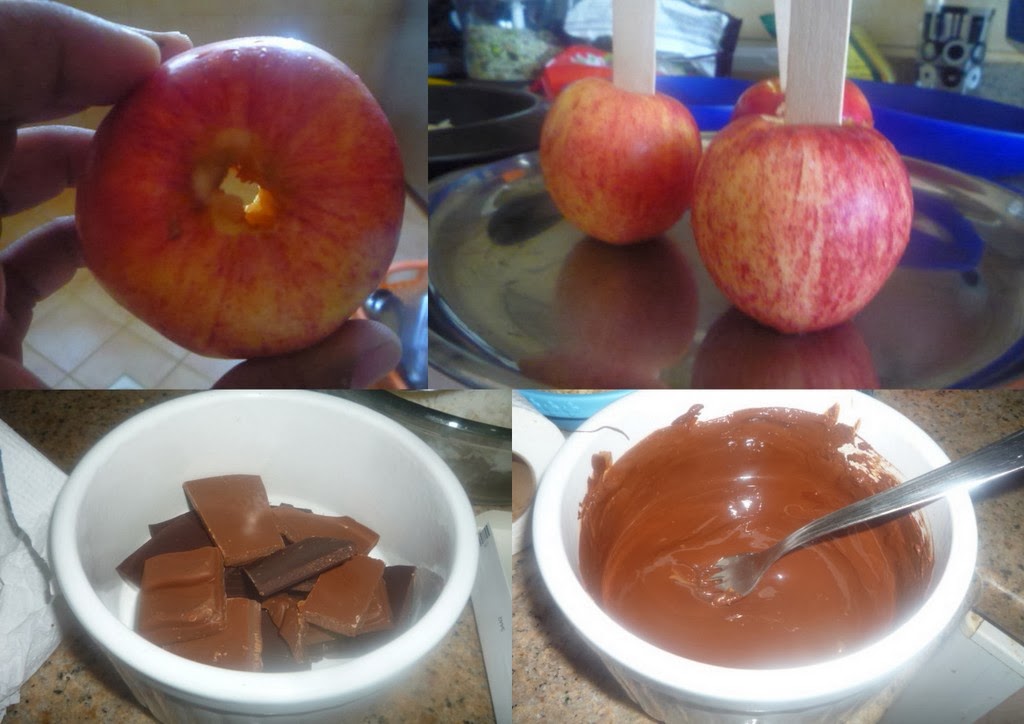 Take the bowl out and whisk well and take the apples out of the fridge, Dip them in Hot chocolate. Swirl the apples and coat evenly on all sides, use a spoon and pour the chocolate over the apples to cover the top-side.
Immediately roll the apples over the Nuts and Place it on a parchment-line tray. Refrigerate until devouring.
Notes
Try using a more Deeper Bowl for melting the chocolate. Coz, it will help you to dip ¾th of the apples. Since i used a Flat-based Bowl, i used a spoon to pour the chocolate over the apples to coat it till the top.

I have used 50-50 Dark and Milk Chocolates. you can try using fully dark/milk chocolate.

Try Different Toppings, How about a White Chocolate Drizzle on top!!! 🙂

Since Kuttu Complained about the size, i cut the apples into wedges and coated with chocolate, it was more welcomed than these monster apples, so you can try this way too!!!! 🙂
Sending this to Kids Delight - Nutritional Food for Growing Sports Enthusiasts, happening @ +pradnya desai 's Pumpkin Farm, Event by +Srivalli Jetti .