The Second Challenge for Eggless Baking Group is to Bake these Cute Looking Chocolate Cornets. First, i was a bit hesistant, Scared to try them out, reason being my Best Buddy Yeast, huhhh!!! Twice i was let down by this little monster, But when i saw other members of the group posting, i really wanted to try. This time, Voila!!!! yeast was so friendly, it listened to what i said!!! 🙂 
After the First rise, when I saw the dough-test return positive (poke finger in the dough, if the gap closes pretty fast, then the dough needs some more time to rise) i was so happy, elated, Cloud 9!!! Enjoyed baking them and more than me my Kiddo enjoyed Gobbling them, had a tough time making him wait till i shoot some pictures. 
Eggless Chocolate Custard 
Ingredients
6 tablespoon of Cream (i used whipping Cream, 35% Fat content)
2 tablespoon CoCoa Powder
½ teaspoon Vanilla Extract
Sorry for the Bad picture, will change it tomorrow
Method
Mix Milk and Cream together. Take half of this mixture and add Corn flour, Sugar and Cocoa to it and Stir Well without any lumps

Take the other half Milk-Cream Mixture to the stove, When it begins to boil, Simmer the flame and add Milk-Cream-cocoa mixture and Stir.

Cook in a Simmer Flame, Stirring Often until the mixture turns Creamy and Thick.

Take it off the flame, Let it come to room temperature, Pour in glass bowl, cover with a cling Flim and refregerate until use.
Home-Made Cones
Ingredients
2 Thick Grocery Paper Bags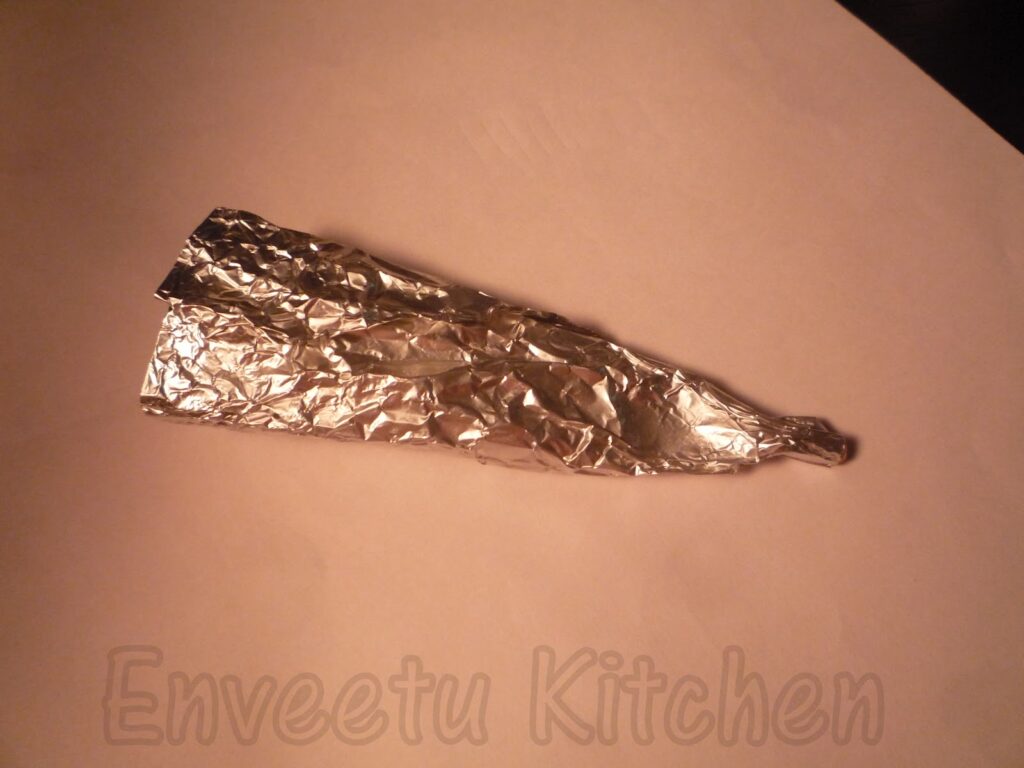 Cut the Paper Bags into 6 Squares. Roll them into cones. Make 6 Cones.

Wrap the Aluminium foil around the cones.
Cornets
Ingredients
150gm of Wholemeal Bread flour
1 tablespoon Luke Warm Water
½ tablespoon Dry Milk Powder
 To make Cornets
Mix Sugar and Lukewarm water and stir well for the sugar dissolves. Add instant yeast to it, stir and let it sit for 5 minutes.

Take flour,salt, Milk powder in another bowl and stir with a ballon whisk for them to mix well.

Mix together Oil and Milk. Add this mix to the Flour Mixture and knead. You will get a sticky dough.

Add butter at this point and knead well for 4-5minutes to get a Soft dough, use dry flour while kneading.

Place the dough in a well-oiled bowl and cover with a Cling-wrap and Let it rise in a warm place for an hour.

After an hour, Poke a hole in the dough, if the hole closes pretty fast, then the dough needs some more time to rise. else Proceed to the next step.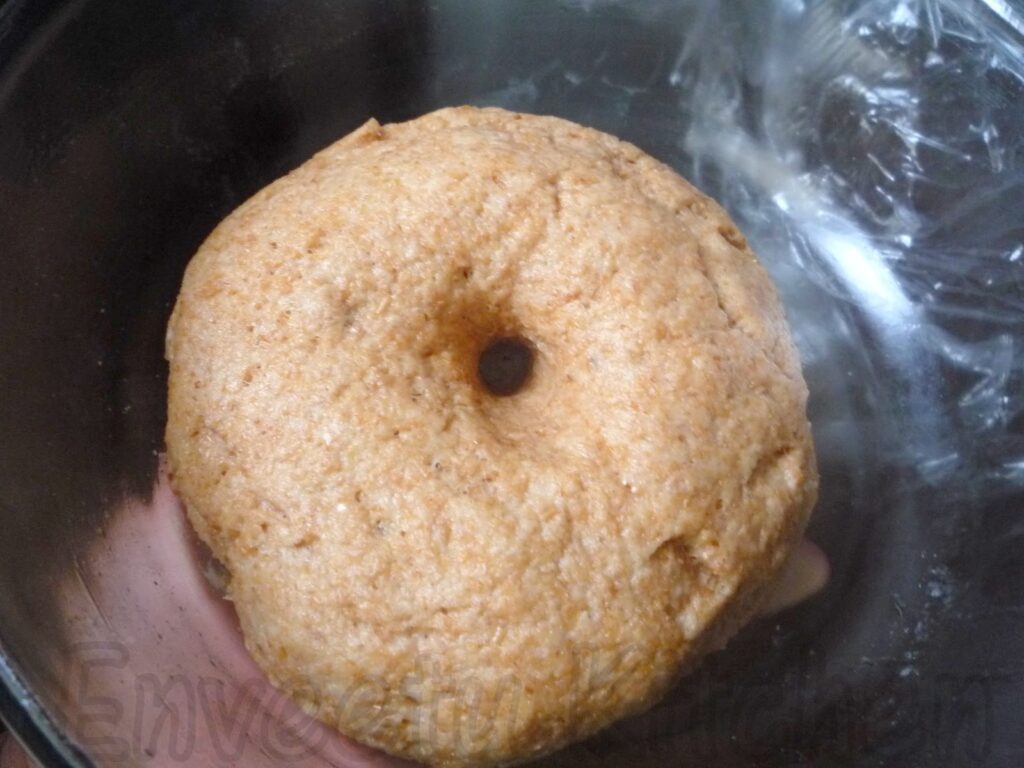 Take the dough on a floured surface, punch down to release the air. Knead and divide the dough into six equal portions.

Make 6 equal-sized balls and Cover them again for the second rise for about 15-20 minutes.

By this time, keep your Cones ready. 

After the second rise, Make Long ropes  out of each ball, thin at the begginng and thicker as it proceeds.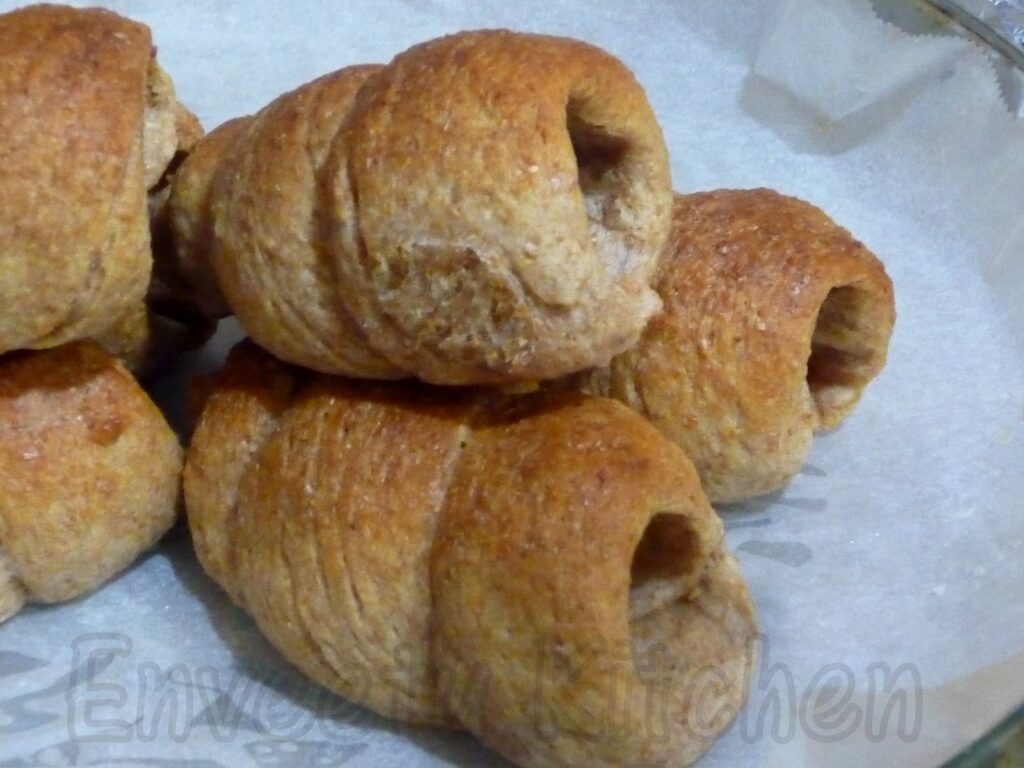 Roll the rope on to the cone and seal the edges by pinching.

Place them on a baking tray lined with parchment paper and cover and let it rise for the third time for about 15 minutes.

Preheat the Oven to 200C.Glaze the top of Cornets with Milk-Oil mixture and Bake them for 15-17 minutes.

Take if out of the oven, Let it cool on a wire-rack.Remove the Cornets from the cone-mould.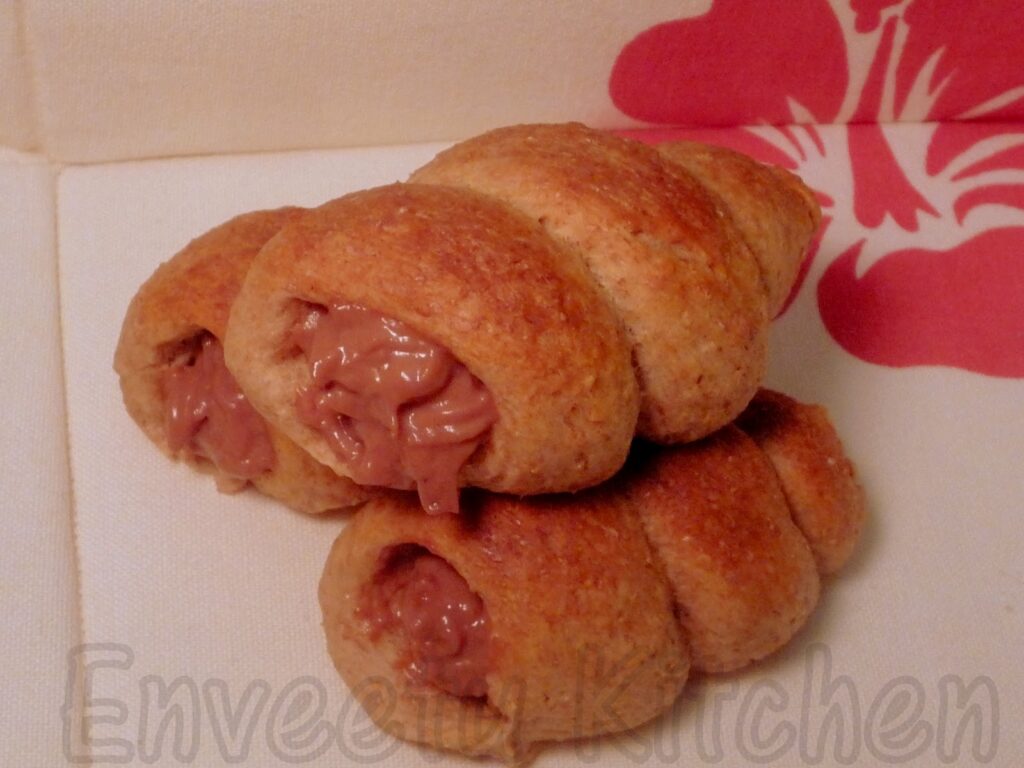 To fill The Cornet with Chocolate Custard.
Take the Custard in a Piping Bag and Pipe into Cornets and Enjoy.