When i decided to make Luchi's for breakfast, i had 2 options for the side, either aloor dum or cholar dal. Cholar dal won hands down, since my elder prefers a juicy side for his roti/puri. He definitely insisted that he wants dal to soak his luchi into it. Since anna waned dal, my lil one also wanted the same.
Though
i m used o make chana dal, but his way using whole spices was the first time and we loved he mild taste of cardamom and cinnamon in he dal.It was perfect with luchi's.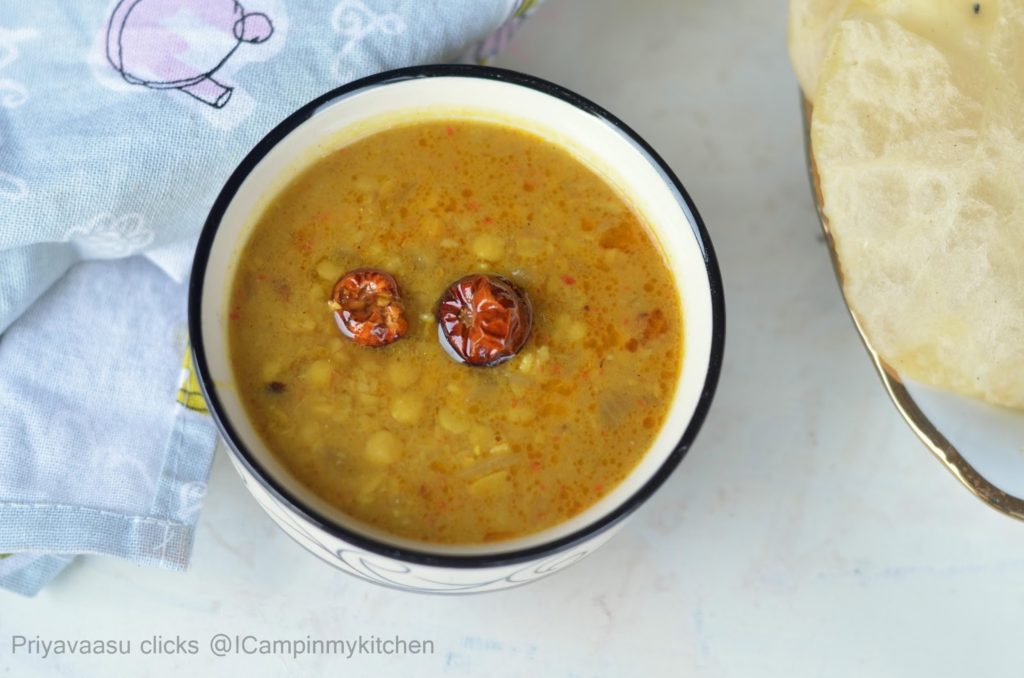 Ingredients
½ teaspoon shredded ginger
½ teaspoon red chili powder
¼ teaspoon turmeric powder
¼ teaspoon garam masala powder
Tempering
2 small sticks of cinnamom
Method
Soak the dal overnight or atleast a minimum of 3-4 hours so it is easy to cook. Since, i made this for breakfast, i soaked it overnight.

Next day morning, drain the excess water and keep the dal ready. Heat a pan, with oil given under "tempering", add the whole spices green cardamom, cinnamon, cumin, cloves, bay leaf and chilies. Saute for a minute,

Add chopped onion. minced garlic and ginger, saute until translucent. Next add the drained dal and about 2.5 cups of water. Add red chili powder, garam masala powder and salt.
Cover and cook for 10-15 minutes or until the dal gets soft. Open the cover and check the consistency of the gravy. It should be neither too thick or too thin. Perfect gravy to dip your luchi's. I left it for another 5 mintues on the stove.

Use potato masher to mash the dal a little, to thicken the gravy a bit. Turn of the heat. Serve it hot with Fluffy luchi's, dip and enjoy.