Baking Bread is an Art & Science, which can be mastered only through practice. When i saw Lataji's Post on Herb and Cheese pull apart bread, i came to know about this group "We Knead to bake" Brainchild of Aparna of My Diverese Kitchen. I immediately searched FB for the Group Page and Sent her a Join request. From Now on wards, me to going to bake a bread Every Month. This Month we need to bake Herb & Cheese Pull Apart bread. The Members were a bit creative with filling, so i have also experimented with the filling here. I baked 2 loaves, one with Tomato-Onion Chutney and another a Simple and Sizzling Pizza Stuffing. Enjoy it warm, I promise, you will be baking it again!!!!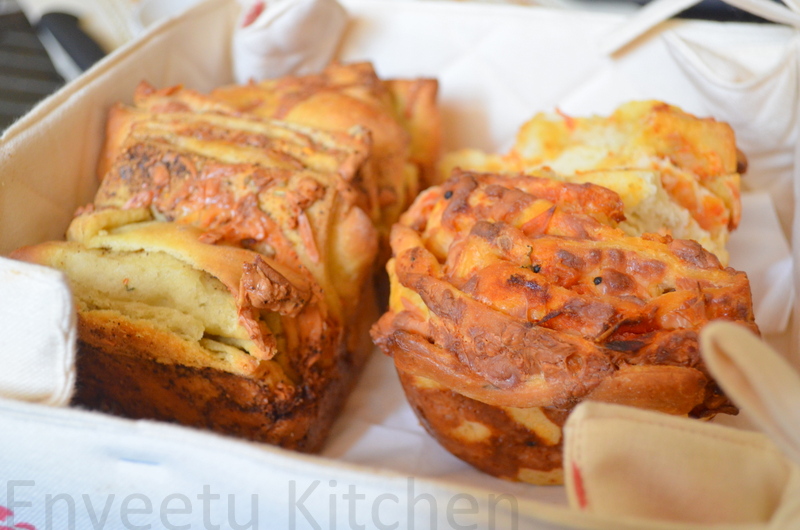 For the Dough
2 &¾ – 3 cups all-purpose flour
2 teaspoon active dry yeast
2 tablespoon Butter,  soft at room temperature
¾ cup milk (a couple of tablespoon to brush over the bread)
To Grind
handful of coriander leaves
For the Filling
2 Large Tomatoes, chopped 
1 teaspoon Red Chili Powder
½ teaspoon Coriander Powder
Salt to taste(a Little less than the normal salt)
hing & turmeric, each a pinch
½ Cup grated Cheddar Cheese 
2 tablespoon Melted Butter
Pizza Bread Filling
2 tablespoon melted butter½ teaspoon Freshly ground pepper
½ teaspoon Red Chili Flakes
¼ teaspoon Rosemary (i used dried herb)
¼ teaspoon Oregano (i used dried herb)
½ cup grated cheddar cheese
Method
In a small bowl, dissolve the sugar and the yeast in the ½ cup of warm milk. Keep aside for about 5 minutes till the yeast mixture bubbles up. Milk should be Warm, not too hot or Cold. 

Hot/Cold Milk will Kill the yeast.

Grind the ingredients under "To Grind" to a paste.

Put 2 ¾ cup of flour, salt, softened butter, and ground paste in a large bowl and mix well. Then add the yeast mixture and the ¾ cup of milk and knead till you have a soft, smooth and elastic/ pliable dough which is not sticky. Add a little extra flour if your dough is sticking, but only just as much as is necessary.

Shape the dough into a ball and place it in a well-oiled bowl, turning the dough to coat it completely with oil. Cover and let it rise for about 1 to 1 ½ hours or until almost double in volume. I left the dough in the refrigerator overnight and worked my bread the next day. Incase of doing so, leave the dough out for sometime to come to room temperature and then do the filling.
Filling: Onion-Tomato Chutney
Heat  Oil in a non-stick pan, spluter mustard seeds, followed by hing and turmeric. Add the chopped onions and saute till translucent. Next add Chopped Tomatoes, Dry powders, Salt and half cup of Water, Mix well. Cover and Cook till the tomatoes are Soft and dry. Keep it aside for Cooling.

For the Pizza Bread, Mix together Pepper, Chili Flakes, Rosemary and Oregano. Keep aside until use.
To Assemble & Bake Bread 
 Dust your work surface lightly with flour. Since i used two fillings, i divided the dough into to equal parts

.

 Deflate the dough, shape it into a square and roll the dough out into a larger square that is about 12' by 12".

Brush the surface of the square with the melted butter. Spread the Onion-Tomato Chutney evenly on the surface of the bread and top it with Grated Cheese.

In-case doing Pizza bread, Spread the butter evenly on the  surface, top with filling mixture and grated cheese. 

Using a pizza cutter, slice the dough from top to bottom into 6 long and even strips – they do not have to be perfect. Lay each strip on top of the next, with the topping facing upwards, until you have a stack of the strips

You can put the 2 strips cut from the sides in the middle of the stack so it looks neater. Using a pastry scraper or a sharp knife, cut straight down through the stack dividing it into 6 equal pieces (6 square stacks).

Butter and lightly flour a 5 x 3 loaf pan. Layer the square slices, cut sides down into the loaf tin. 

Cover the loaf tin dough with a towel and allow the dough to rise for an hour. Lightly brush some milk over the top of the loaf 

Bake the dough at 180C for about 30 minutes or until it is done and the top is golden brown. 
Bread has stayed good for me for the past 2 days, I kept it wrapped in Alu-Foil in the fridge. I had the Pizza Bread for Breakfast today and shared a slice with my Maid too, Hubby dear has warned me to keep him a slice when he returns home in the evening. 
While Serving, re-heat in a Microwave for 20 seconds and Serve Warm. You will Love it!!! 
 If you liked my version and want to know what other's have tried, just check Aparna's space.