I have an affinity towards doughnuts, not the regular stuff sold on the kiosks, but some traditional street food doughnuts that are popular in a particular country. I have made Yemeni Bakhmri, Berliner, Croatian Krafne, Dutch oliebolen, Bamieh-persian doughnuts,Kenyan Mandazi, Somalian Puff Puff, our own Urad dal Vada. So, while planning the birthday treat theme menu,i was looking for an easy to make doughnuts, that is when i remembered the bookmark folder. I saw a video in Proper Tasty, FB page and saved this Cookies and cream doughnuts recipe.
The only change i made is to add Buckwheat flour to the recipe. It is ok if you don't have buckwheat flour, you can either substitute it with Whole wheat flour or use All purpose flour. A deep fried dough ball, stuffed with chocolate cream cookies crumble and chocolate. It is served heavenly with a generous drizzle of sweetened cream cheese , melted chocolate and cookie crumb. The taste was yum, my elder one loved it.
My lil one had it straight from the stove, so he didn't like them much, but when i was photographing it the next day, the aroma of vanilla, wafting in that room, pulled his little nose and pestered him to eat. So, they taste delicious the next day, when the flavors are well settled. These can be made a day or two ahead and refrigerated. It should also do well in the freezer.
While serving from the fridge, just reheat it for a minute and serve with the toppings.
Ingredients
For the Doughnuts
1 cup of All purpose flour
1.5 teaspoon Baking powder
½ teaspoon vanilla extract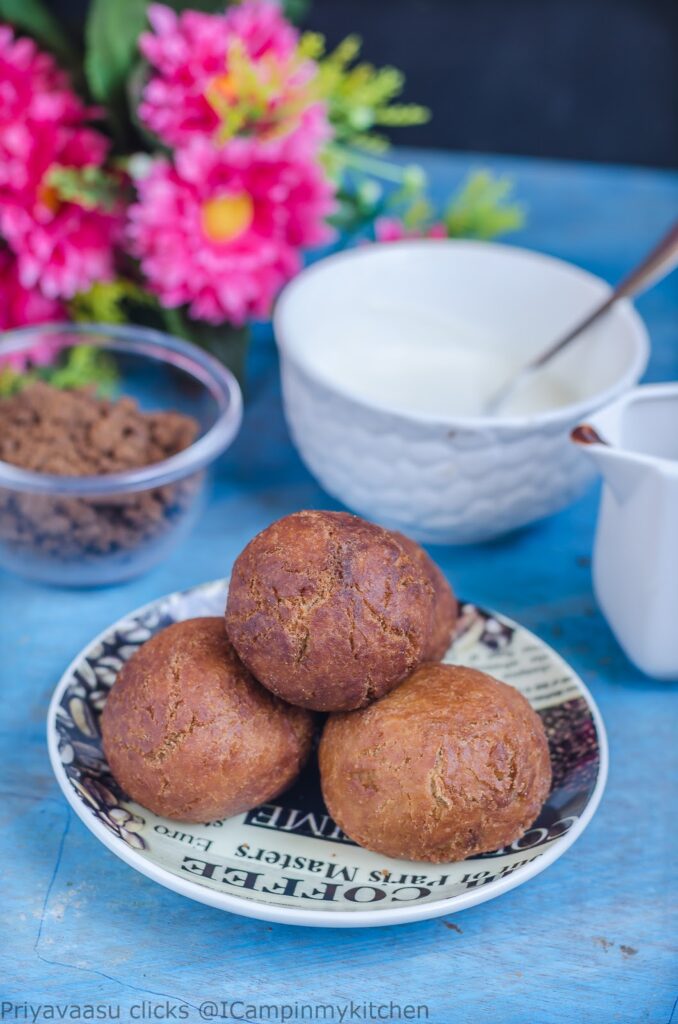 For the filling
10 nos Oreo cookies or chocolate cream cookies, i used bourbon
12 pieces of chocolate, i used hershey kisses
Toppings
4 squares of chocolate, melted
¼ cup of cream cheese + 2 tablespoon of sugar mixed well
2 tablespoon of crushed cookies
Method
In a zipoloc pouch, take the biscuits and pound it well using a rolling pin. I took help from my lil one, thoroughly enjoyed pounding the biscuits. Remove it to a bowl, save 2-3 tablespoon for garnish. To the remaining crumble, add cream cheese and mix well. Keep aside until use.
In a wide bowl, take flour, baking powder, sugar and salt. Whisk well to combine. Make a well in the center, add milk, butter, oil and vanilla extract. Mix well with a spatula. The dough will be super soft, rich and absolutely tempting to stuff it in your mouth😋

Divide the dough into 12 balls. Flatten each ball in your palm, stuff a teaspoon of cream cheese chocolate cookie filling into it and place a Hershey kiss in the center. Bring the edges together, seal and shape it into a ball. Repeat the same with the rest of the dough.
Heat oil for frying in a pan, when it is hot enough, drop one ball at a time in to the hot oil, fry it until golden brown. Remove it using a slotted spoon and drain on a kitchen towel, Repeat the same with the rest of the doughnut hole.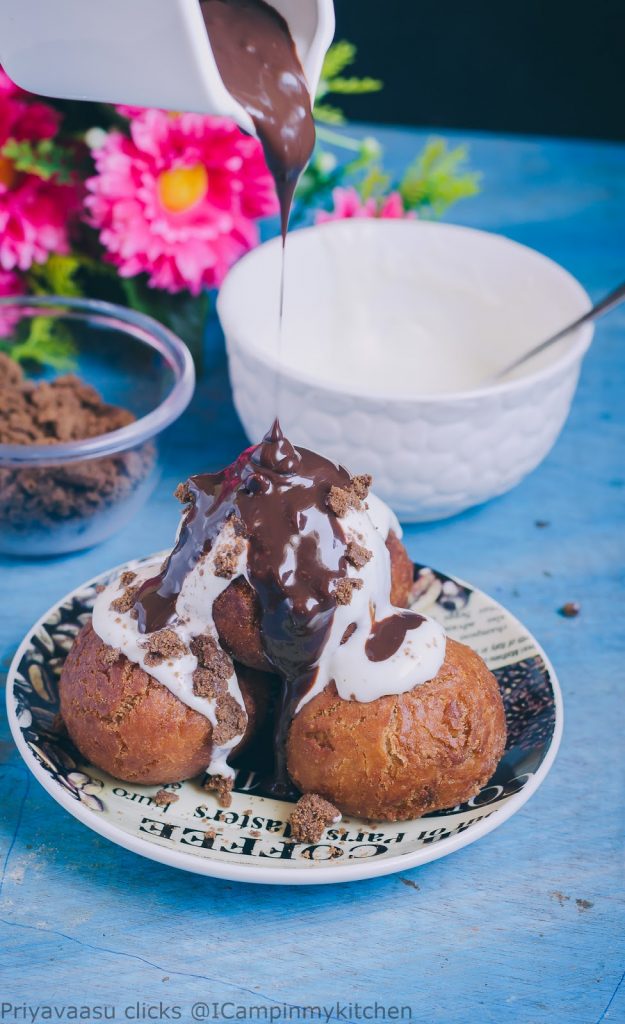 Now comes the fun part of serving, Place the doughnut holes on the serving plate, spoon a generous amount of cream cheese on top, followed by melted chocolate and cookie crumb. Enjoy your mouthful.
Check out the Blogging Marathon page for the other Blogging Marathoners doing BM#71