These cute rolls are waiting in my drafts for almost 2 months now. For a brief time, i even forgot i have them in the drafts. I made them for the bake-a-thon last month. But i have baked so much from my to-do list, i m filling them for this week too.
These rolls are adapted from my cinnamon rolls bear claws recipe. I have halved the recipe and got about 10 rolls.
To make it more chocolaty i have filled the rolls with some dark chocolate and drizzled the rolls with dark chocolate sauce, just before serving. This is a definite hit with kids, mine loved them a lot and were coming for another serving.
Ingredients
For Dough
1.5 cups all-purpose flour
¼ cup cocoa powder
¾ cup milk
2 tablespoon sugar
¾ tablespoon instant yeast
2 tablespoon unsalted butter, melted
¾ teaspoon salt
Filling
5 tablespoon sugar
1 tablespoon ground cinnamon
3 tbsp, unsalted butter, softened
¼ cup chopped dark chocolate (i used lindt)


Glaze
¼ cup powdered sugar
1 tablespoon milk
a splash of vanilla extract


For Chocolate sauce
50 grams lindt dark chocolate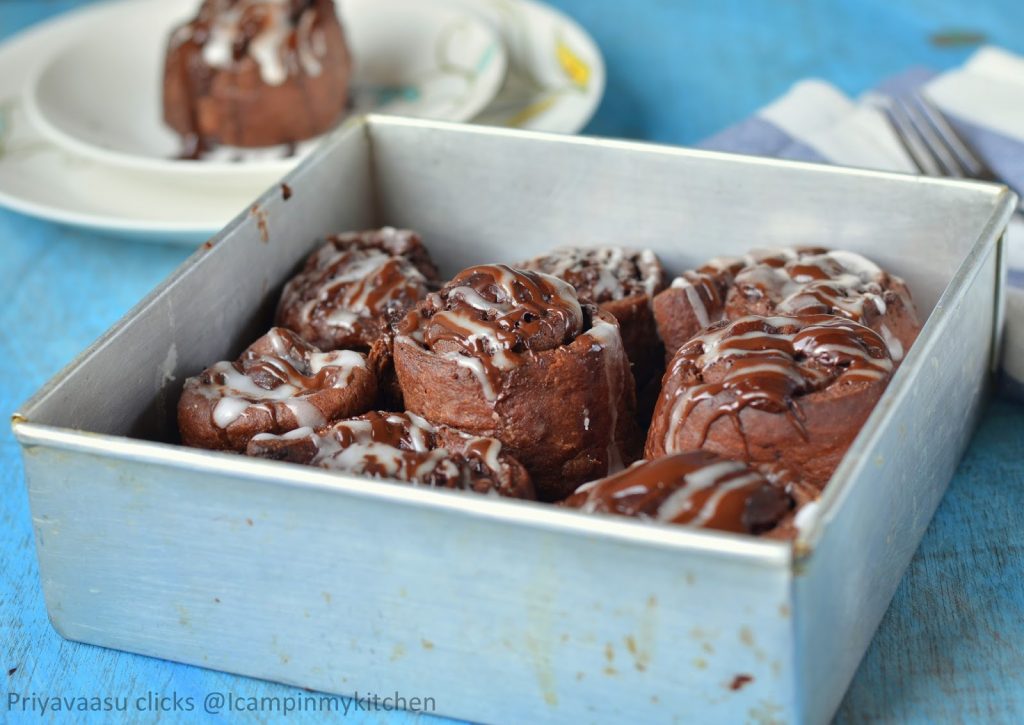 Method
I used my food processor to knead the dough. you can even hand knead the dough. Warm milk in microwave for 20 seconds, it should warm, not boiling hot. Add butter to this. Take flour, cocoa, sugar, salt and yeast in the processor bowl. Pulse twice to combine. Now slowly add milk to the flour mix and start kneading to a soft dough.

Knead about 5-6 minutes in medium speed to get a nice soft and smooth dough. It will take about 8-10 minutes if kneading by hand to get a soft dough. Keep the dough in a well-oiled bowl and covered and let it rise about 1-2 hours or until it has doubled in size. I left the dough for 90 minutes.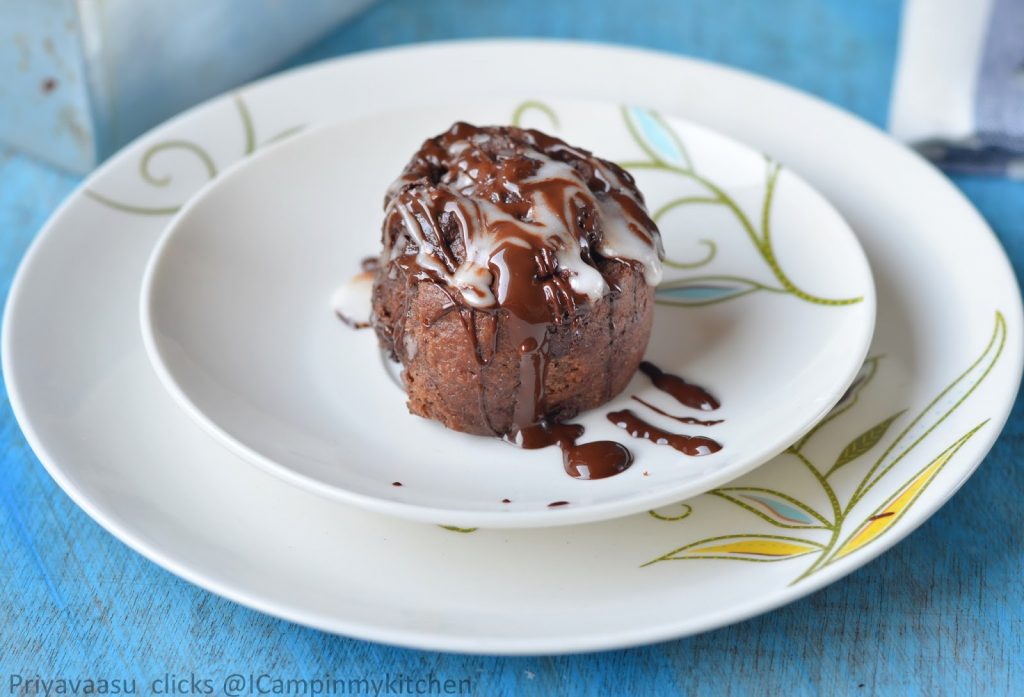 When the dough is rising, keep filling ready by mixing cinnamon and sugar together and the butter on the counter to get soft. Divide the dough into two halves. Roll one part of the dough into a rectangle. Spread about half the butter on the rolled rectangle. Spread half the cinnamon sugar generously on top of the butter. Spread half the chopped dark chocoalte. Now roll the dough into a log, pinch the seam to seal. cut the log into 4-5 pieces. Carefully lift it and place in a baking sheet. Repeat the same with the rest of the dough.

Let the rolls rest for 15 minutes. while it is resting, preheat the oven to 180C. Brush the rolls generously with butter and bake them for around 30-40 minutes. Once done, take it out and let it cool completely on a wire rack.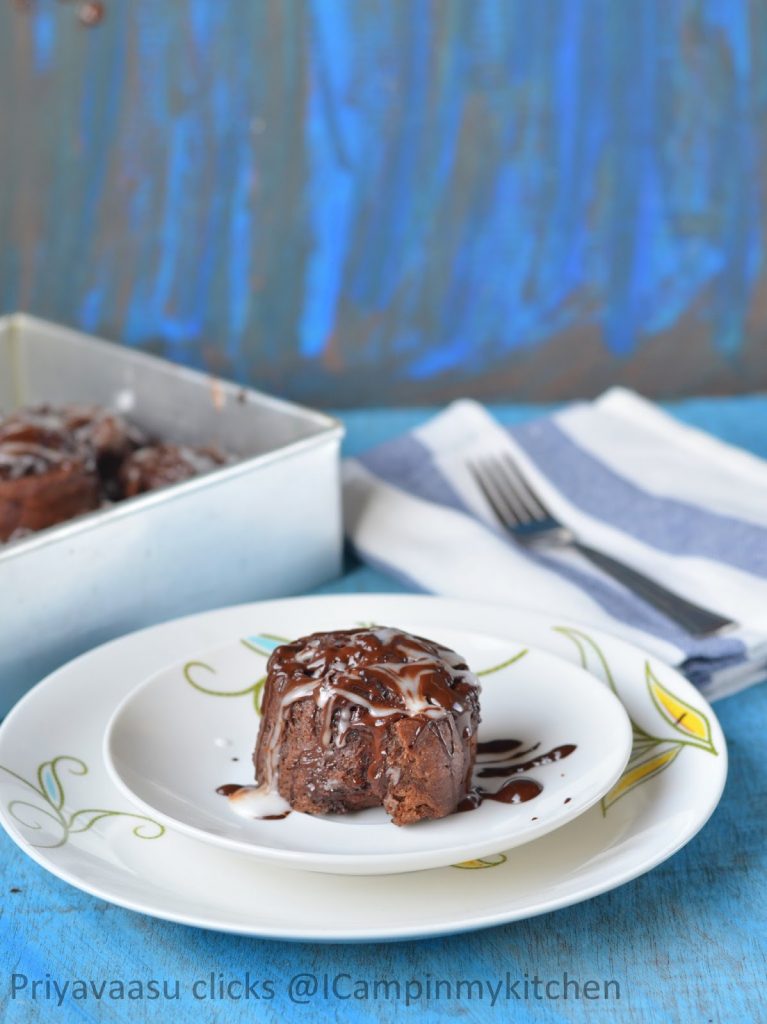 While the rolls are cooling down, make the sugar glaze by mixing powdered sugar and water and vanilla extract. Using a fork or a piping bag, drizzle glaze on the rolls. Just before serving, melt the chocolate in the microwave. Drizzle the sauce over the rolls and serve them warm.
Check out the Blogging Marathon page for the other Blogging Marathoners doing BM#58