Say Cheese, a phrase used by many photographers to make their subject smile, laugh, make them look happy in the photo. I wonder, how they made up this phrase. May be universally cheese brings a huge smile on everyone's face. What not to love about cheese, gooey, melty, richy, silky, smooth, i can go on listing all adjectives here, i love a good cheese sandwich anyday, infact i can eat cheese slice as such when i m hungry and looking for a healthy snack. Cheese is considered a good source of protein and fat for many calorie conscious eaters, including myself. I cannot stand protein powders, so i include atleast 4 slices of cheddar in my daily meals.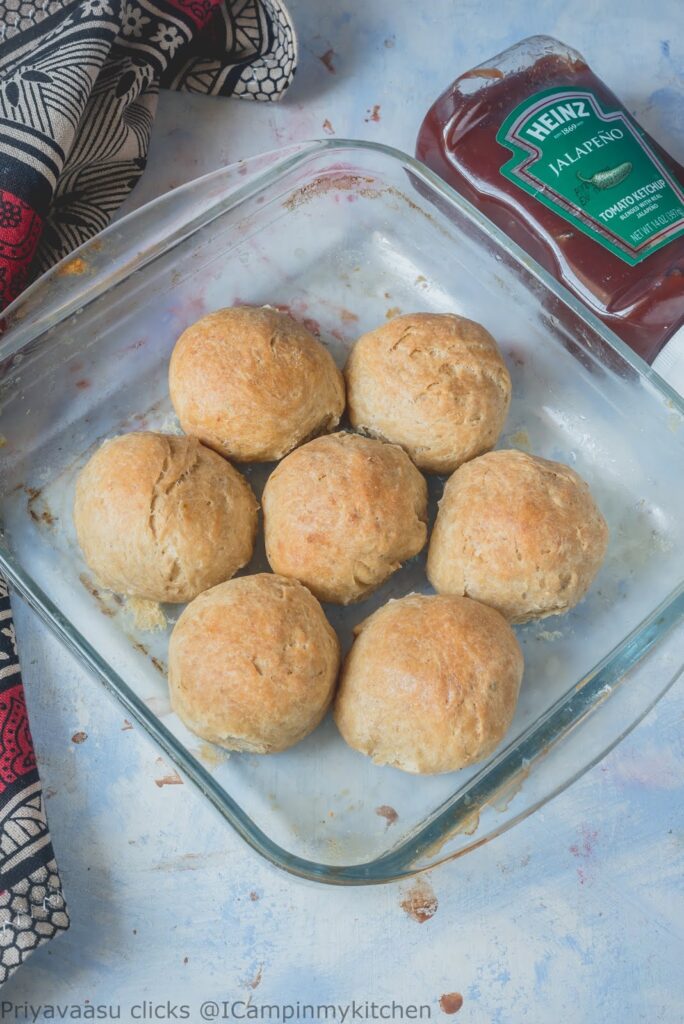 So, when Sue Lau of Palatable pastime asked us to make a cheesy bread, i immediately joined the list to bake this cheesy pullapart rolls. This is a simple roll, i have added grated cheddar to the flour and stuffed the rolls with mozarella. A perfect dinner time recipe, serve this rolls with some warm soup, i bet you will be baking more.
I have kept the spices simple, just garlic and mixed herbs, you can add your own spices, make it indian with some cumin and ajwain or add some kasuri methi/dried fenugreek leaves to make it more aromatic.
Since both my kiddos are at home, enjoying their spring break and constantly hungry for something new to eat, I made these rolls for their evening snack. The rolls vanished in minutes and i was happy, that i clicked some pictures before i served them.
Do try and let me know how you like these and don't forget to tag #icampinmykitchen to share your feedback.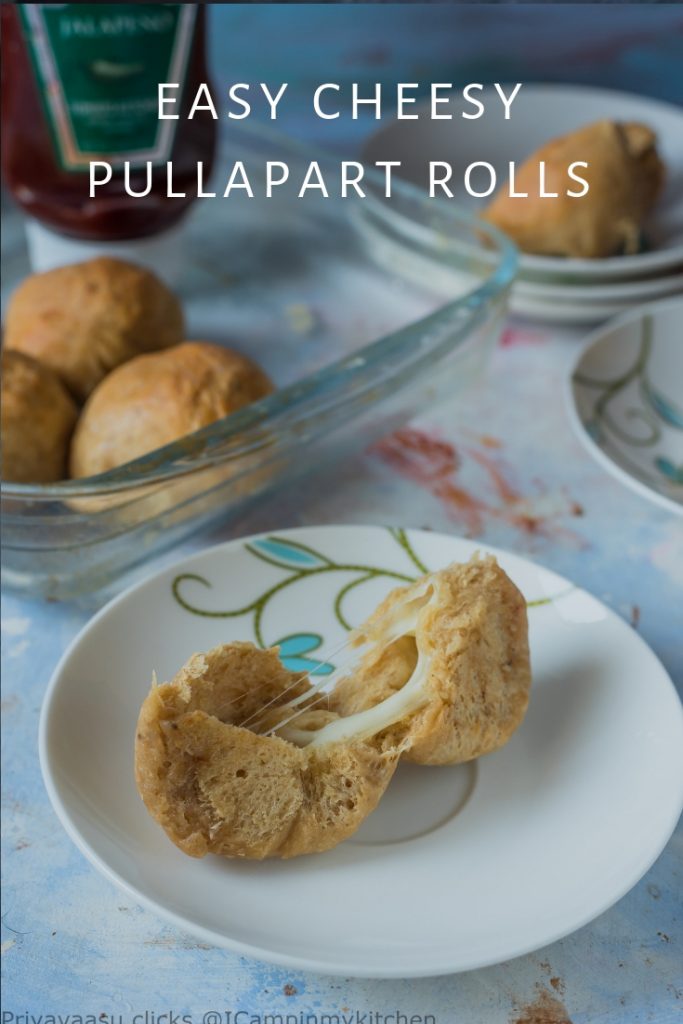 Ingredients
146 grams(approximately 1 cup) of whole wheat flour
1 tablespoon vital wheat gluten/1/4 cup mashed potato (see notes)
2 cloves of garlic, grated fine
50 grams of mozarella cheese,cut into small cubes
2 tablespoon milk mixed with 1 tablespoon oil
Notes:
If using mashed potato in place of vital wheat gluten, you might have to reduce the liquid quantity. Check this Savory buns recipe for better idea
Take flour, yeast, gluten and salt together in a bowl and whisk well to combine. To this flour mix add mixed herbs and grated garlic and mix well into the flour.

Grate the cheddar cheese block using a fine grater and and add it to the flour and mix roughly. To this flour-cheese mix .

In a microwave safe mug, take water and microwave it for 30-40 seconds. The water should be hot, but not scalding hot. To this hot water add the butter and give it a stir. Add this water to the flour mix in batches and mix to form a wet dough.

Do not add all the water at one time, i was left with 2 tablespoon of water, so depending upon the flour you are using you might need all of it or just the same as mine.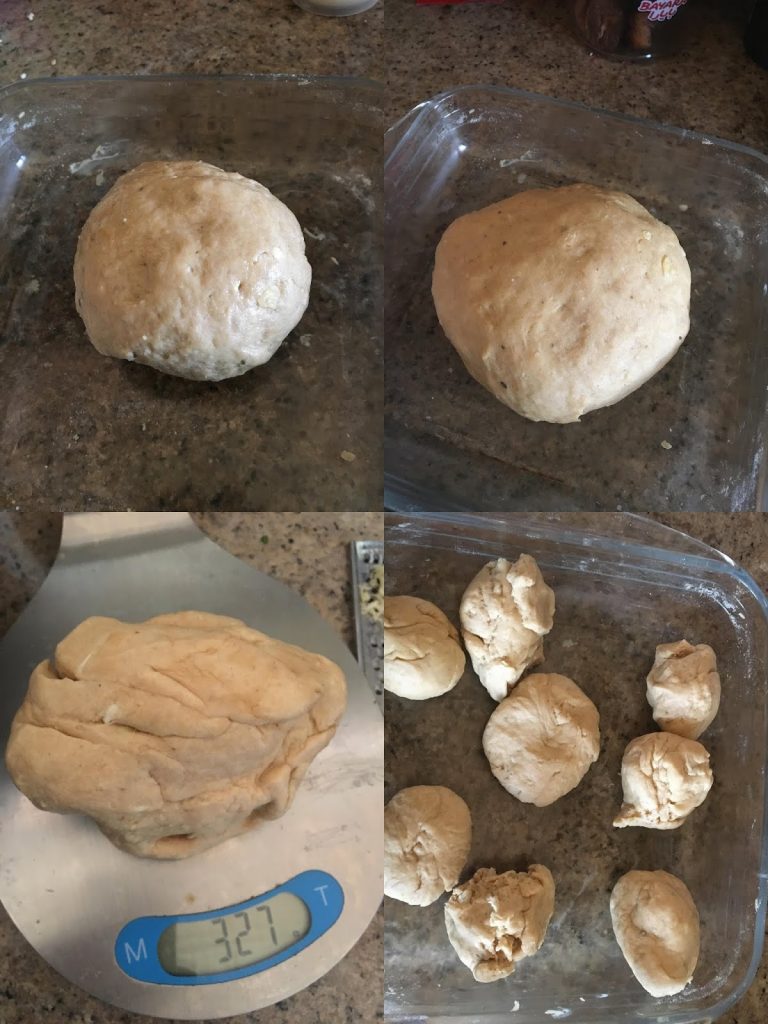 Once you got a wet dough, take the dough on to your work surface/kneading surface and knead to form a soft dough. Sprinkle little flour if needed, do not add more flour. Once you get a smooth dough, grease a bowl with oil and let the dough rest for 40 minutes or until it doubles in size.

Once it doubles up, punch down the air, knead the dough couple of times. At this stage, i weighed the dough and got around 327grams of dough.
I divided the dough into 8 portions. Knead each portion of the dough once, flatten it in your palms, insert a cube of mozarella cheese, pull the dough to the cover the cheese and form a ball. Repeat the same with the rest of the dough pieces.

Arrange the dough balls in a greased baking sheet and the let them rest for 30 minutes. Preheat the oven to 180C,brush the rolls with milk-oil mix and bake them in the preheated oven for 30-40 minutes or until the top turns golden brown.
Once done, remove the tray from the oven, let it sit in the tray for few minutes. Then slowly remove it on to a cooling rack to cool off completely.

While serving, microwave them for 10-20 seconds for the cheese to turn gooey. Serve the rolls along with some soup for dinner or just with some ketchup as a snack.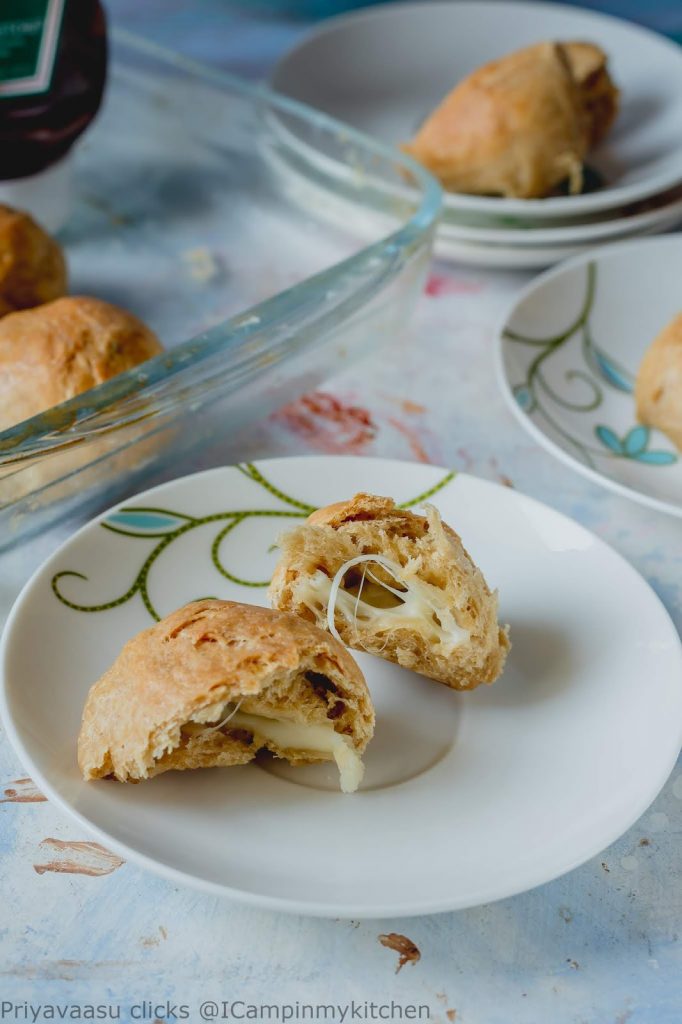 #BreadBakers is a group of bread loving bakers who get together once a month to bake bread with a common ingredient or theme. Follow our Pinterest board right here. Links are also updated each month on this home page.
We take turns hosting each month and choosing the theme/ingredient.
Here is the list of Cheese Breads for this month (March 2019)