Comes December, all we can think about is Christmas and New year holidays. The Whole world smells like cinnamon and spices, wherever i turn in FB, i could see fruits soaking in alcohol or juice, getting dressed for the Christmas bakes and count downs for Christmas, unpacking decorations and getting the house ready for the festive season.
We BM-ers too have a reason to celebrate December, our Bake-a-thon,  an yearly event by +srivalli jetti. 13 days of Baked goodies, my kiddo is jumping with excitement from the day i put a baking schedule on the fridge door. He keeps checking on me, whether i m on schedule.  yes, i have a schedule, and hope to successfully execute that schedule. Fingers, toes, everything crossed!! 👍👍
So, by the schedule, today is Banana bread day. This recipe, i can even make in my sleep! yes, you wake me up in the middle of the sleep and ask me the recipe i can tell without any hiccups😊 😇
It is a fool-proof recipe,  if you want to add sugar then just use ½ cup – ¾ cup of sugar. It is a yum after-school snack for kids or serves as a scrumptious breakfast on a weekend morning. I would love it anytime, it is a regular weekend bake in our home these days. Do try  and let me know how you liked it!! 😊😆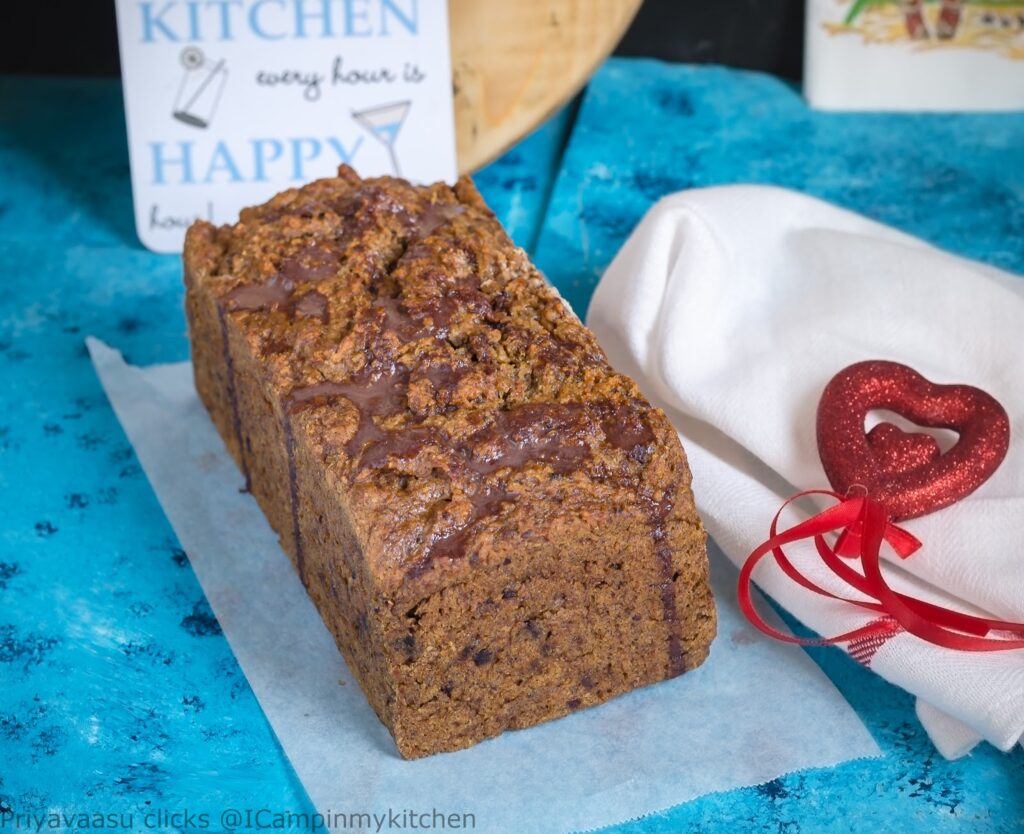 Ingredients
1.5 cups of Whole wheat Flour (i used Aashirwad brand chakki fresh aata)
22-25 nos of Dates, pit removed
1.5 teaspoon baking powder
6 nos small banana or 3 large Philippine banana (i used poovan pazham), @ room temperature
¼ cup Vegetable oil/coconut oil
For the chocolate glaze
4 squares of any milk/dark chocolate, i used lindt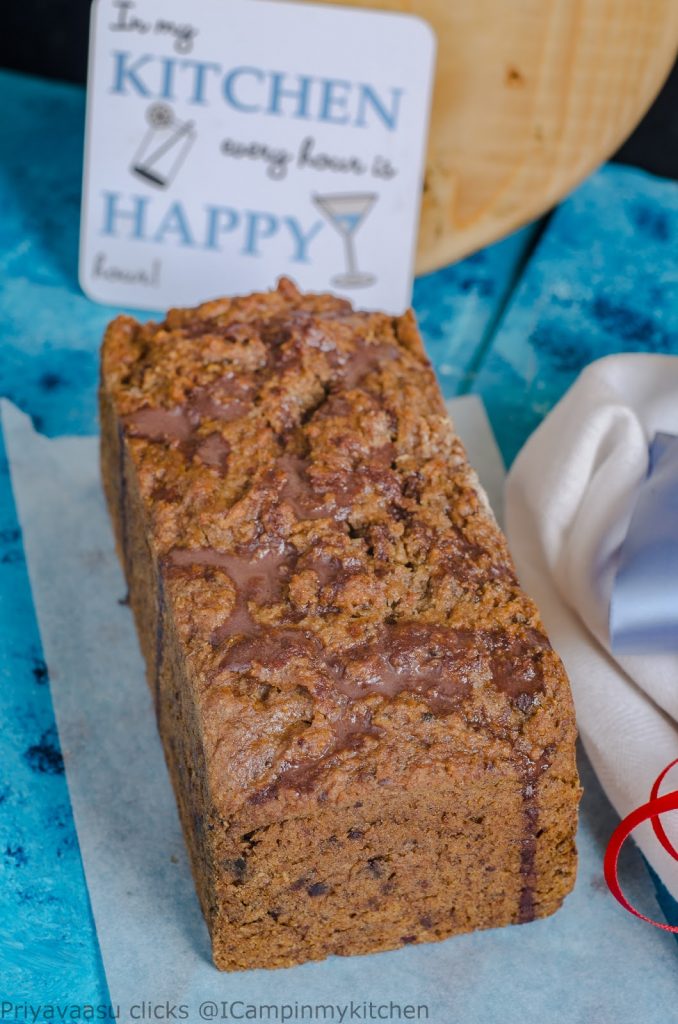 Method
In a wide bowl, take the flour, add baking powder and baking soda. Whisk well to combine.

In a blender jar, take bananas and pitted dates, along with cardamom and cloves. Blend until smooth.

To this blended fruit, add oil, water and mix well. Add this fruity-oil mixture to the flour mix and combine using a spatula. 

Line a 7 inch loaf tin with parchment. Pour the prepared batter into the lined loaf tin, tap it twice on the counter for the batter to settle well and for the trapped air to release.

Preheat the oven to 160C for 10 minutes. Bake the bread for around 50-55 minutes or until done. To check the done-ness, insert a tooth-pick in the center of the baked loaf, it should come clean.

Remove it from oven, let it cool for 5 minutes. Remove the loaf from the tin, let it cool on a wire rack.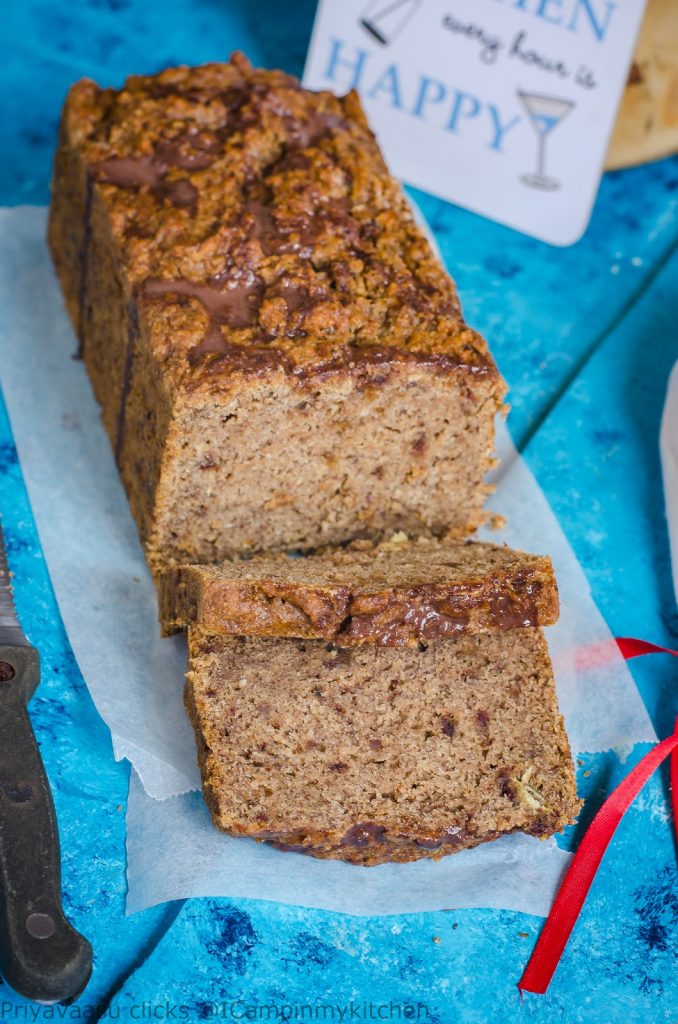 Melt the chocolate squares in a microwave safe coffee mug. I just MW it for 1 minute @ 30 seconds interval,stirring in between once. Pour the melted chocolate on top of the loaf. Cut and serve.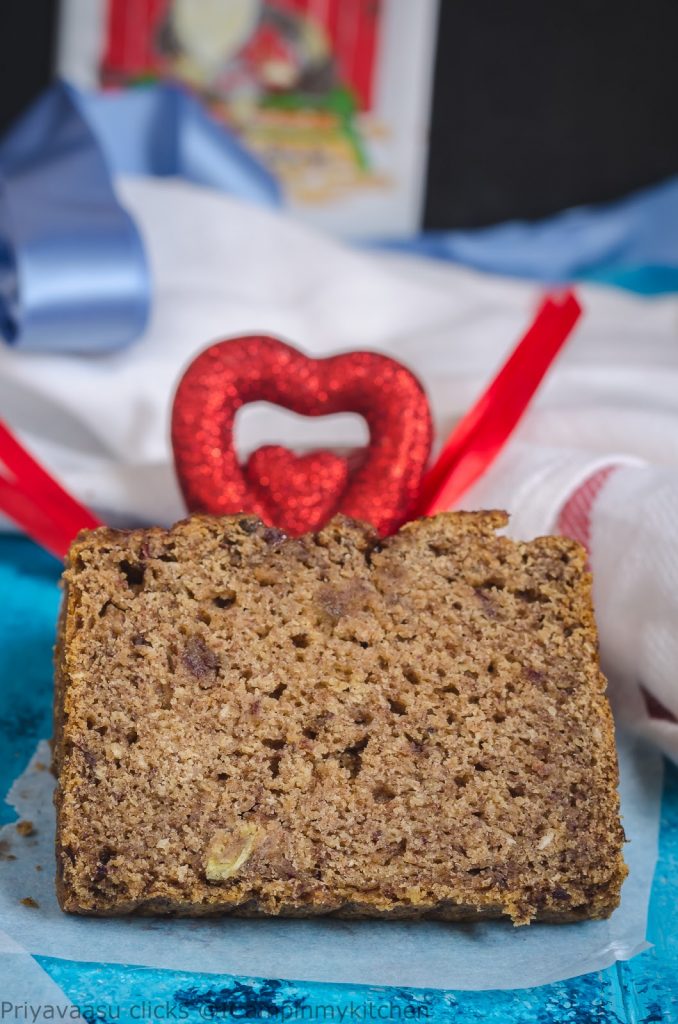 Notes:
If using sugar, use around ½ cup – ¾ cup of sugar.

The bananas, need to be in room temperature, if using frozen bananas, remove them to room temperature first and then blend. If use them straight from the freezer, the liquid quantity will be less, so you might have to add another ¼ cup – ½ cup of water to bring the batter to the right consistency.

If you dont prefer cardamom, you can substitute it with ½ teaspoon cinnamon, ¼ teaspoon of nutmeg  or us a 1 teaspoon of vanilla extract. 
This is part of the Bake-a-thon 2016
An InLinkz Link-up