When i first started baking, i used only maida/all purpose flour for everything. Slowly, become little health conscious and started experimenting with whole wheat flour. But this is the first time i m baking with an ancient grain, with no add-ons like half this, half that. I was skeptical first, never believed i will be successful in my first attempt. A big thanks to Robin Deck, who gave us this joy. True, every breadbaker who attempted this month's theme would definitely feel the same.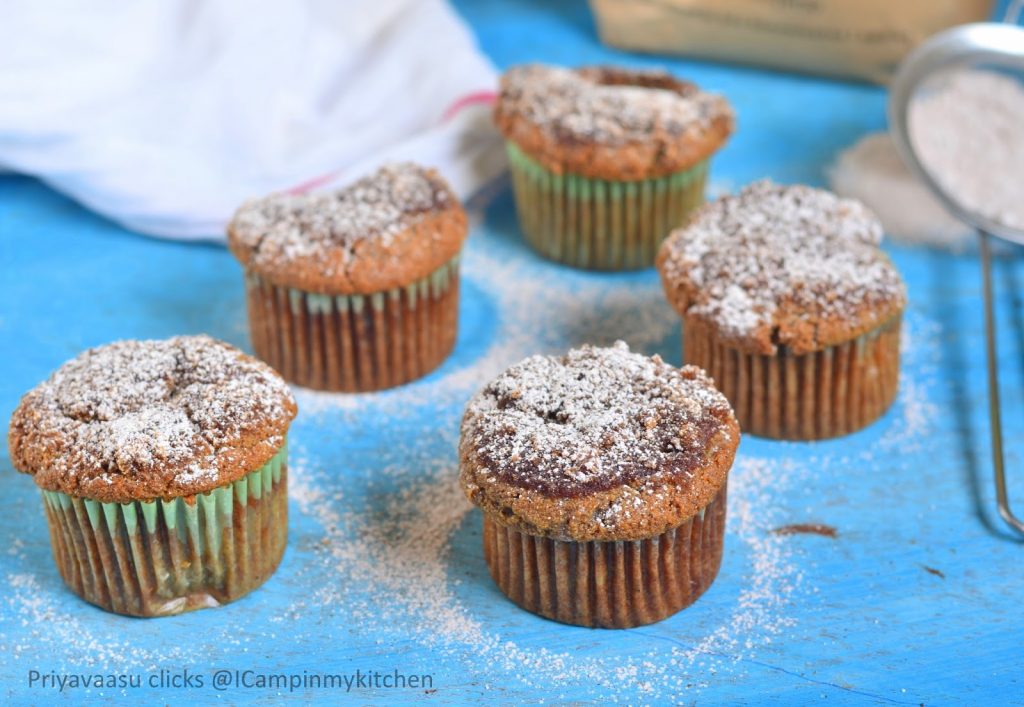 My original plans was to make doughnuts with barley flour. I didn't have a doughnut pan, wanted a new one, that is why i chose to bake doughnuts. But the forces aren't that happy with my decision, i hunted 3-4 places, all in vain. So, i settled to make them as muffins. My kiddo came and asked me what i m baking? i told Doughnut muffins. Flash came the next question, haha, doughnut muffins, don't u think it is funny, are u Dr. Doofenshmirtz of Phineas and Ferb, inventing new food?? Me gave him a cold look, he vanished knowing, i might not allow him to taste the muffins, if he talks some more. 
To my surprise, the muffins were a big hit. I was like a toddler, jumping up and down, when i saw them rising beautifully in the oven. Oh yes, i watch my bread baking in the oven, don't They were soft and fluffy, None knew it is made with barley flour. 
The muffins vanished in minutes. My two lil devils waited patiently till i clicked the photos, they devoured 3 muffins straight from the board. My elder one gave me 5 stars for these beauties. 
1 or 2 teaspoon vanilla extract or generous spoon of Cinnamon powder
2 tablespoon brown sugar mixed with a teaspoon of cinnamon powder
2 tablespoon icing sugar for dusting the muffins
Take flour, brown sugar together in a bowl and mix well. 

Take buttermilk in a measuring cup and add baking soda to it, mix well and keep aside for 5 minutes. It will rise a bit and become light and airy. 

To this buttermilk add oil and mix gently. 

 Do not stir vigorously, it will disturb the air inside.

Add this liquid to flour, along with vanilla extract. My vanilla stock is finished, so i have used cinnamon powder, which i added to the flour mix. Mix gently using a spatula in one direction. Flour and liquid should be well incorporated. Take care not to stir vigorously.

Preheat the oven to 180C. Line a muffin pan with liners  and fill the batter upto ¾th of the pan. Bake the muffins for about 23-25 minutes or until a tooth pick inserted in the center comes out clean.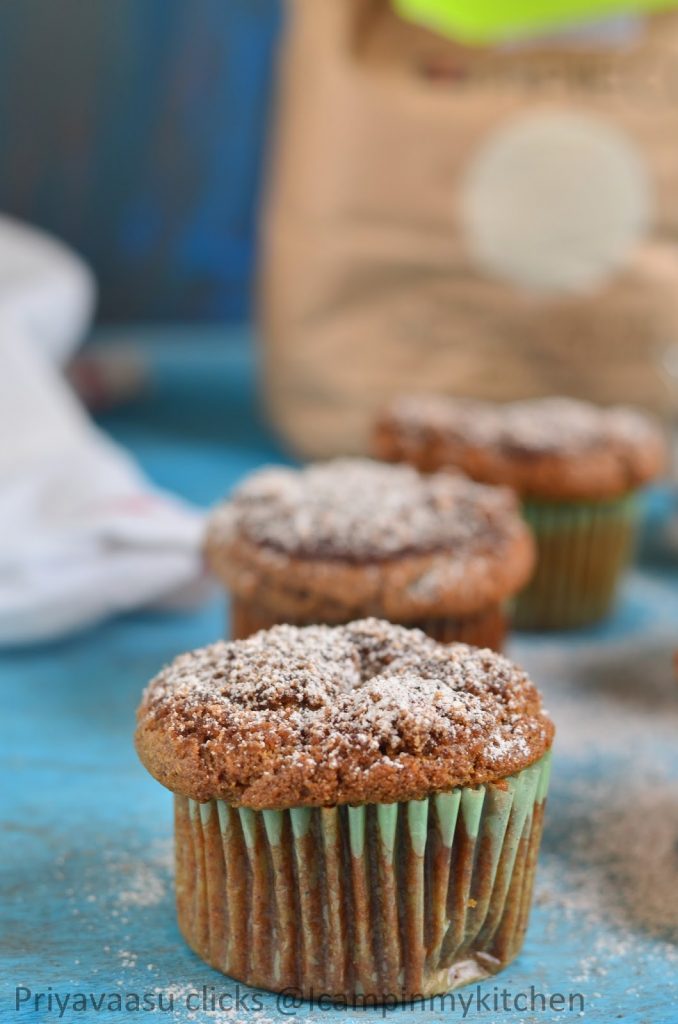 Take the muffins out of the oven, remove it on to a wire rack, let it cool for 10 minutes. 

When they are slightly warm, dip each muffin into melted butter, shake of the excess, roll the top on to brown sugar + cinnamon powder mix. Do this gently, the mufins will be light and airy,don't man-handle them, genteel, suave! 🙂

Let them rest on the wire rack for a minute or two for the melted butter to infuse its magic. Serve them warm, dusted with little icing sugar on top. Trust me, makes every bite delicious!
Leftover if any, can be cling-wraped and refrigerated. Just before serving, warm them for 20 seconds in a microwave.
Notes
The top of the muffins, cracked a bit, maybe because of temperature, so try reducing the temperature to 170 and baking for 25-28 minutes. 

There is a minuscule after-taste in your mouth, just before your swallow it, but then it not noticeable by others, since i knew it is barley flour, i could sense it.  
#BreadBakers is a group of bread loving bakers who get together once a month to bake bread with a common ingredient or theme. You can see all our of lovely bread by following our Pinterest board right here. Links are also updated after each event on the #BreadBakers home page.
We take turns hosting each month and choosing the theme/ingredient. If you are a food blogger and would like to join us, just send Stacy an email with your blog URL to foodlustpeoplelove@gmail.com.

This month's BreadBakers' theme is Ancient Grains, hosted by Robin at A Shaggy Dough Story. Ancient grains are generally accepted to mean grains that have remained largely unchanged/un-hybridized over the last several hundred years, which means NO MODERN WHEAT. Here's what our creative bakers came up with.