I Love Pineapples, so when i saw this cake @ Jyoti's i wanted to try immediately. Loved the taste of chunky pineapples hidden inside the cake!!!! I have replaced half the amount of AP flour with Wheat flour and also got only ½ cup of juice from the can.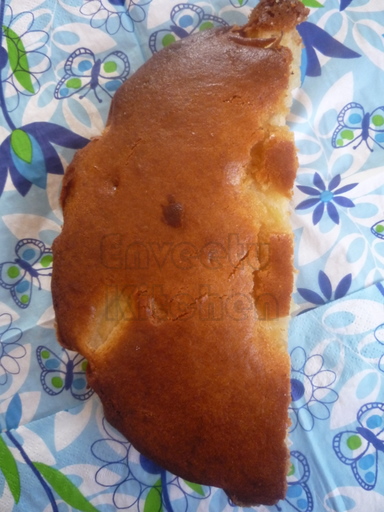 Source : here
Ingredients
¾ Cup All Purpose Flour.
¾ Cup Wheat Flour
¼ cup butter,soft at room temperature.
¾ cup condensed milk.
½ can pineapple Chunks
½ cup of pineapple juice (from the pineapple can).
1 teaspoon baking powder.
½ teaspoon baking soda.
3 cardamom pod seeds powdered finely.


Method
Preheat the oven to 180C and Grease a round cake tin with butter or line it with parchment paper.

In a Bowl, Mix Butter and Condensed Milk together until smooth and creamy.

In a separate bowl Sift together AP flour,Wheat flour, baking powder, baking soda and powdered cardamom.
Add the dry mixture to the wet mixture little by little, Keep stirring all the time.Add the pineapple juice little by little and whisk till it is mixed properly. Fold in the Pineapple Chunks into the mixture.

Pour the cake batter into the prepared tin. Bake the cake at 180C  for 20mins.Reduce the temperature to 160C and bake for another 20-25 mins or until it passes the toothpick test.

Take it out of the Oven, Let it cool for 5 minutes. Invert it on to a Wire Rack. Serve it Warm!!!
Baking time differs from Oven to Oven. So, Please check the settings of your Oven.