Finally, i got my post up today. Baking Eggless,  a New Group of Enthusiastic Bakers, Started by Gayathri, Where every month we take up a Egg-based Baking Recipe and try to convert it to an Eggless Bake. It is Adventurous, i say!!!! Coz, the first recipe of baking an Eggless Coconut Cake, turned out DISASTROUS!!!! yes, the whole cake turned bitter and My Weekend Morning Effort all gone to trash!!!! i was in the verge of crying, thanx to harini, she helped to find out the Villain (made by me) in my recipe. I have added way too much Baking powder for the amount of flour used!!! Lesson Learnt, the hard way!!!! 🙂
I gave it a break for 2 days and tried it again, this time using Milk and yoghurt. Voila!!!! Success!!!! Loved the end result, fluffy, flavorful Cake!!!! We enjoyed every bite of it!!!! lets hop on to recipe
Ingredients
1 and ½ Cups All purpose flour 
½ cup Unsweetened dessicated coconut
Little more than ¾ Cup Milk
¼ teaspoon Cinnamon powder
Method
 

Preheat the Oven to 160C. Line a Cake Pan with 

parchment

. 

Sift Flour, Baking powder, Baking Soda, Salt, cinnamon together.

Add Sugar and Dessicated coconut to the flour mix.

Mix the Wet ingredients together.

Add Dry to Wet ingredients and Whisk together slowly.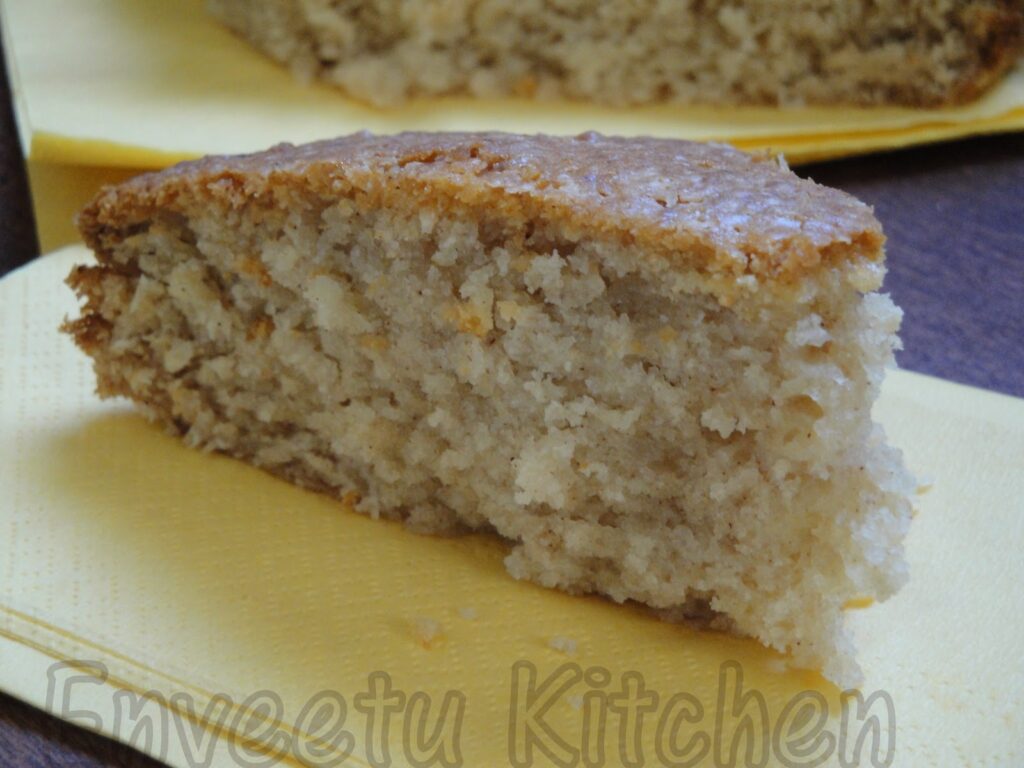 Pour the batter into the prepared Cake tin.

Bake for 40-50 minutes or until a tooth-pick inserted comes out clean.
Note:
Baking Time differs from Oven to Oven.So Bake Accordingly.
i got tempted @ the end, so increased the temp to 170 for the last 10 minutes, may be that is why i got a bit crispy top.