For this month's Baking Eggless Challenge, i suggested we bake Dinner Rolls. Co-incidentally all the baking challenges this month, is to Bake Bread, one or the other kind. While going through Foodgawker, i came across this dainty Dinner rolls, from Cooking Clasy, and i suggested Gayathri as part of Members recipe Suggestion. Thanks to Gayathri, she scheduled these Dinner rolls for this month challenge.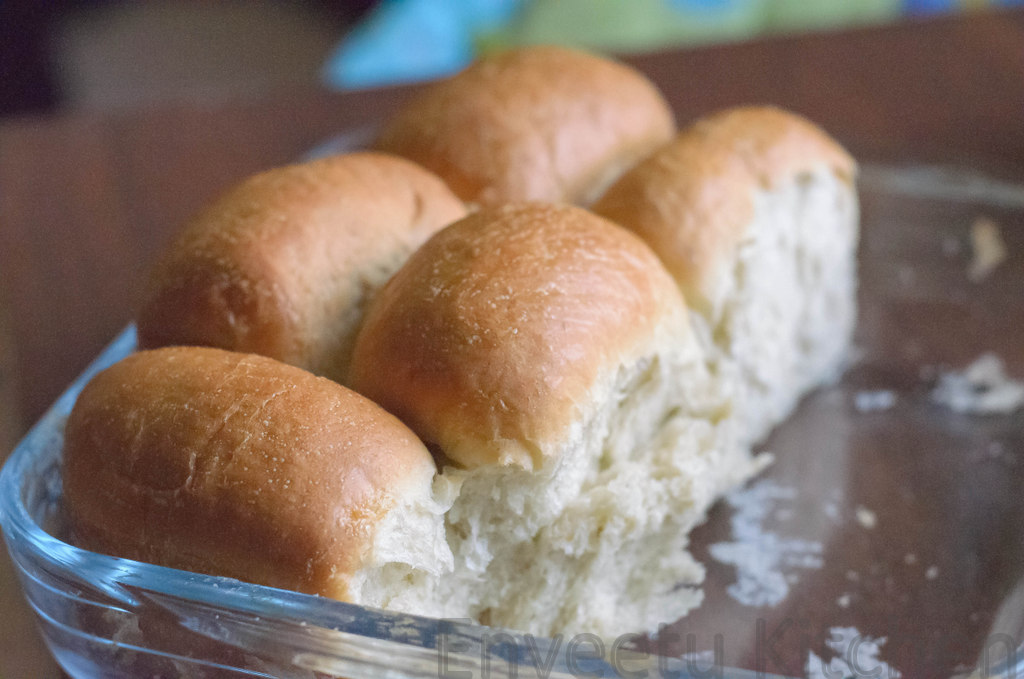 The recipe uses one Egg and i have tried using Avocado as an Egg Replacment. Wow, the rolls came out super soft and fluffy. I made some Chickpeas Gravy to go with these soft rolls and it was a match made in heaven.
Ingredients
3-½ Cups All Purpose Flour
¾ Cup Warm Water (i used ½ water and ½ Milk)
1 Ripe Avocado @ Room Temperature, Peeled, pitted and Mashed (instead one Egg)
1 tablespoon Cream for brushing the rolls (you can use Milk-Oil Mixture also)
Method
Peel, Remove the pit and Scoop the flesh out of the avocado and mash it well or run it in the mixer and puree it. If the Avocado was in the fridge, please take it out and keep it on the counter to reach room temperature.

In a Big Bowl, Combine Flour, yeast, Sugar and Salt. Make a well in the middle, add pureed avocado and half the warm Water-Milk mixture and start kneading the dough. The Dough will be sticky to begin with. Add Water/Milk little by little as needed.

Add Butter and knead well for 8-10 minutes to get a smooth, elastic dough.
Keep the dough in a well-oiled bowl and cover it with a kitchen towel and leave it to proof/rise for an hour. I left it in my Oven with the lights on. After an hour, the dough would have doubled in size.

Take the dough from the bowl. Place it on a flat surface, punch down the air inside. Divide the dough into four equal parts. Again, divide each part into three equal parts. So, totally you will have 12 parts of dough.
Shape each part into a ball and Arrange them in a baking tray, greased with oil. Brush the shaped balls with cream and let it sit in a warm place for another 30 minutes.

After 30 minutes the balls would have doubled in size. Preheat the oven to 170C for 10 minutes. Bake the Dinner rolls for 25-30 minutes or until the tops has browned well.

Let it be in the Baking tray for 5 minutes then remove them to the wire rack, let it cool completely.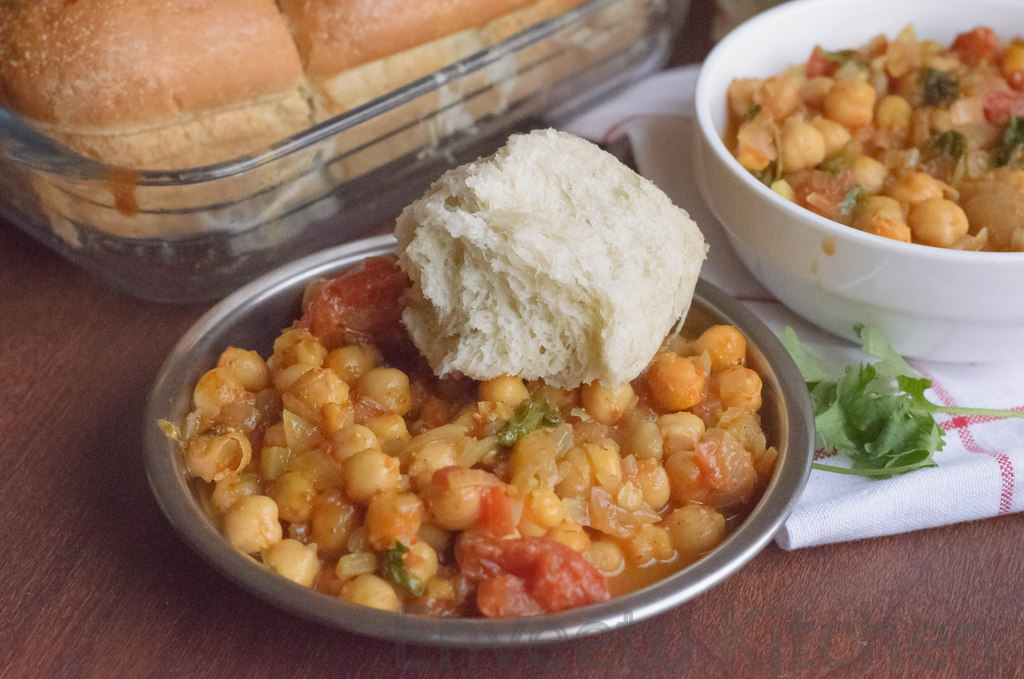 Serve them drizzled with warm butter along with a spicy gravy or just cheese and jam. We enjoyed with Spicy Channa Curry.