I love the smell of apples and cinnamon baking in the oven, it makes the whole house feel like heaven.  When Priya Ranjit, suggested Jewish Apple cake as part of December Home Baker's Challenge, i made my mind to make it definitely. It was a egg-based recipe, so i substituted the eggs with yogurt. The cake took almost 90 minutes to bake. I was a bit tensed to see the top still wiggly after an hour of baking, then trusted my instinct and baked it for another 20 minutes. Since it was almost 1 pm  in the night, i just removed it to the wire rack, covered it loosely with a colander basket and went to bed. 
Today morning when i entered the kitchen, it smelt heaven again. Praying to god, took the knife and sliced the cake, thank god, it sliced well. It tasted good, and can be had for breakfast, 3 slices already vanished here!!! May be next time i will try it in my mini bundt pan.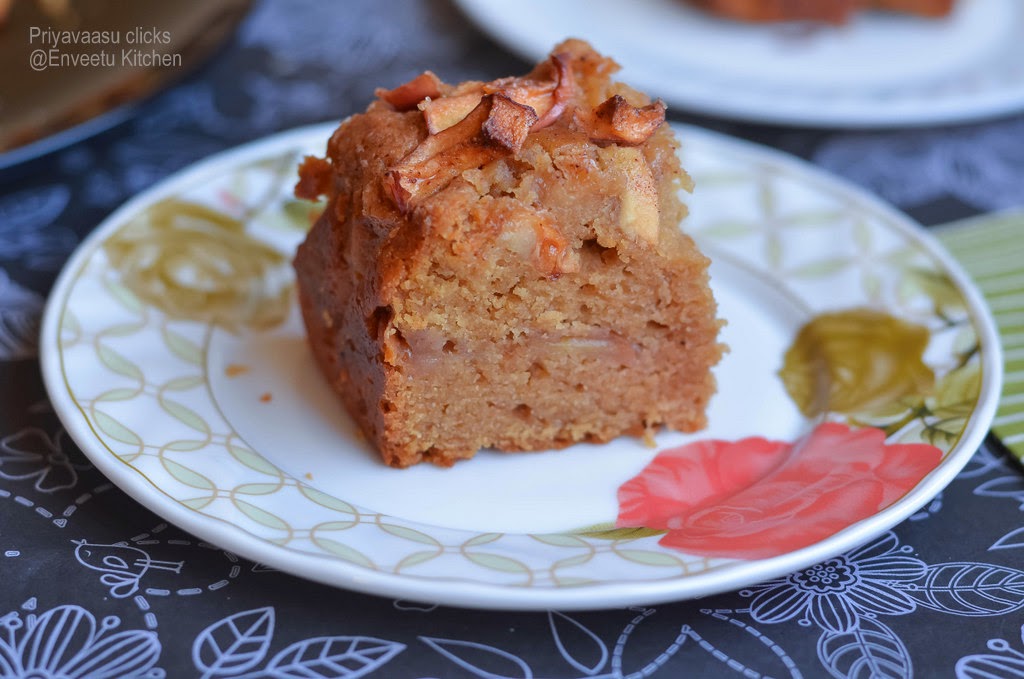 Ingredients
1-¼ teaspoon Baking powder
½ Cup Curd (substitute for 2 eggs)
2 tablespoon Orange juice
1 teaspoon Vanilla extract
1-½ Apples peeled, cored and chopped
1 teaspoon Ground cinnamon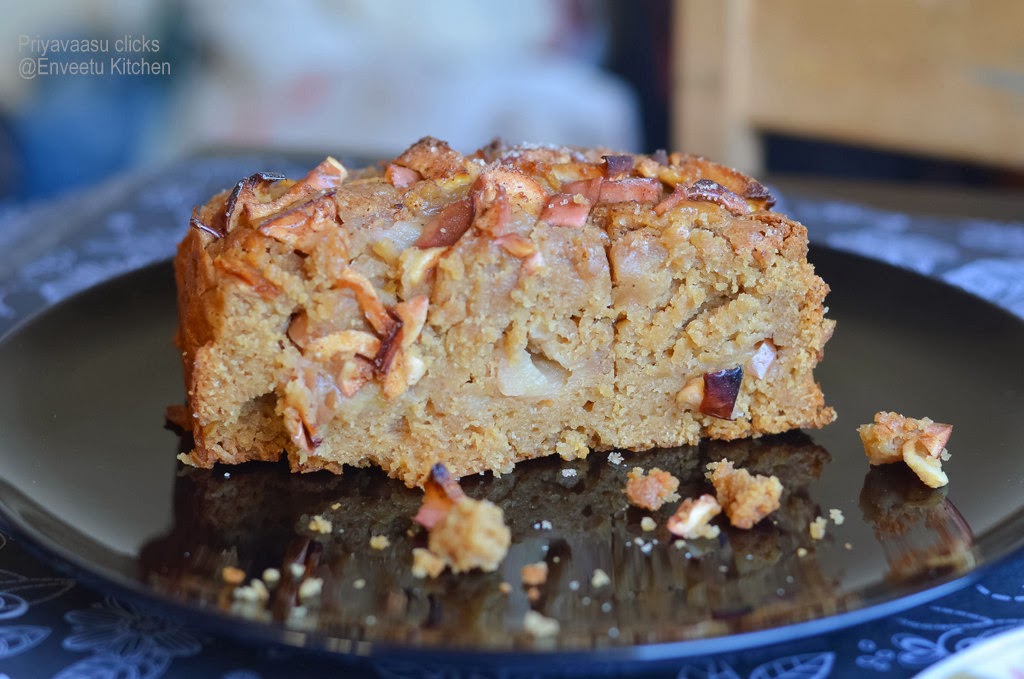 Method
Preheat oven to 350F/170C.  Grease and line the baking pan with parchment, i used by (7X6) almost square pan, but the original recipe suggests using a tube pan/bundt pan. 

Combine the ground cinnamon and sugar together and set aside. Wash and cut the apples into thin slices. I didn't peel the apples, if you want to then peel first and then slice.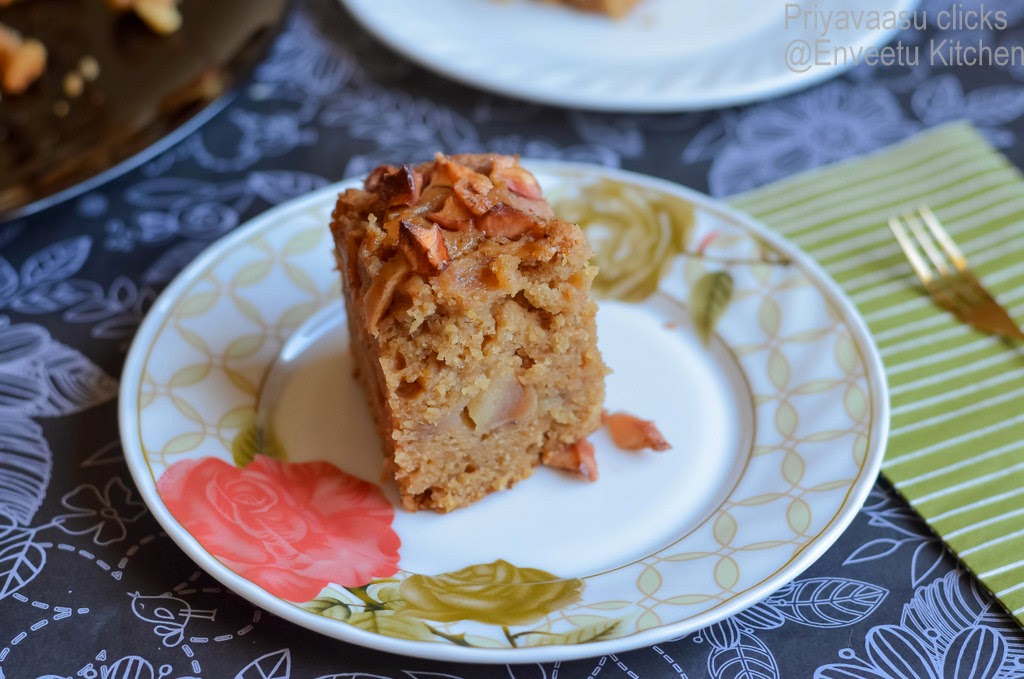 In a large mixing bowl, Sift both the  flours, salt, baking powder together.In another bowl, take yogurt/curd, mix in the sugar, orange juice, vanilla extract. Finally add the oil and stir gently.

Now slowly add flour-mix little by little and stir to combine. Pour ½ of the batter into the prepared pan. Top with ½ of the sliced apples and sprinkle with ½ of the cinnamon sugar mixture. Pour the remaining batter over the top and layer the remaining sliced apples and cinnamon sugar.

Bake in a preheated oven for 70-90 minutes. My cake took 90 minutes to bake, To check the done-ness insert a toothpick in the center of the cake, when it comes out clean, then the cake is done.
Once done, let it sit in the hot oven for  5 minutes. Take it out, let it cool in the pan for 5 minutes, then slowly remove it to the wire rack, let it cool completely there. Slice and Serve.

I baked the cake late night, so left it on the wire rack, covered loosely with a wicker basket. Morning, the whole kitchen was smelling cinnamon and apples. It was such a pleasure to cut the cake and see the crumbs. My people had 3 slices for breakfast along with their coffee.