Fijian coconut buns, i have been eyeing since i saw my fellow blogger Sowmya and Priya suresh posted them. Deliciously soft buns baked with coconut milk, i immediately wanted to include them in my bake-a-thon bakes. This week i was cooking from capital cities around the world. I made Pan de coco and Tres leches Cake, in that line, i decided to make these buns as the final dish for this week's bake-a-thon.
I have used coconut milk to knead the dough, you can also use normal milk. When i was making the dough, i actually ran out of milk, so i used coconut milk to make the dough. It rendered a beautiful texture and flavor to the buns. The buns are drowned in coconut milk, before pushing them into the hot oven. The milk bubbles and boils when the bun is rising and baking in the oven. Your whole kitchen will be filled with a sweet aroma of coconut milk. My buns got a little caramalized at the bottom, thank god i removed them at the right time, so keep an eye on your buns around 20 minutes.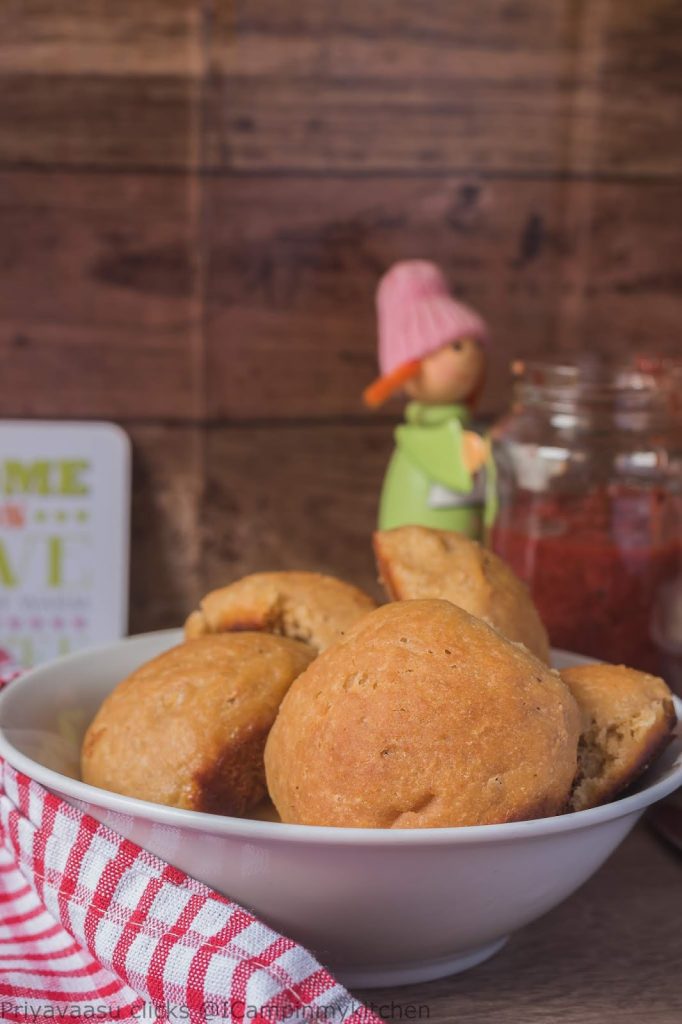 I served the buns with freshly made strawberry jam and labneh to my kids. My lil one loved it with the jam. A perfect bake to warm your breakfast table.
Ingredients
2.5 cups Whole Wheat flour
2 tablespoon vital wheat gluten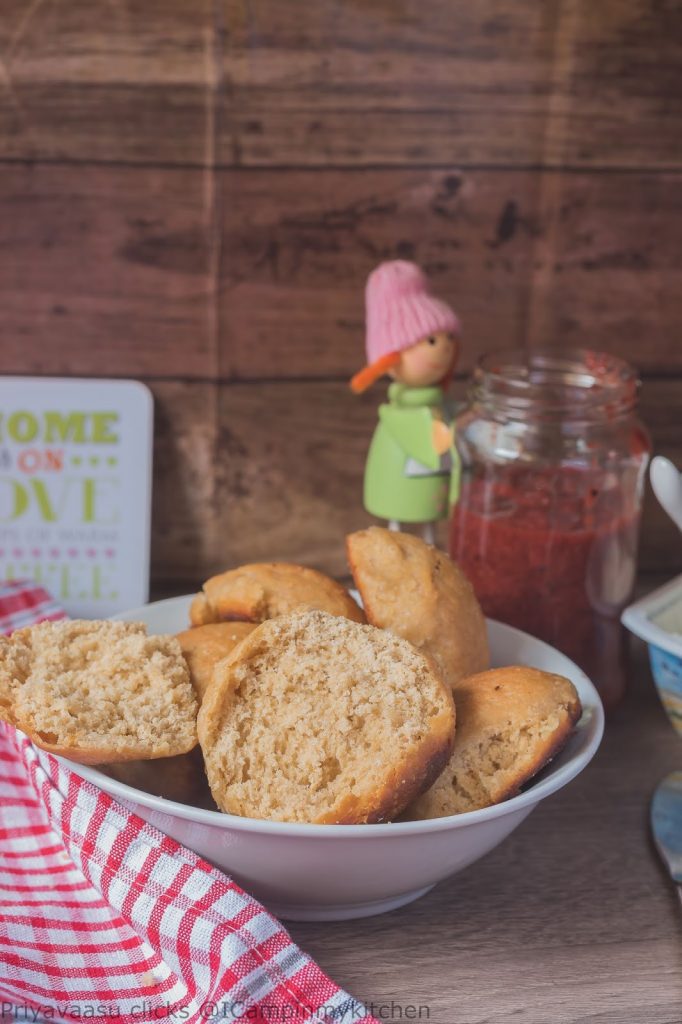 Method
Take flour, sugar, yeast and gluten in a big bowl, whisk them well to combine. Take milk in a microwave safe jug, warm it for 45 seconds, add butter to it.

Add this warm milk to the flour mix and using a wooden spoon, mix it well. When the mix comes together as a dough, use your hands, to knead it to soft dough.

If you feel the dough is dry, try adding 1 tablespoon of milk at time and knead. The dough comes out pretty easily, easy to handle, knead and shape.

Let the dough rest for an hour or until it doubles up in size. I left it for 90 minutes. Once the dough doubles up, punch it down, deflate it and knead it again.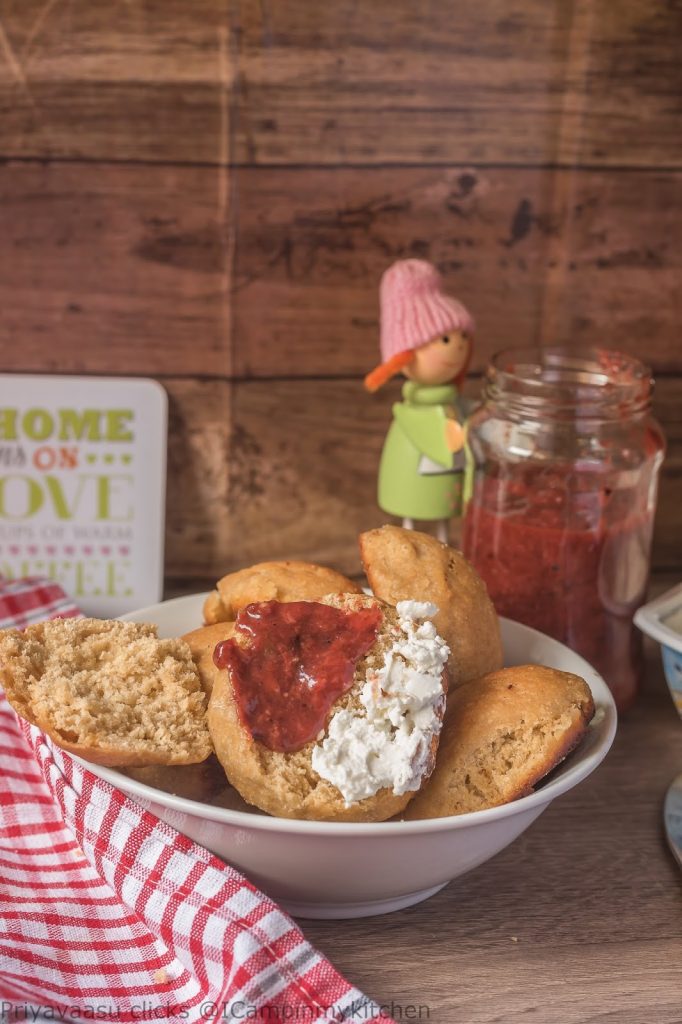 Divide the dough into 10 portions, roll them into buns and arrange it in a baking tray, i used two trays to bake. Let the buns sit for another 30 minutes.

While the buns are resting for the second time, preheat the oven to 200C, Pour the coconut milk on top of the buns covering all. Bake the coconut milk soaking buns in the preheated oven for 20-25 minutes or until the top turn golden brown.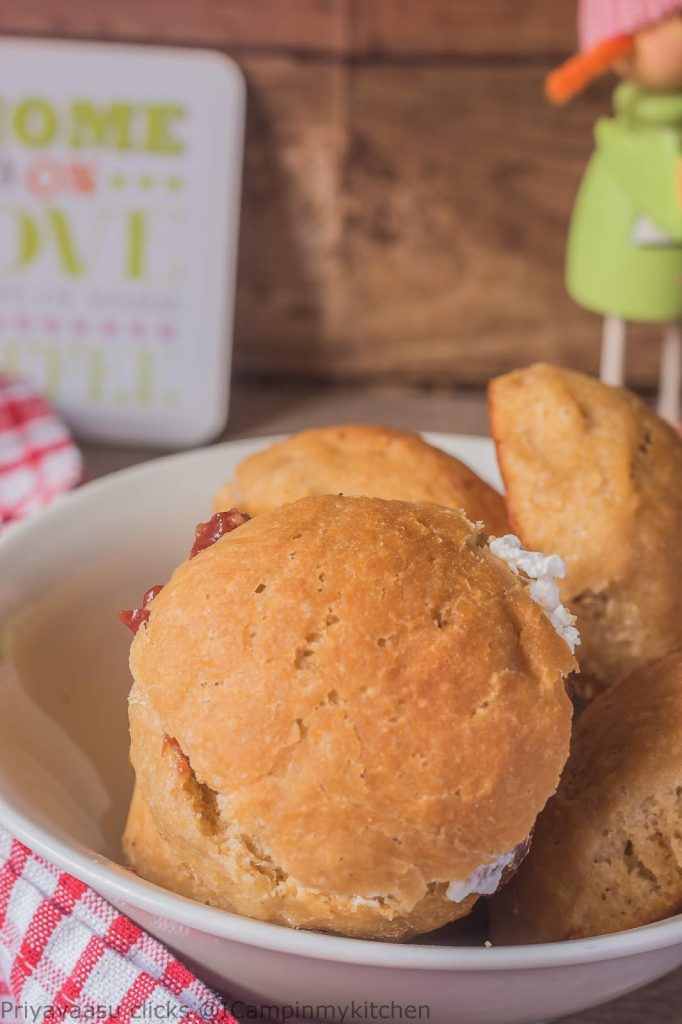 Remove the buns out of the oven, let it sit for 5 minutes in the tray, then remove it on to a wire rack.
Let the buns cool, serve them warm with a blob of butter/cheese or your favorite jam.