We are here, year end, new year's eve!!! After the month of July, i feel the time-fairy works at double speed and zooooms towards December. While shopping for groceries last week, we came across some fresh strawberries. They were so fresh, i could feel them dancing and calling my name, telling me to take them home :). We bought 2 crates, gifted one to a friend in our apartment wishing them Merry Christmas.
The berries were so sweet, not even a trace of Sourness. Oh, how i loved it. i can feel the same sweetness and aroma even now. I regret not buying another crate and freeze it.
Now, after eating few, i wanted to make a fresh cake using them. I remembered bookmarking our very own BM queen's strawberry cake. Immediately made the recipe. I divided the cake batter into one big square pan and a small muffin cup for taste-check. The moment i unmoulded the muffin and served my kids, i knew it is a hit. They first didn't know it is a strawberry cake, even after me adding food color, i couldn;t get a vibrant pink color :(. My elder one doesn't like strawberry at all, he just gobbled it up and asked me what is that sweet smell in the cake. We even at the scraps from the big cake, while i cut them for frosting, they were just circling me like a bee around a flower. Loved it totally, the frosting let me down here, it didn't whip well, no idea where i went wrong. But the cake as such is a super hit and keeper recipe and i m going to bake it again as long as i get fresh strawberries this season.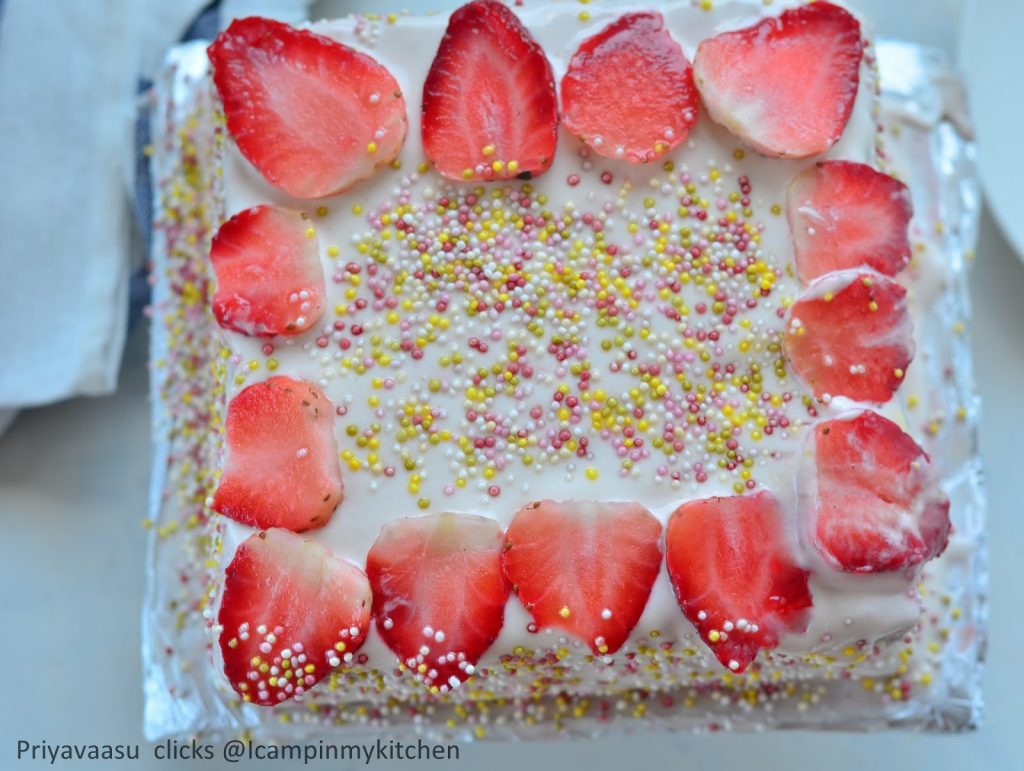 Ingredients
1 and ¾ cup Wheat flour (i used chapathi atta)
2-3 drops of red food color (i used 2 drops of gel color)
Method
Wash and remove the green stem of the berries. Take them in a blender. Blend to a smooth puree. If needed strain the puree, i didn't do it.

To the strawberry puree, add condensed milk and blend smooth again. Add oil to this puree and blend once more to get a smooth liquid. Add gel color to this, mix well. Keep aside.

Sift all purpose flour, wheat flour, baking powder, baking soda together 3 times. Sifting is important, that makes the flour light and airy.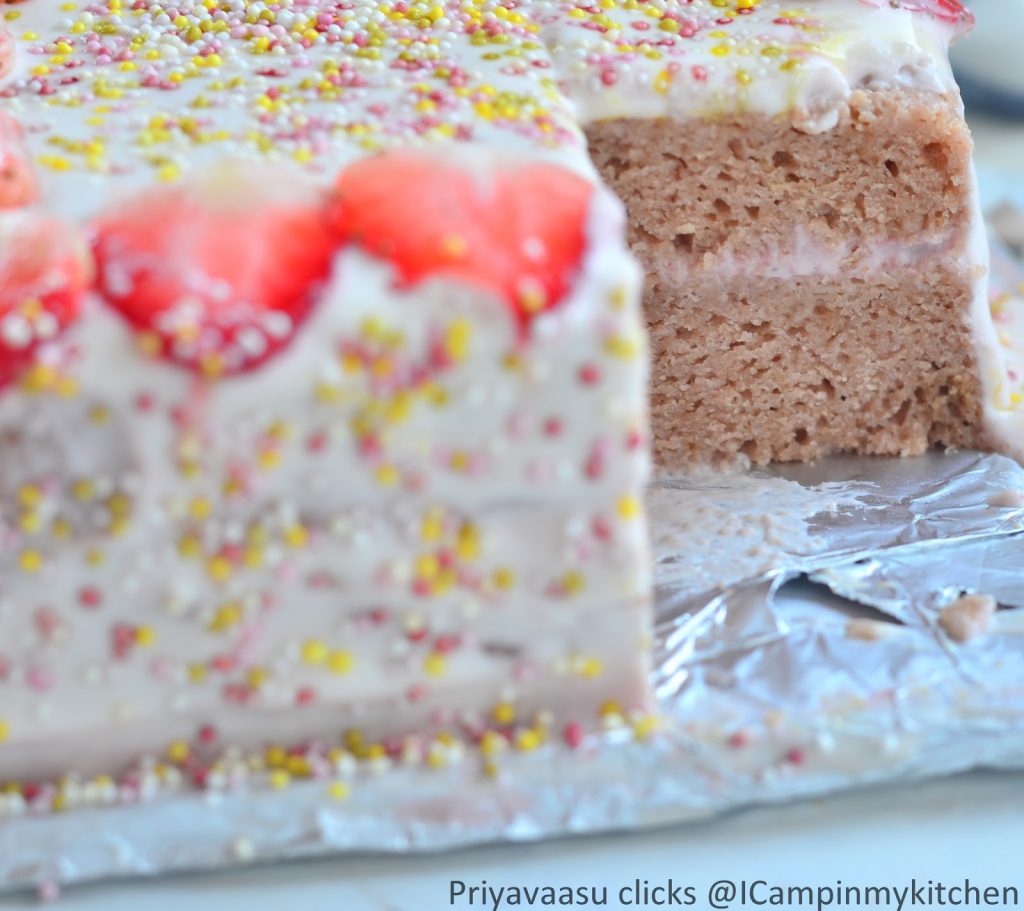 To this sifted flour, add the liquid and mix with a spatula. Mix slowly in one direction. you don't want to whisk it brisk and make it dense. Mix slowly until the flour is well incorporated well with the liquid.

Grease a baking pan, with oil. Pour the batter until ⅔ of the pan,Tap well. Preheat the oven to 180C and bake the cake for about 35-40 minutes or until a skewer inserted in the middle comes out clean.

Take the cake out of the oven, let it cook for 5 minutes. Invert the cake out on a wire-rack let it cool completely.
For frosting
Puree the strawberry. Whip the whipping cream and sugar until soft and fluffy. Add the puree little and whip the cream to get stiff peaks. Keep refrigerated until use.

To frost the cake: Trim the edges and crusty top. Take care while trimming, trim light, if liberal, you might end up with only pastries :).

If going to fill the cake, cut it into two halves. Sandwich the two halves with whipped strawberry cream, Roughly crumb coat the cake first. Let it sit for 10 minutes in the fridge.

Frost well with the cream again. Use a spatula and finish it neatly. Arrange some fresh cut strawberries on top. Cut and serve.

I made some mistake while whipping the cream and didn't get stiff peaks. I just refrigerated the cream for an hour, then too it didn't stiff up, so i used it as such, just poured it on top before served.