Morning glory muffins, a name so apt, these are perfectly loaded muffins for a scrumptious breakfast or a quickie snack anytime.
These muffins were in my baking list for a long time now. After last bake-a-thon i somehow lost interest in regular baking. Though i baked here and there, the usual every week baking was lost. This bake-a-thon i got my baking love back and baking left, right and centre.
Thanks to my kids and their friends my bakes don't last more than 2 days. I m happy that i m distributing the calories! 🙂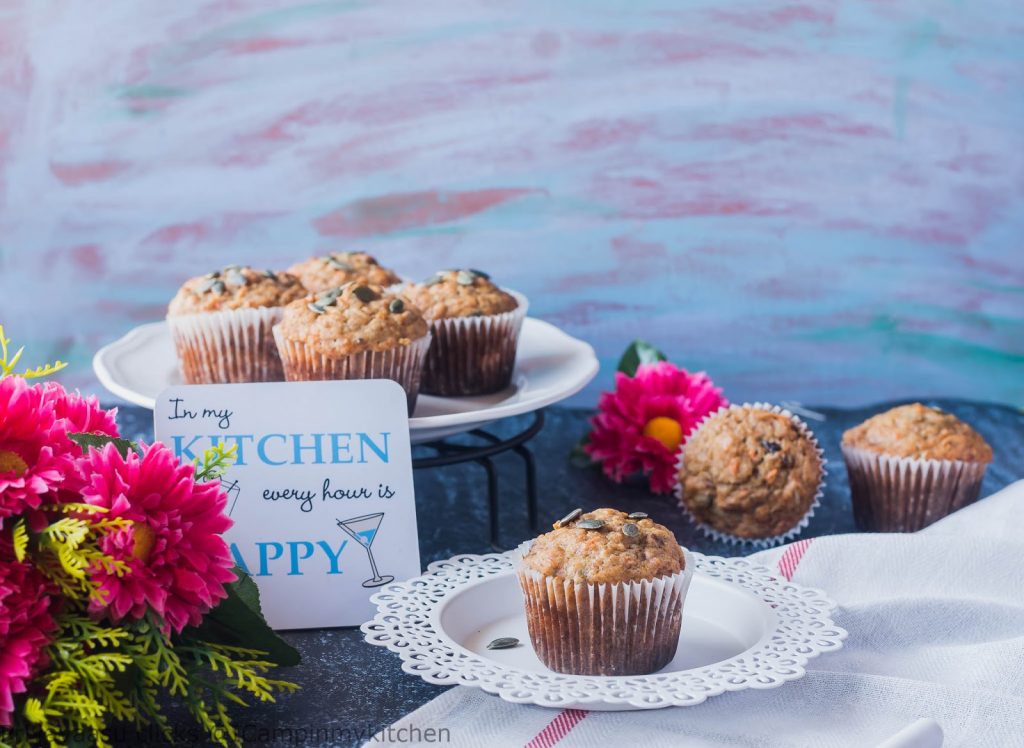 Coming to the muffins,these are inspired from
KAF
page, the original recipe uses Eggs, i have substitued the egg with curd and water. I would definitely bake them again again. These are loaded with apples, carrots and orange juice not to forget the nuts and seeds that has gone into it. I m happy with the texture and taste of these muffins, quite opposite to the belief that wheat flour bakes tend to be more dense, these muffins are fluffy and moist.
I got around 15 large muffins with these ingredients, i have kept them in an air-tight box in my refrigerator. Both my hubby and kiddos enjoyed these muffins for breakfast today and i m sorted for another 2 days.
Do try this for your holidays, they are a great snack to nibble during travel, neat to pick and eat anywhere
Ingredients
2 cups Whole Wheat flour
2 tsps baking soda
1 cup sugar
1 cup shredded carrots (2 large carrots)
2 apples, peeled cored and shredded
¼ cup of black raisins
¼ cup of pumpkin and sunflower seeds, mixed
¼ cup chopped walnuts
¼ cup orange juice
¾ cup curd
¾ cup water
1 teaspoon vanilla extract
½ cup oil
a pinch of salt
Method
Grease 12 muffin pan or lay them with parchment paper. Preheat the oven to 180C.

In a large bowl, sift together flour, salt and baking soda. To this add sugar and whisk to combine.

To the flour mixture, add shredded carrots, shredded apples. Mix well with a spatuala. Add the nuts, raisins and seeds to this and mix.
In another bowl, mix together curd and water. To this add orange juice, oil and vanilla extract. Mix the wet ingredients together.

Now slwly add the wet to the dry and using a spatuala, fold everything together. Divide the prepared batter into the muffin hole. I got around 15 large muffins.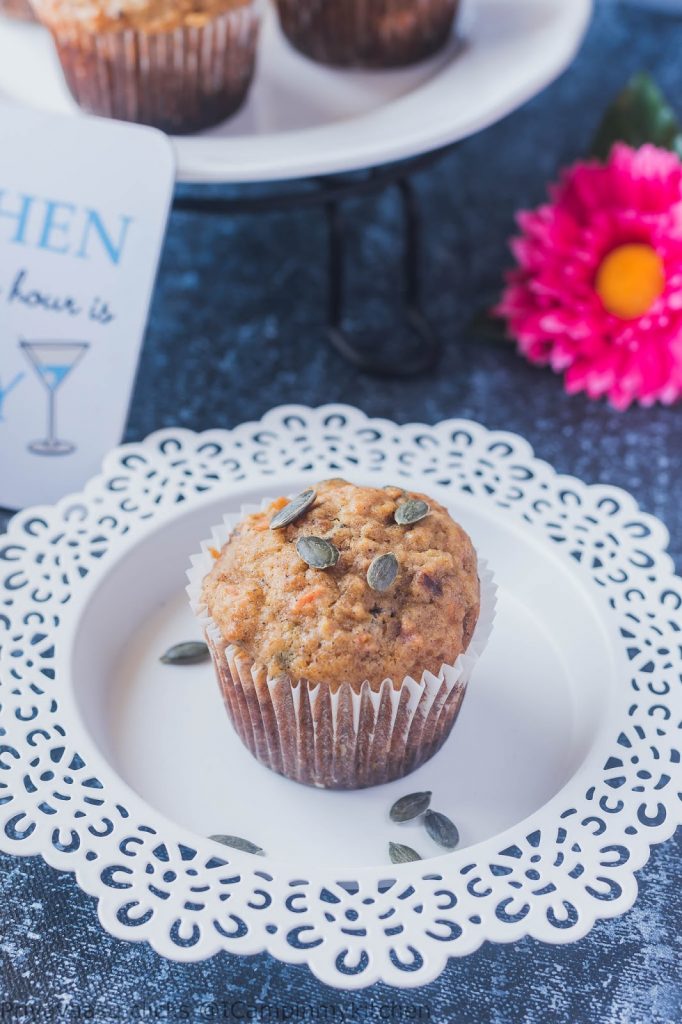 I baked 3 separately in a silicon muffin mould. Top the muffins with some pumpkin seeds or sunflower seeds. I added toppings for half, as my kids don't like studded top muffins.

Bake the muffins in the preheated oven for 20 minutes. Since i baked in my Gas oven, it took me only 20 minutes, Oven timings and temperature vary from brand to brand. So do, know your oven and bake accordingly.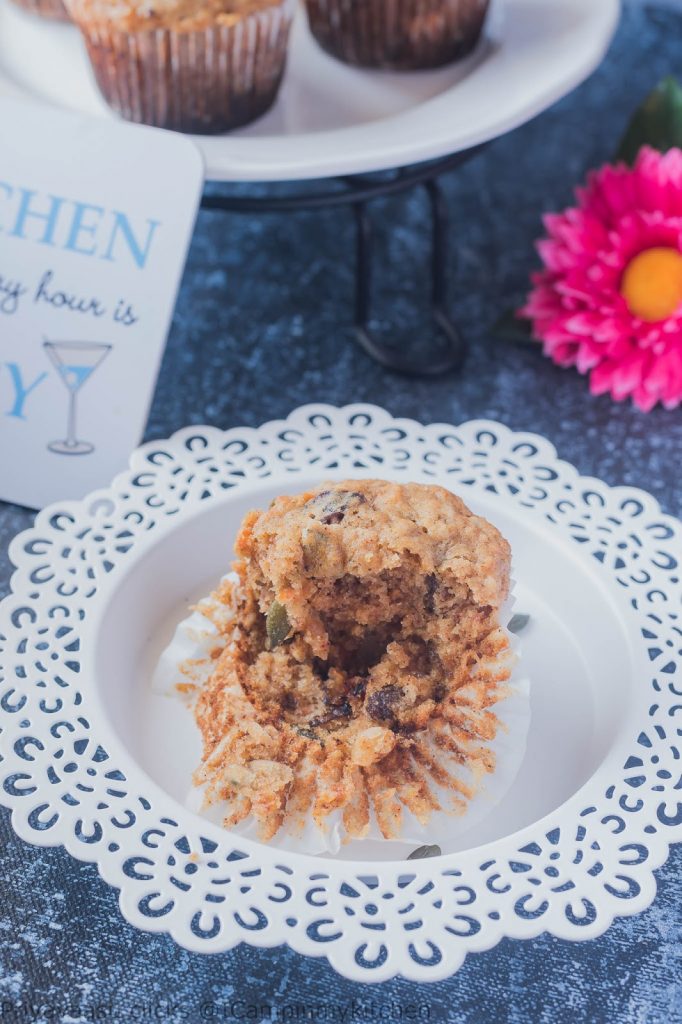 Once done, remove the muffins from the oven, let them cool completely on a wire rack, Store them in a air-tight container. I have kept them in the refrigerator. Just before serving, reheat them for 20 seconds in the microwaver and serve warm.