I m baking an yeast bread almost after 6 months, for someone who was in huge love with yeast and bakes every week, this was a sad record😞. After coming back for vacation in September, i just didn't my mojo to bake with yeast. I literally pushed myself to give a title for this month's bread bakers so that, i will kick myself and bake. Finally, i did and feel so relieved😊that i broke the ice with my lovely friend Yeast. 
This month's host Stacy wanted us to bake a sweetened yeast bread that sounds festive. I wanted to bake this Kringle for a long time, i originally bookmarked it for the last week of the Baking Marathon happening here, But then, i happily advanced the schedule and made this fabulous looking bread for #BreadBakers.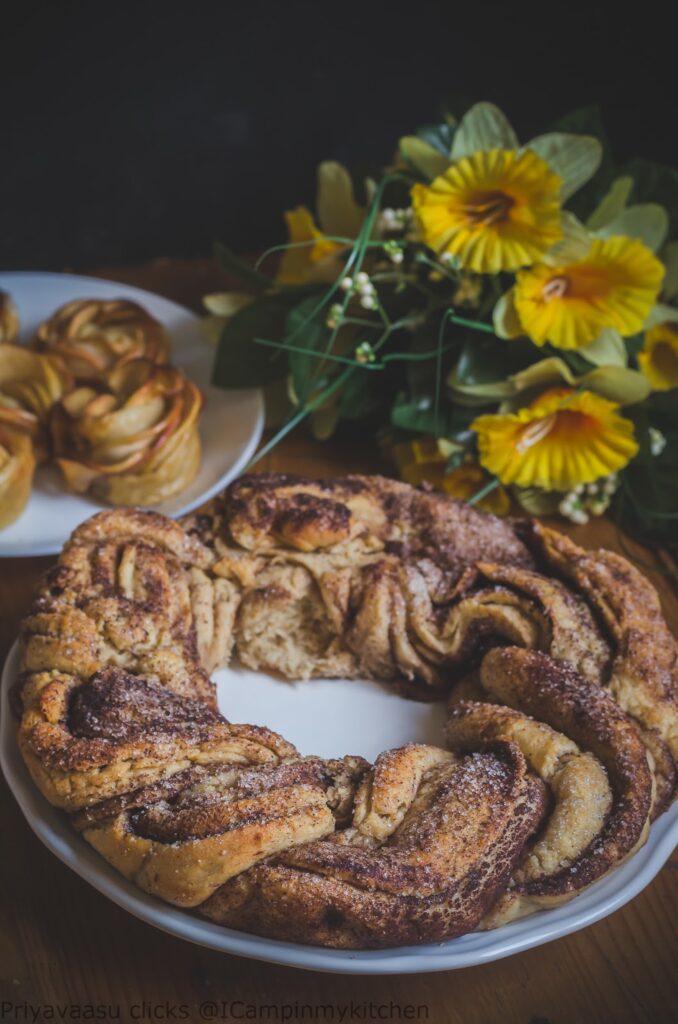 Estonian Kringle, a Sweet yeasted dough filled with cinnamon and sugar filling, braided and baked to perfection. It originally looks like rose, but i wanted it to look like a wreath, so i just placed a piece of dough, cut from the corners of the rolled log in the centre of the wreath so, it doesn't puff up and close the gap. If not, the dough will beautifully puff up while baking, like a rose. The bread can also be baked with a savory filling, if you don't have a sweet tooth. But, Isn't it Festive season?  a season of love, cheer and happiness, that is filled with sweet smell of cinnamon, vanilla, candied fruits, ginger, nutmeg and everything good. So, go on and bake this sweet bread, and let me know how you liked it!!!


Ingredients
1 cup of Whole Wheat flour
1 & ¼ cup of All purpose flour
2 & ¼ teaspoon instant yeast
3 tablespoon sugar
2 tablespoon butter
1 cup milk
¼ teaspoon salt


Filling
1.5 tablespoon cinnamom powder
4 tablespoon sugar
4 tablespoon butter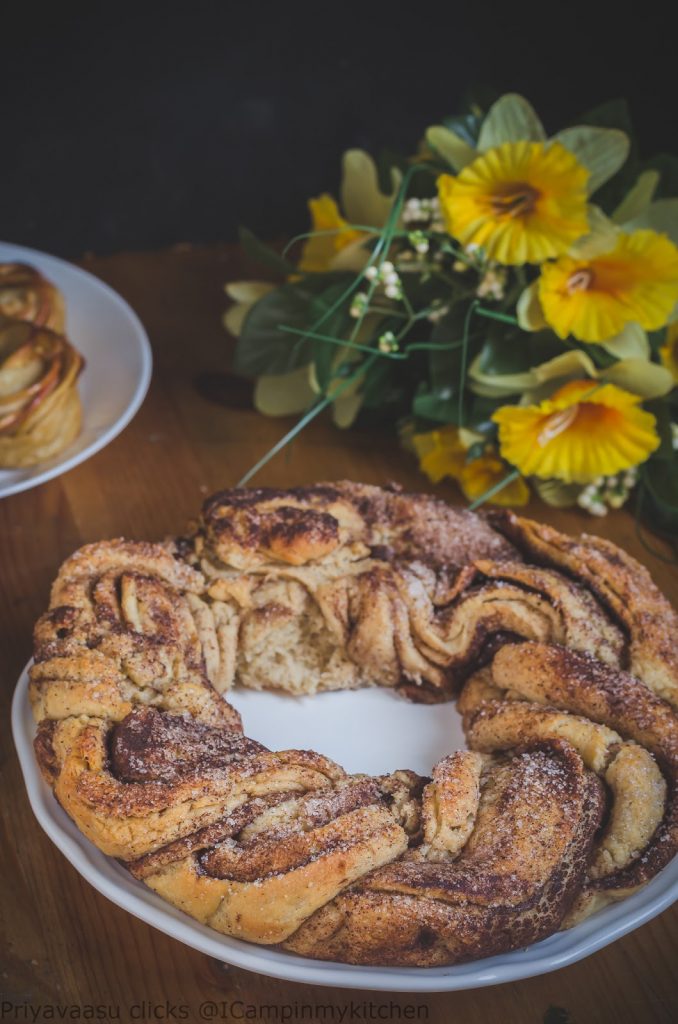 Method
I used my food processor for making the dough. The dough can also be hand-kneaded. Take both the flours, yeast, sugar , salt in the food processor jar. Pulse twice for the ingredients to mix well. 

Take milk in  a saucepan and just boil it to get hot, no need to boil, take it off the stove. Add butter to the hot milk. 

Add this Milk-butter to the flour mix and start kneading a soft dough. The dough will be super soft, slightly sticky to touch, It will come easily off the processor bowl.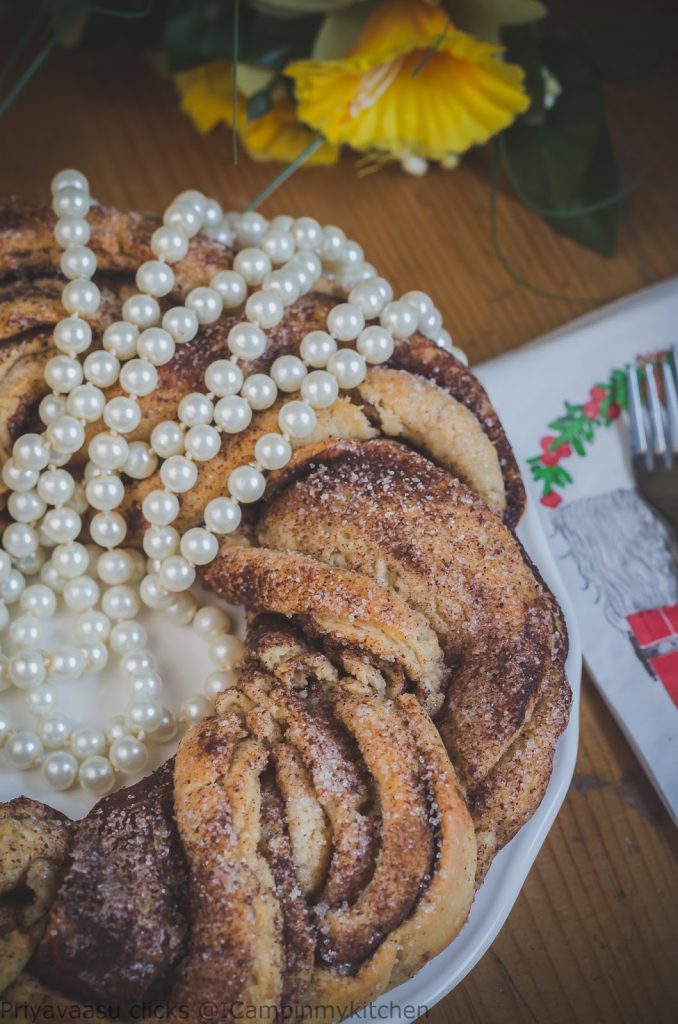 Remove the dough from the processor bowl. Knead well. place it in a well-oiled bpwl, Let it sit covered for an hour, for the dough to double.

While the dough is resting, mix together the ingredients given under filling in a small bowl and set aside. Preheat the oven to 200C

Once it doubles, remove the dough to a well-floured working surface. Knead the dough couple of times, roll it into a rectangle of 12×16. 

Spread the filling well on the rolled out dough, leaving an inch around the corners. Now, roll the dough into a tight log. Cut off the corners using a serrated knife, to get an even-edge on the log. 

Cut the log lengthwise into two, using a sharp serrated knife. Keeping the inner layers seen on top, start braiding the two lengths of dough, bring together the edges and tuck it beneath to form a wreath. Transfer the wreath to a parchment-lined baking tray. I stuffed the edges i cut off the log, in the middle of the kringle, so it bakes like wreath, with a gap in the center.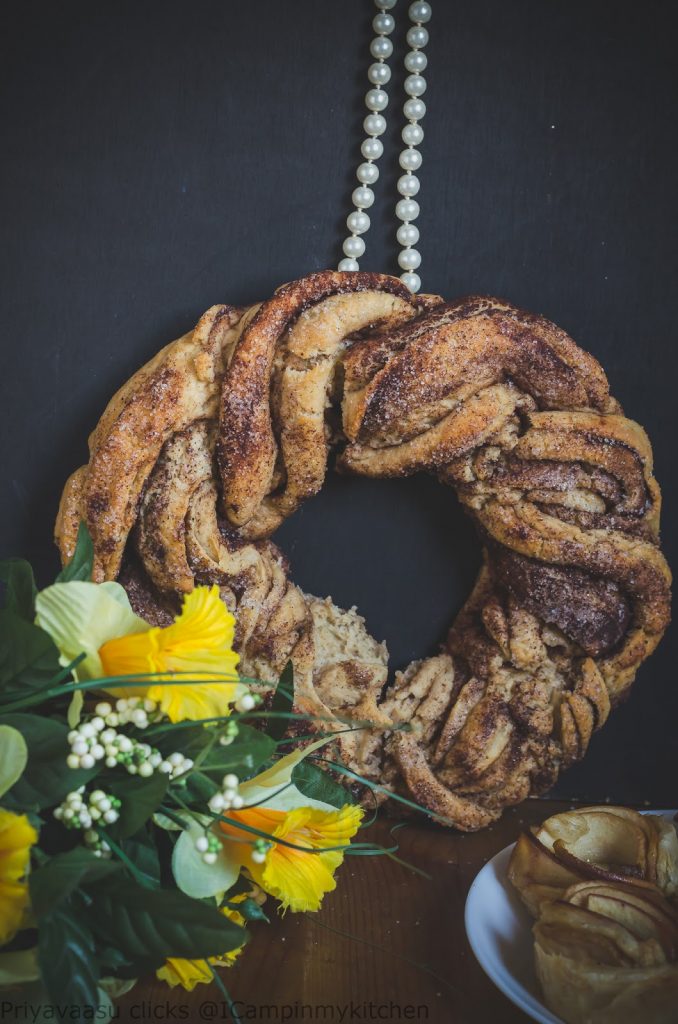 Brush the top with the remaining cinnamon-butter mix. Bake in a preheated oven for about 30-40 minutes or until the top turns golden brown.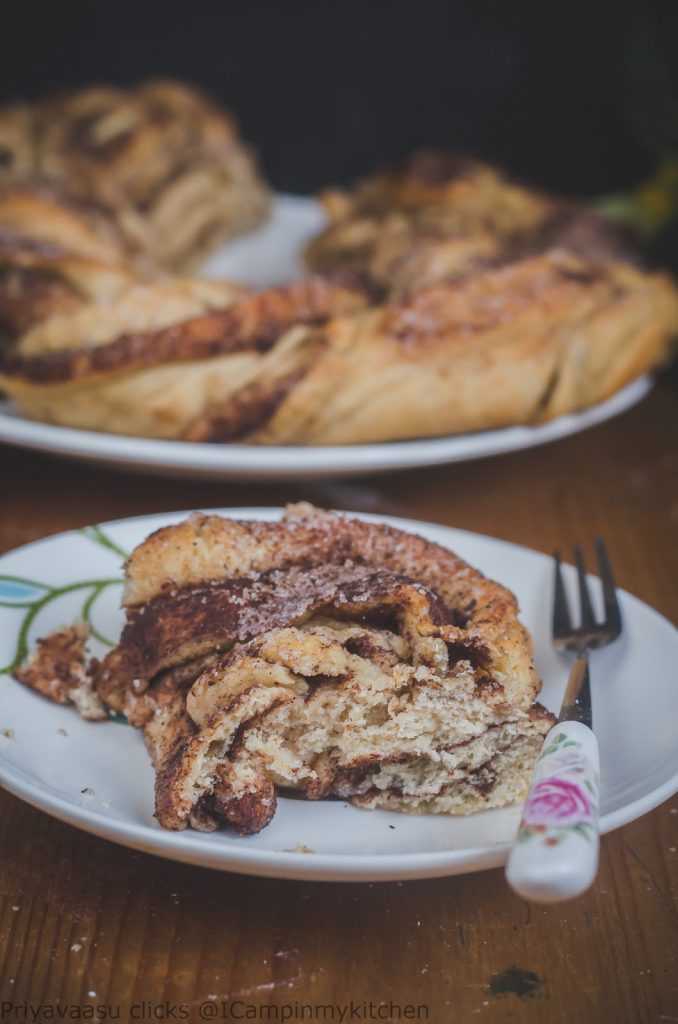 Remove from the oven, let it cool for sometime on a wire-rack. Serve it warm with some dusted sugar on top.
#BreadBakers is a group of bread loving bakers who get together once a month to bake bread with a common ingredient or theme. Follow our Pinterest board right here. Links are also updated each month on this home page.
We take turns hosting each month and choosing the theme/ingredient.
Here is a list of Sweet Breads to make your baking choices easy!!!!