The Immediate Food that pops in our mind in Summer is Something Tanda, Tanda, Cool, Cool!!!! Not only for Adults, even kids too love something Chill on a Summer Day.
Gayathri's Cardamom Lassi, was tempting me since the day she posted it,thought of trying it with some fruits, which i had in hand. It was so Filling and Tasty, we didn't hear "amma, i m hungry!!!" for another 2 hours. Quick and Easy to Make Delicious Drink!!!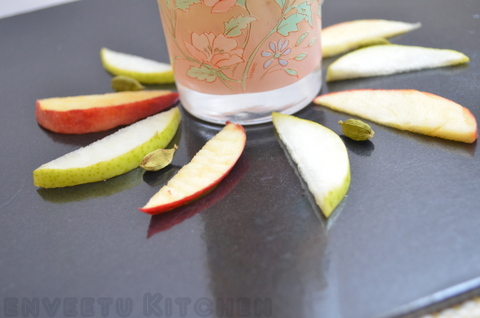 Ingredients
1 Cup Chilled Full-Fat yogurt (Use Skimmed, if making for adults)
3/4 Cup Chilled Full-Fat Milk (Use Skimmed, if making for adults)
1/2 tsp Cardamom powder (skip it, if you dont prefer)
Method
Core Apple and Pear and Chop them into Small cubes.
Scoop out the Flesh from the Mango. Take all the fruits in a blender, add Milk and Blend, until the fruits are completely mashed.
Add Yogurt, Sugar, Cardamom Powder and Blend until smooth.

Serve immediately.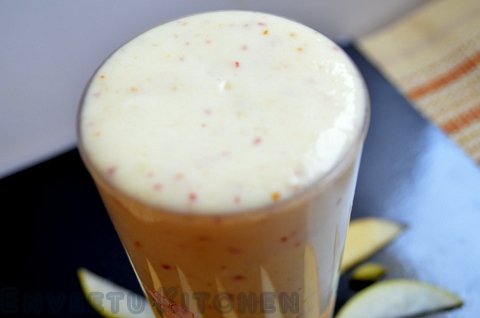 Sending this to Kids Delight – What kids Love for Summer hosted by Smitha, an Event by Srivalli and also to Let's Cook with Fruits, happening @ Tickling Palates and to Bon Vivant#4, happening @ Sumee's Culinary Bites.