Starting another week of Blogging Marathon, and for this week's theme i chose Bread Stubs. While going through the list there were lot of  delicious bread recipes, had a tough time selecting 3 recipes from the list. These garlic knots were in my to-do for a very long time. I baked them last week for our evening snack and planned a soup for the dinner. Though couldn't make the soup,  we loved the garlic knots. Fresh knots straight from the oven were such a delight to nibble.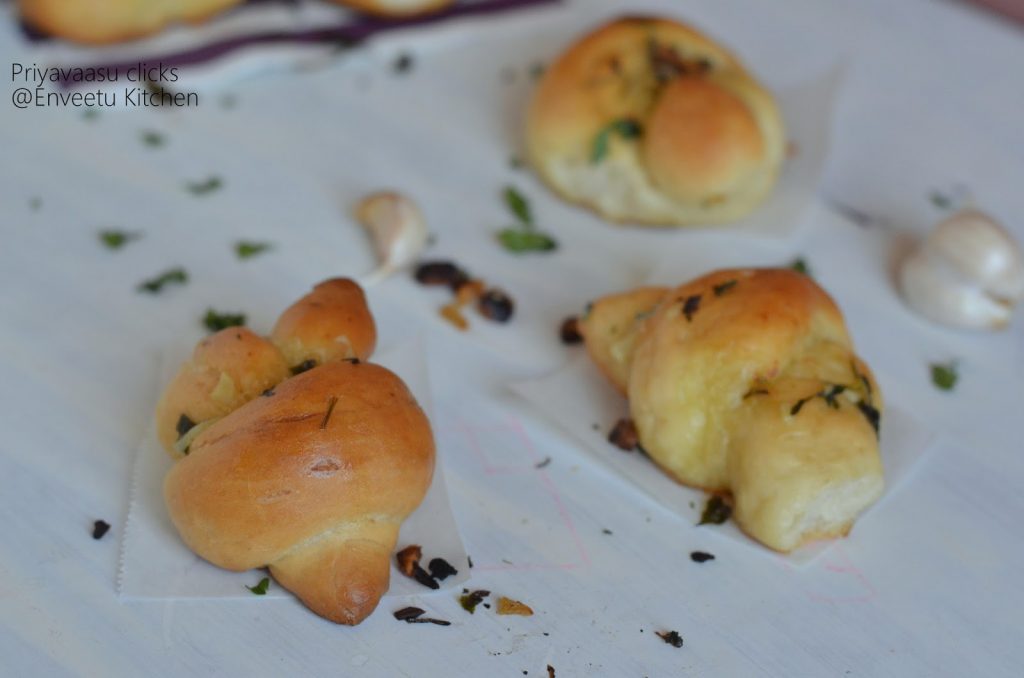 Source : Simply Recipes
Ingredients
1 & ¾ Cup Bread flour
¾ cup warm water
2 teaspoon instant yeast
1 teaspoon salt
1 teaspoon sugar
1 tablespoon olive oil


Garlic butter for brushing the knots
5 tablespoon butter
5 cloves of garlic
¼ cup chopped coriander
1 teaspoon salt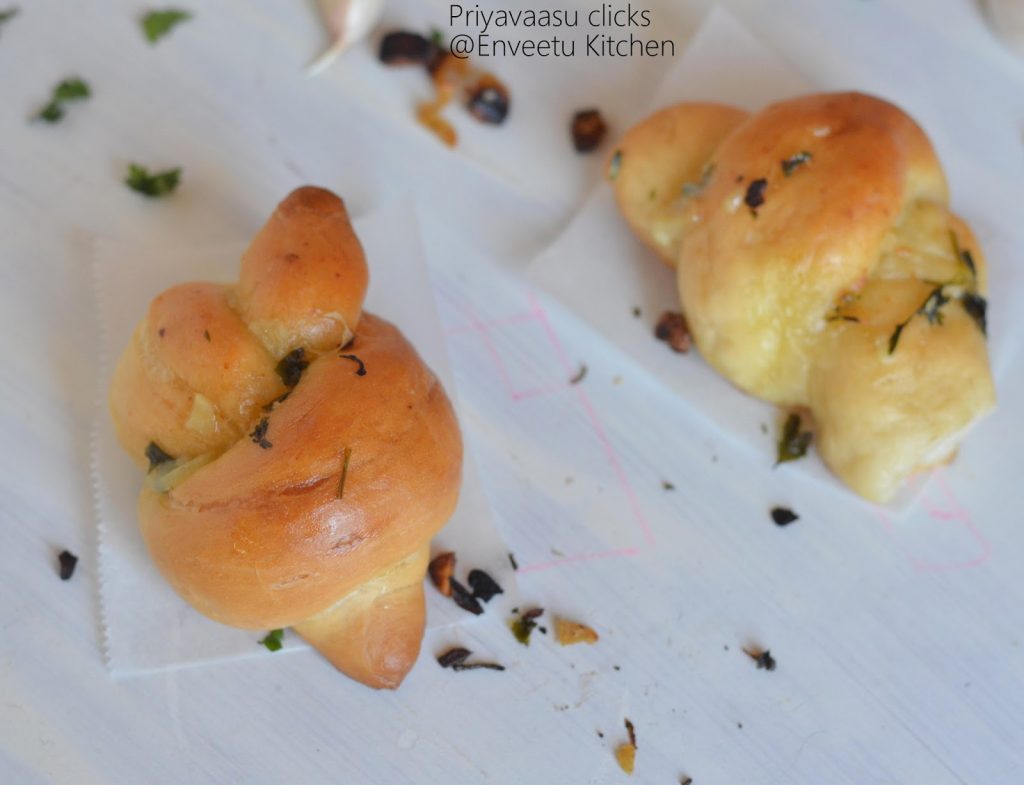 Method
I used my food processor to make the dough, you can knead the dough using your hands also. 

Take the flour, yeast, salt and sugar together in the processor bowl. Pulse twice to mix well. 

Slowly add warm water and start kneading to a dough. Add oil at the end and knead for around 2-3 minutes at a medium speed to get a soft dough. If kneading by hand knead for around 5-7 minutes or until the dough soft without any cracks on top.

Rest the dough in a well oiled bowl until it doubles well in volume for around 60 – 90 minutes. 

Once doubled, remove the dough onto a well-floured surface. Punch it down to remove the excess air. Divide the dough into 3 equal parts. Work with one part of the dough, while keeping the rest covered in a bowl.

Line a baking tray with parchment paper. Roll the dough into a square of 6 inches and cut them into strops of 1 inch each. Take one strip, roll it into a rope of 7-8 inches long. Join the ends and make a knot.  Rest the knots in a parchment-laid baking tray. Continue the same with rest of the dough.

Let the knots rest for an hour or until doubled in size.  While the knots are resting, prepare the Garlic-butter. Chop the garlic finely, in a small tadka pan, add garlic to the hot pan and saute for a minute then add butter and chopped coriander.Let this simmer on the stove for 5 minutes. Take it off the stove and let it rest until use. 
Preheat the oven to 220C. Bake the knots for 13 minutes. Take it out of the oven, brush generously with garlic-butter and bake again for 5 minutes or until well browned on top.

Take it out of the oven, let it cool completely on a wire-rack.  Serve it warm with a bowl of soup or as a snack with your evening tea. 
Sending this to Bake Fest #39, happening @ +Cooks Joy's space.
Check out the Blogging Marathon page for the other Blogging Marathoners doing BM#48