My hubby used to buy me a veggie wrap called Chip Sandwich, from a Foodshop near his office. Veggie stuffing with some chips,  wrapped in Arabic bread.Wanted to make something similar. Got a Flour Tortilla recipe, While Browsing. Made some Veggie stuffing Desi Style and made a Tortilla Veggie Wrap For Dinner, Tasted Great. Here comes the recipe
All Purpose Flour - 2 cups (the actual recipe calls for unbleached flour)
Baking Powder - 2 tsp
Vegetable Shortening - 1 tbsp
Salt to taste
Luke Warm Water - ¾ cup
For Stuffing
2 Medium sized potatoes, boiled and mashed
2 medium sized onions, finely chopped
1 large capsicum, finely chopped
1 medium sized tomato, finely chopped
4-5nos baby corn , finely chopped
2 green chillies, slited lengthwise
curry leaves - one tight fist, finely chopped
ginger-garlic paste - 1 tsp
fresh coriander for garnishing
salt to taste.
In a large bowl, Stir  together flour, Salt, Baking powder. With a  pastry blender/hands gradually mix the shortening until u feel like a coarse meal. Add enough warm water to make a soft, not so sticky dough, let it rest for 20 minutes.
Turn out on a lightly floured surface and knead of 5 minutes.  Divide them into 10 balls, roll out each ball as thin as possible. Cook until brown on both sides, dont add any oil/ghee. Flip every 5 seconds, to ensure even cooking. Once Cooked, Keep them wrapped in towel.
The Filling
Heat oil in a kadai, splutter mustard seeds, add green chilles, curry leaves, add onion, cook until translucent, Add tomatoes and saute for a minute or two, add ginger-garlic paste. Then add rest of the veggies, Add salt, cook in low flame for 5-10 minutes. Add coriander and take it off the flame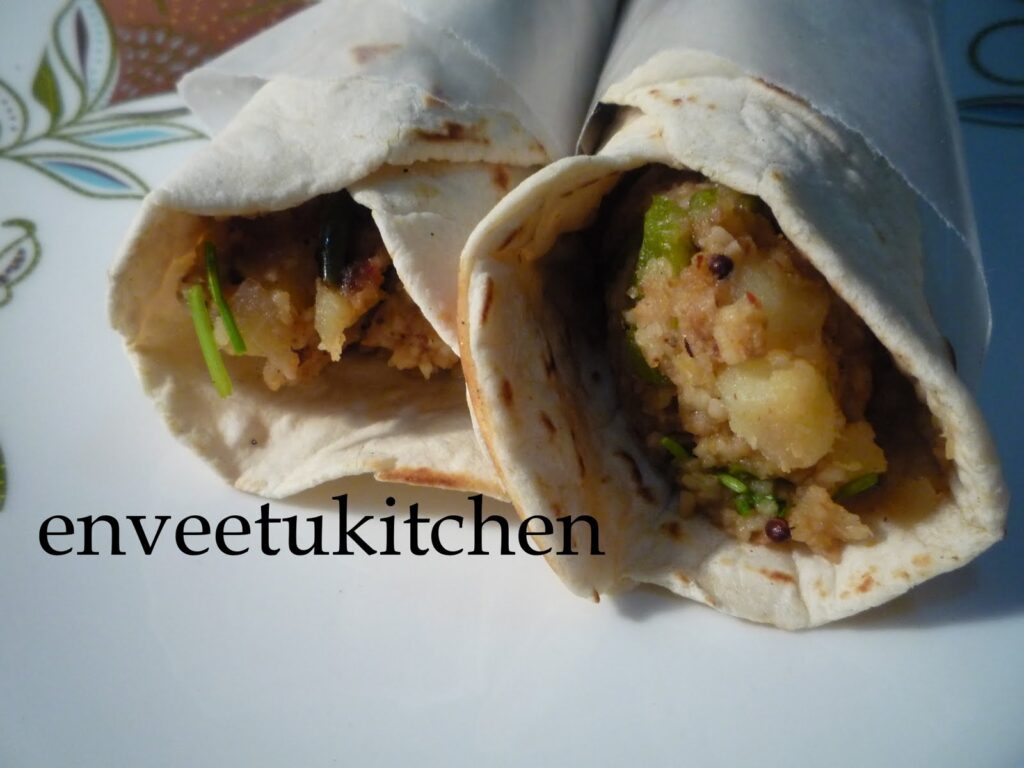 Wrapping
Take a tortilla, Place enough stuffing(3-4 tbsp) at one end and roll tightly, secure the wrap using a paper tissue. i actually used a wax paper!!! Enjoy it with some Tomato Sauce.