Hot chocolate, a drink that is a favorite of many. Like many other kids, even my kiddo's love Hot chocolate and that is what they order whenever they get a chance. Its been long since i wanted to make them at home. So, when i saw the theme of Christmas, for this Blogging Marathon, i immediately chose the theme and made a list with Hot Chocolate as the first recipe.I made this for my elder one today and he was so happy and loved the vanilla ice-cream garnish on top, he gave me a double thumbs up and wanted this every weekend morning. 😀
If you don't prefer the ice-cream, add ¼ cup of cream to get a rich consistency. We recently tasted a yummilicious hot chocolate, in my brother's office, i immediately checked with the Chef and got his recipe too, will post it sometime before New Year. For now, enjoy this float and do let me know how you liked it.
1&¼ cup Milk, full fat milk
10 nos Hershey Kisses or ⅓ cup of good quality chocolate chips (please see notes)
1 tablespoon Hershey Cocoa
1 tablespoon Horlicks or any malted drink powder (Optional)
a scoop of vanilla ice-cream
chocolate shavings for garnish
Chocolate sauce for serving (optional)
Method
In a bowl, mix together cocoa, horlicks and sugar. Whisk well to combine.

Boil milk in a sacue pan, once it boils, simmer the flame and add the cocoa mix to it and whisk well to combine without any lumps. Add the chocolate to this and stir until the chocolate melts.

Pour it in a serving glass, top it with a scoop of vanilla ice-cream, chocolate shavings, chocolate sauce and serve.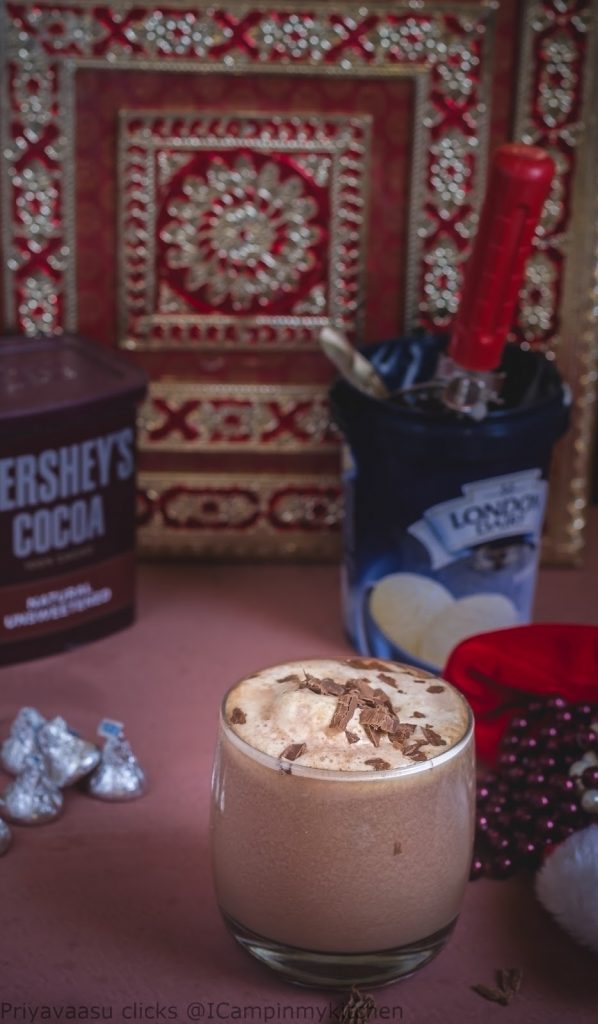 Your kid will fall in love with you again and again for this yummilicious hot chocolate on a holiday morning, how am i sure, yeah that's what happened to me this morning!!
Notes
Good quality chocolate chips, makes a delicious hot chocolate. Try using a better quality. I had only Hershey kisses in hand, so used 10 kisses.
Check out the Blogging Marathon page for the other Blogging Marathoners doing BM#71