Barmbrack, also called Barnbrack or often shortened to brack,is a yeasted bread with added sultanas and raisins.They are usually sold in flattened rounds, it is often served toasted with butter along with a cup of tea in the afternoon. The dough is sweeter than sandwich bread, but not as rich as cake, and the sultanas and raisins add flavour and texture to the final product. In Ireland it is sometimes called Bairín Breac, and the term is also used as two words in its more common version. This may be from the Irish word bairín – a loaf – and breac – speckled (due to the raisins in it), hence it means a speckled loaf. 
Barmbrack is the centre of an Irish Halloween custom, that involves baking with small trinkets in the loaf. So, when the bread is cut and served and you get any of the trinket, that would tell your fortune.  In the barmbrack were: a pea, a stick, a piece of cloth, a small coin (originally a silver sixpence) and a ring. Each item, when received in the slice, was supposed to carry a meaning to the person concerned: the pea, the person would not marry that year; the stick, would have an unhappy marriage or continually be in disputes; the cloth or rag, would have bad luck or be poor; the coin, would enjoy good fortune or be rich; and the ring, would be wed within the year.
This is again a bread from +Aparna's We Knead to Bake group. Glad i baked this atleast for Christmas. We loved the bread warm with butter and kids enjoyed it with a generous slather of nutella.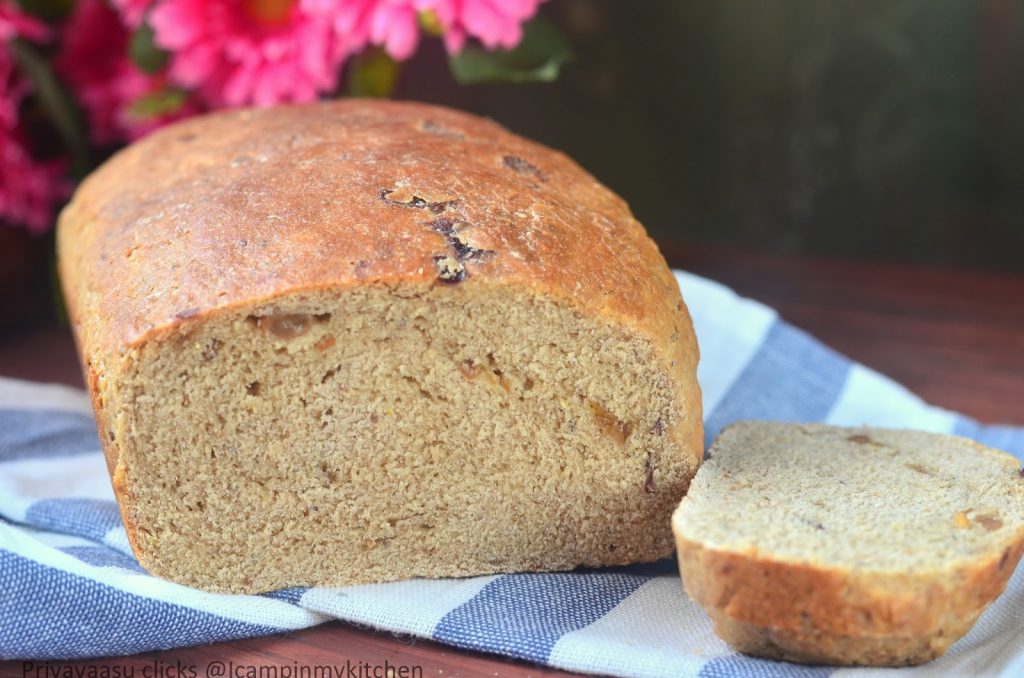 Ingredients
2 tablespoon chopped apricots
2 tablespoon dried cranberries
1 ½ cups strong, hot black tea
3 cups Wheat flour (I used chapathi atta)
½ teaspoon ground cinnamon
½ teaspoon fresh ginger, grated
2 pinches of cardamom powder
2 tablespoon unsalted butter, soft at room temperature
1 tablespoon chiaseeds (instead of 1 egg)
2 tablespoon milk + 1 tablespoon oil mixed together to brush on top of the bread
Method
Put the dried fruit into a bowl. Cover them with the hot tea and leave overnight or for at least 3 to 4 hours so they plump up. Once they have plumped up, drain the liquid and reserve it to be used later. The liquid when measured was about ½ cup for me. Make sure you measure this, since you will be topping up with milk to make it 1 cup.

To this liquid, add the chia seeds, if using and let it rest until used.  Also set the fruit aside. Make sure the fruit has drained well, otherwise it will make the dough wet when you add it later.

I kneaded the dough by hand,it can also be kneaded by machine. In a large bowl, take together both the flours, add yeast, jaggery, spice powder. Mix them together with a whisk.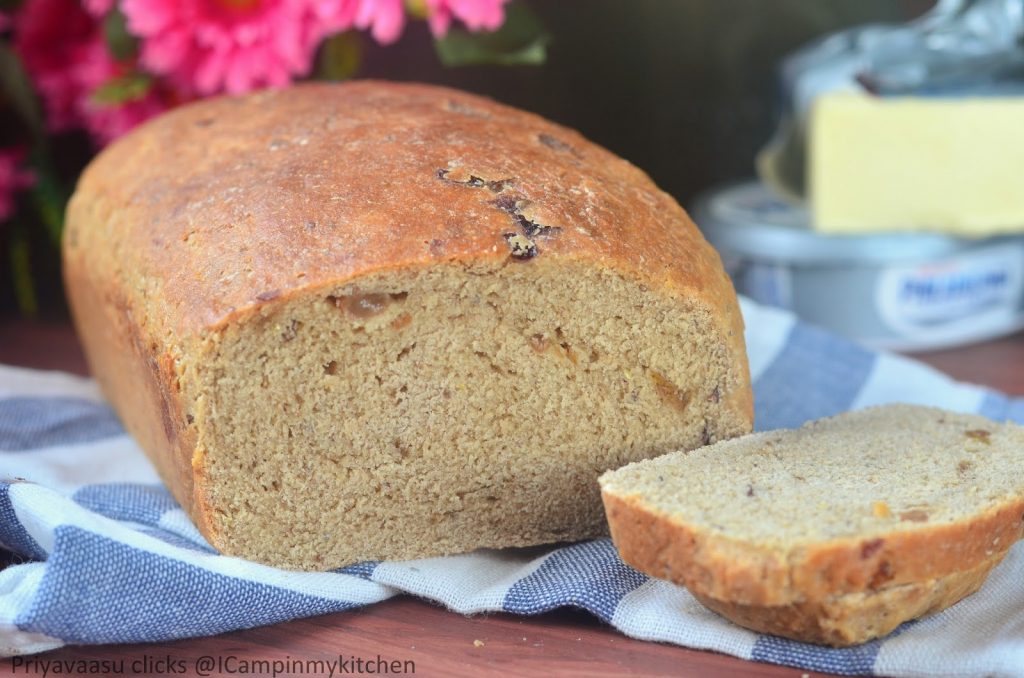 Now add warm milk to the tea mixture and make it 1 cup. Add this "milk + tea" mixture to the dry ingredients in the bowl and knead into a just-sticky-to-touch and elastic dough, adding a little more flour if necessary. I needed a ¼ cup more of milk to knead the dough. It might be due the flour ratio used. Turn the dough onto a lightly floured counter and flatten it out. Sprinkle the drained fruit over this and fold in half and fold once again. Then gently knead the dough so the fruit is evenly mixed with the dough.

Shape the dough into a ball and place the dough in a well greased bowl. Turn it to coat it well with oil and then let it rise, covered, until it has doubled in volume (about 1 ½ to 2 hours).

Gently knead the risen dough and shape it into a loaf. i baked it as a single loaf and used my 10 x 5 pan. If baking into 2 loaves, divide amd shape accordingly.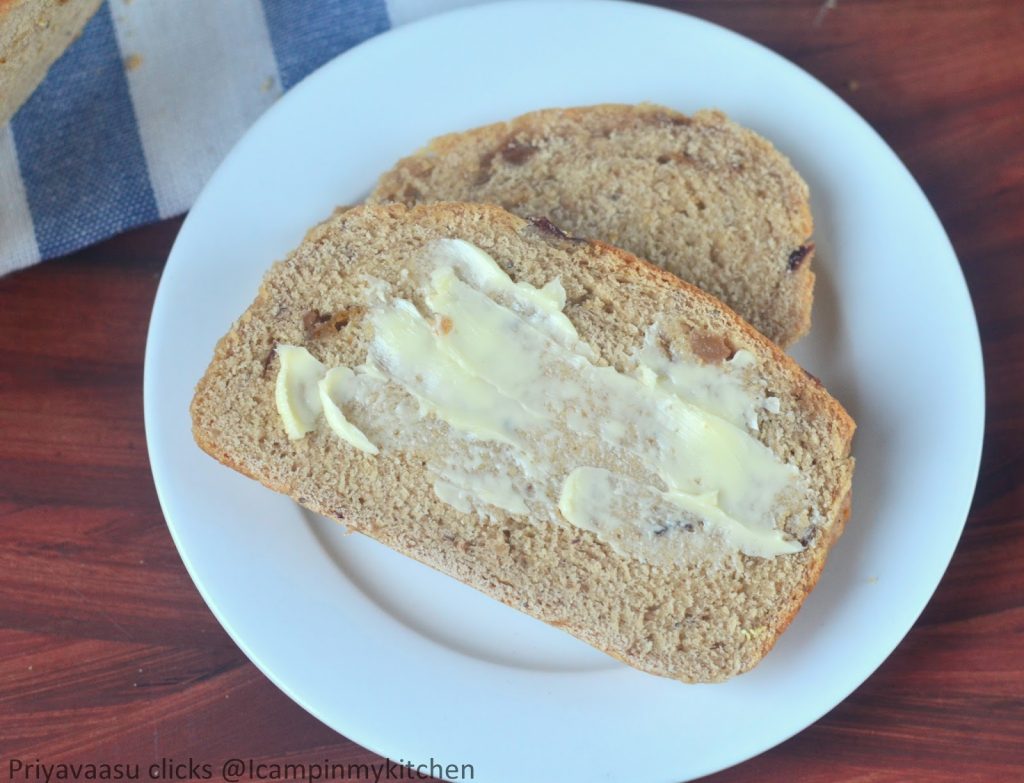 Let the shaped breads rise for another 45 minutes to an hour. Brush the top of the bread with milk +oil mixture and bake at 180C (350F) for about 35 to 45 minutes until the breads are golden brown and done. Cool the breads on a wire rack.  Cut into thick slices and serve with butter.
This is part of the Bake-a-thon 2015