For the last week of this month's BM, i took the theme of Temple Prasadam. The traditional offering in Temples. In this genre, i bring you a simple, yet flavorful Panagam recipe that is offered in Nanganallur Lakshmi Narasimhar Swamy Temple after Pradosham pooja.
For many who think Pradosham is celebrated only in Shiva temple, no it is also done in Narasimhar Temples. Pradosha, or Pradosha Vrata, is an auspicious day dedicated to Lord Shiva.
It is said that Lord Shiva and Parvati are in a happy mood during Pradosham period and they shower blessings on devotees. 
Vaishavites too celebrates Pradosham, doing Narasimha pooja. As Lord Vishnu appeared as Narasimhar (Lion head and human body), at twilight and killed the Demon king Hiranya Kasipu with his finger nails sitting at his palace door, overlooking all the boons the demon king got from Lord Brahma to live for eternity. 
After this killing, Narasimhar's rage was pacified by his devotee Prahlad, for whom he took the avatar and Lord appeared in calm along with his consort,  Mahalaksmi. As this Avatar happened at the Pradosham time, Pradosha pooja is also done in Narasimhar Temples. To read about the significance, please click here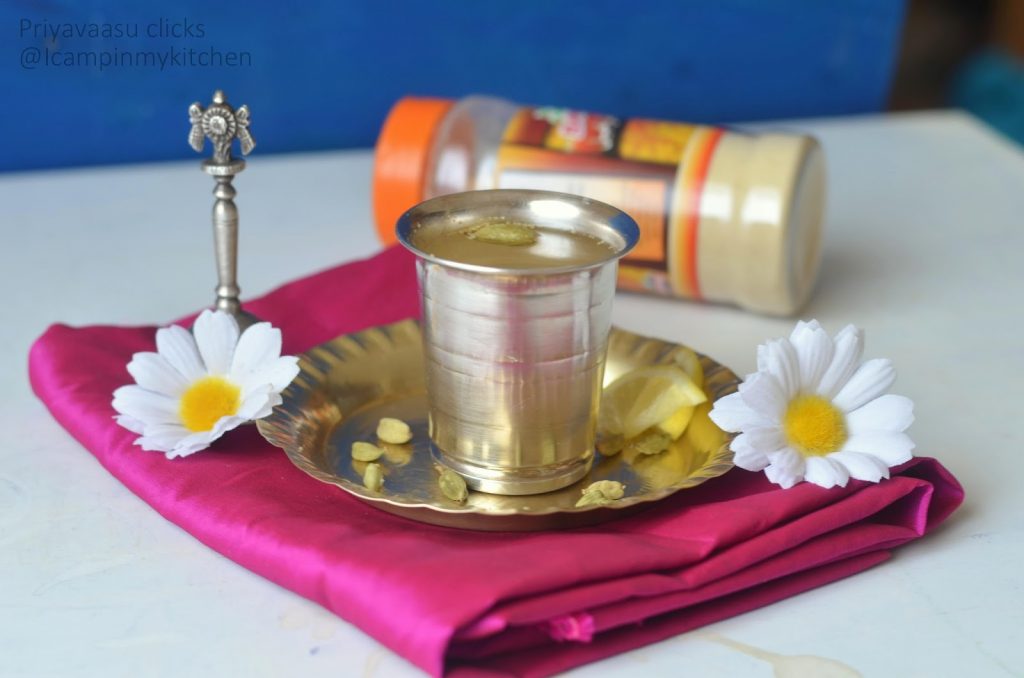 My mom and dad lived in Nanganallur for a brief period, when i went to India for delivering my Elder one, i stayed with them there.  Our house was situated very near to this Narasimhar Swamy temple. So, my daily routine included a visit to the temple in the evening. From 5th month of my pregnancy, until my delivery for about 4 months i used to go there everyday. I so fell in love with this temple and the Lakshmi Narasimhar decorating the Sanctum there.
Along
 with the daily evening pooja/aradhanai, pradosha kaala aradhanai would be so divine to behold.
This yummilicious Panagam would be served as prasadam to everybody after the Pradosham day Pooja. Even with a big tummy, i never missed the poojai and never ever the prasadam, I would say my Narasimhan (Elder one) grew in my tummy drinking this pangam. 
Ingredients
3 tablespoon rock candy sugar powder
3 pods of cardamom pounded
½ teaspoon dry ginger powder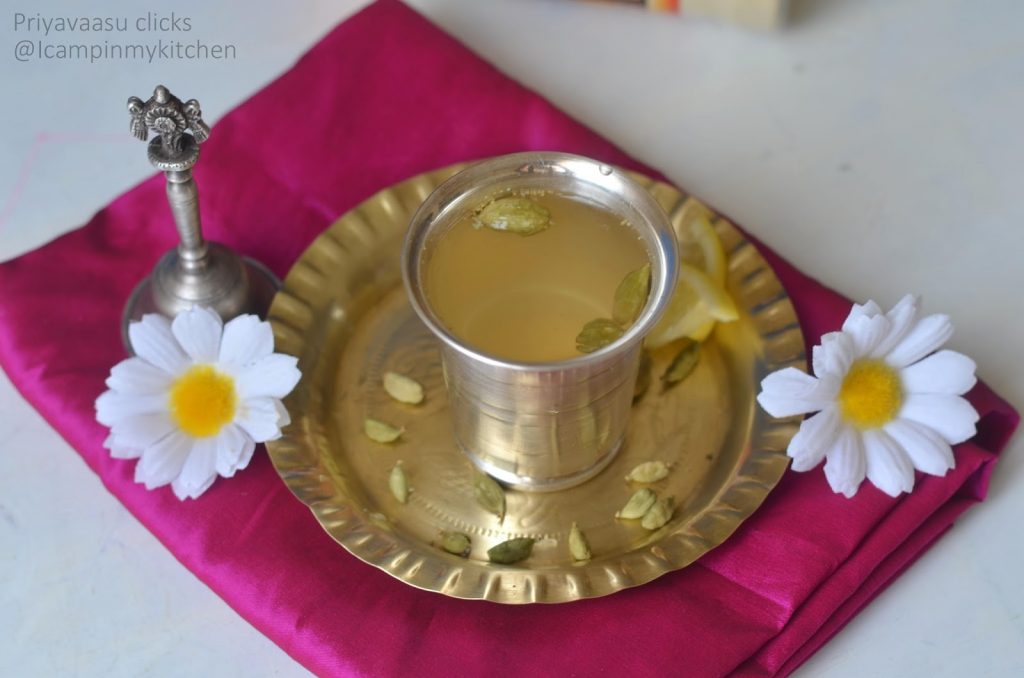 Method
Take a cup of water in a Mug or a bowl. Add sugar powder to it and let it sit for 10 minutes for the sugar to dissolve. I always keep powdered rock candy in my fridge. If you have it as rockies, powder it in a mixer along with cardamon. 

Add pounded

cardamom and ginger powder to it, mix well. Add juice of lemon, mix well and serve. 
It can also be chilled and served to pep up the taste.
Posting this panagam today holds more significance to me, as today is my Narasimhan's (Elder son) Star birthday, one more reason why i took this theme for this BM. 
May God bless one and all with good health, greater prosperity and a life as sweet and flavorful as this panagam, also humble and simple like the same.