Breakfast the big meal of the day, the necessity of which is stressed pretty often these days. Everyday we see so many posts/pics on the social media on breakfast. smoothie bowls, overnight oats, idly/dosa, breads with n number of spreads. I m not an oats person, i have told this many times in this blog, it never fills me up and makes my tummy upset. It is either regular idly/dosa or poha or else a glassful of smoothie with nuts.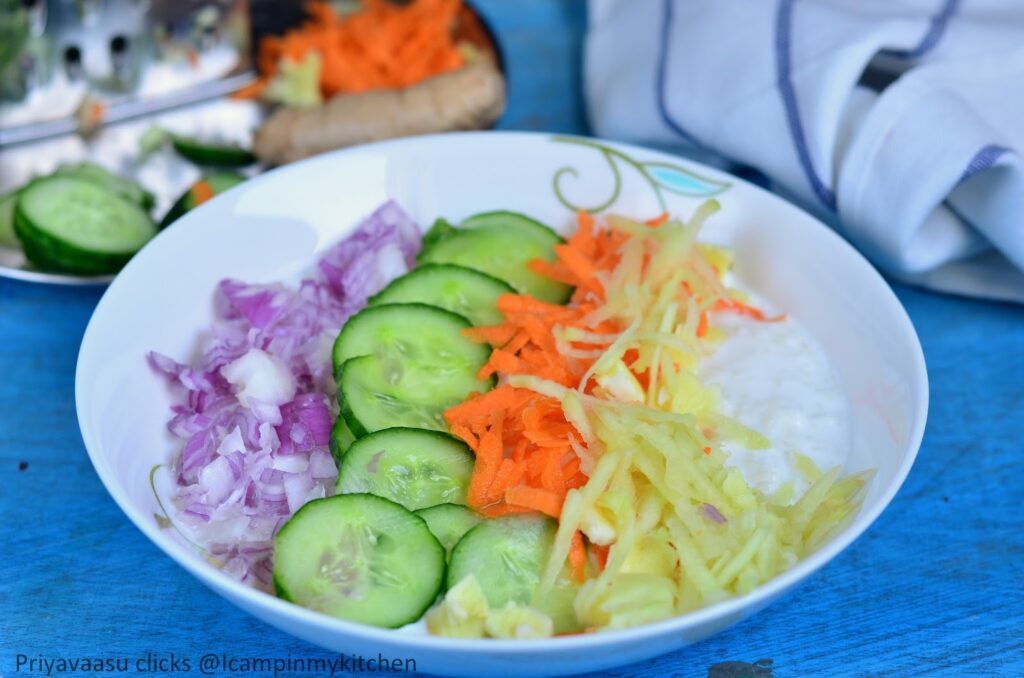 When i ask amma about what they used to have for breakfast, she says "we never see idly/dosa or even coffee those days". They usually, get up early, help her mother in kitchen, then go to nearby river, bathe and wash clothes and come back home, eat the leftover rice with curd and pickle and walk 2-3 kms to school. It is the same with my appa too. Though appa was allowed to drink coffee, but my mom since she is a girl, they were not encouraged to drink coffee everyday, not for any health reasons, incase their inlaw's place doesn't have such habit, she might feel bad or if she drink too much coffee, they might talk bad about her upbringing!! hmmm, so many restrictions, but they learned many good eating habits and one such is this breakfast of leftover rice.
Me and my cousins used to have this breakfast often, while staying with our aunt during my working days, not with all the garnishes though. If any leftover rice, it should be eaten for breakfast and never to be thrown out, she would give us left and right if we ever waste food. Though we used to fume for her strict rules, but now when i think about it, i actually thank her for teaching us more good habits. It was her way of talking that hurt us and not her lesson.
As i told in my ellorai post, there is a tradition of eating leftover rice along with curd or leftover curry the next day of Pongal, i.e. Kanu pongal. This year, kanu pongal, this is how i had my breakfast, little rice and lots of fresh veggies as garnish. You can even have it with some fresh fruits, like pomegranate, mangoes, grapes etc.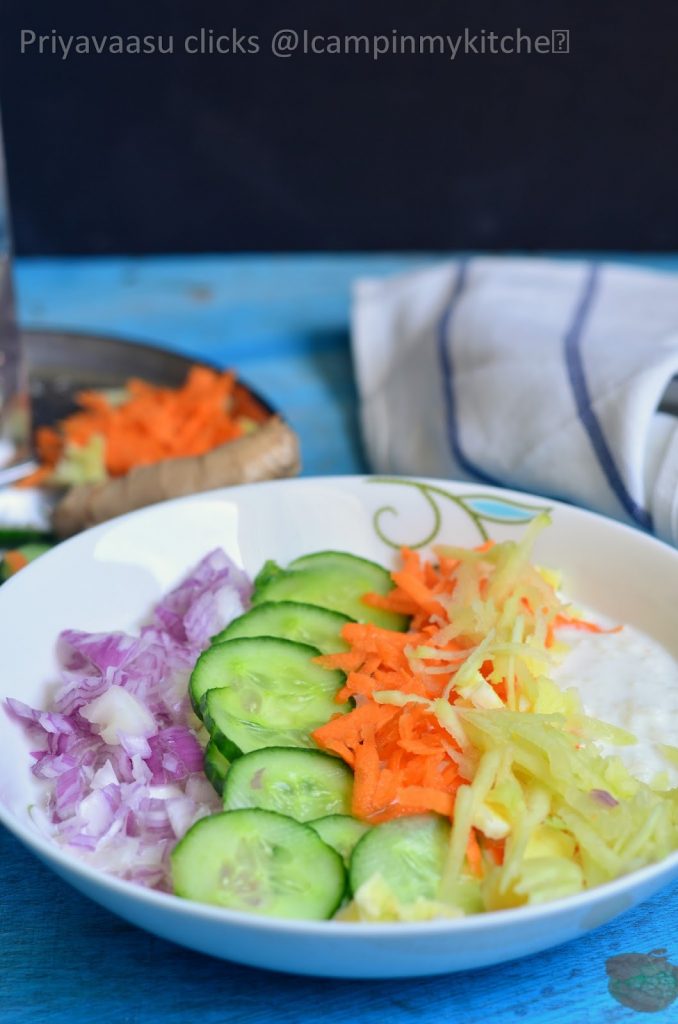 Ingredients
For garnish
½ a cucumber, cut into thin rounds
2-3 tablespoon of shredded green mango
1 small mango ginger, peeled and shredded
1 small onion, chopped fine
Method
The previous night, before going to sleep, take rice in a stainless steel or a clay bowl. Pour buttermilk over it, it has to immerse the rice completely. Cover and leave it on the counter for a good 6-8 hours. The climate is pretty good these days, even during sunny days, we leave it outside, no need to refrigerate.

Next day morning, just add salt and hing to the soaking rice, mix well. Garnish with shredded carrots, cucumbers, raw mango, mango ginger etc and mop it clean!!! Don't forget to instagram and FB it!!! 😉
Filling, healthy and an energetic breakfast that will definitely keep you filled till your lunch and not to forget the nutritional boost that comes free with it.