The name must be little confusing to some, yeah it is sort of a quick tamarind rice, that my mom makes. She calls it araicha puli saadam, meaning ground tamarind rice. The traditional puliyodharai or tamarind rice is made by extracting tamarind water and boiling it with spices until it thickens. The paste made the traditional way can be stored for months. 
This shortcut puli saadam paste can be stored for 2 days in the refrigerator, since it is made of coconut, it doesn't last long.  We love it when amma makes it, she adds lot of chana dal,peanuts and cashews and the original taste of it comes from the gingely oil added.  
I made them today for our lunch, we relished it totally. Do not compromise with gingely oil, it gives a nice aroma to the rice. The green chilies can be replaced with red chilies too. Try this simple rice and let me know how you liked it.
Ingredients (can be mixed with 3-4 cups of rice)
3/4 cup freshly grated coconut
2 gooseberry-sized tamarind
1/4 cup gingely oil/sesame oil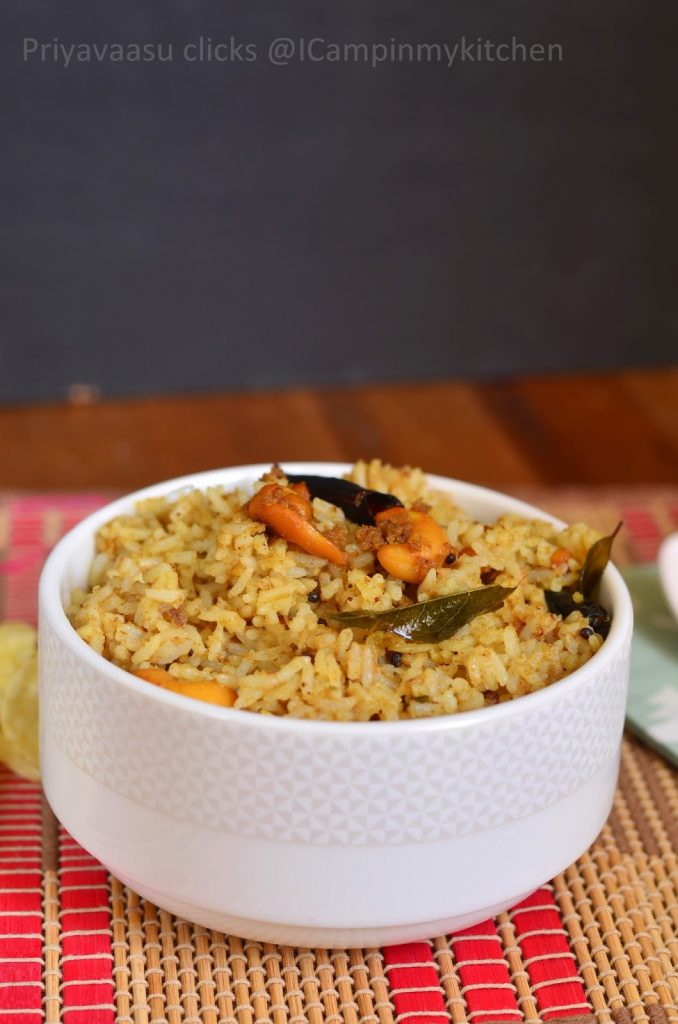 For the Rice (for 1 cup of rice)
1 cup cooked rice, i used sona masuri
a sprig of fresh curry leaf
2 tbsp broken cashewnuts/peanuts or both
4 tbsp of above coconut-tamarind mix
Method
To make the coconut-tamarind mix
In a mixer take together coconut, tamarind, green chilies and coriander seeds. Grind it to a smooth paste with 1 – 2 tbsp water.

In a pan, heat 1/4 cup gingely oil, splutter mustard seeds and hing. Now add the ground paste and saute until the rawness disappears. Add salt to this, mix well and let it be on the stove until oil separates. It takes about 10-12 minutes.

Store this in an air-tight container, this will stay good for 2 days in refrigerator. Can be served as mixed rice or just as a side to curd rice.
To Make the Rice
Spread the cooked rice on a flat plate and fluff it up with a fork.

In a small tadka, add a tsp of gingely oil, when the oil heats up, add curry leaf, red chilies, chana dal and cashewnuts.

Let the dal and nuts brown a bit, take it off the stove, pour it over the rice. Add the coconut-tamarind mix and mix well with the rice. Check the taste and adjust salt.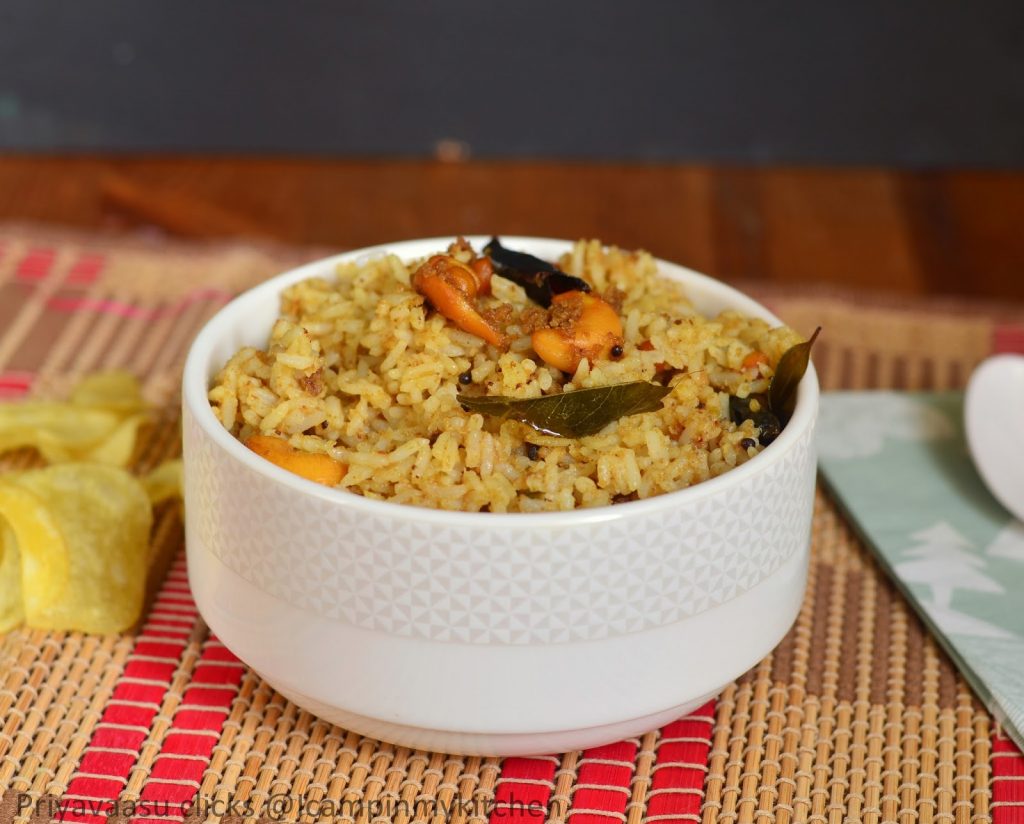 Serve it warm with your favorite curry or just chips. Makes a yum combination with potato curry for lunch box.